This shop has been compensated by Collective Bias, Inc. and its advertiser. All opinions are mine alone. #GetJohnsonsBaby #ChooseGentle #CollectiveBias
My favorite times with Lila are at both ends of a typical day. She has the cutest little sleepy swollen face in the morning, and says the sweetest things. The rare times where she wakes up before us are hilarious when there's a pitter patter of feet down the hallway, and Daniel and I are greeted with a sneaky little, "Hiiii….." followed by a sly smile. And that morning hair? I mean, it's pretty epic.
On the other hand, evenings are really sweet, too.
Lila may not enjoy bedtime, but she loves our bedtime bath routine. We have so much fun, sometimes it's the best time to Facetime with our long-distance relatives. ha! There are so many giggles, and chatter, and learning lifelong skills, such as how to bathe herself.
Hover over the image below to see Lila's favorite JOHNSON'S® products!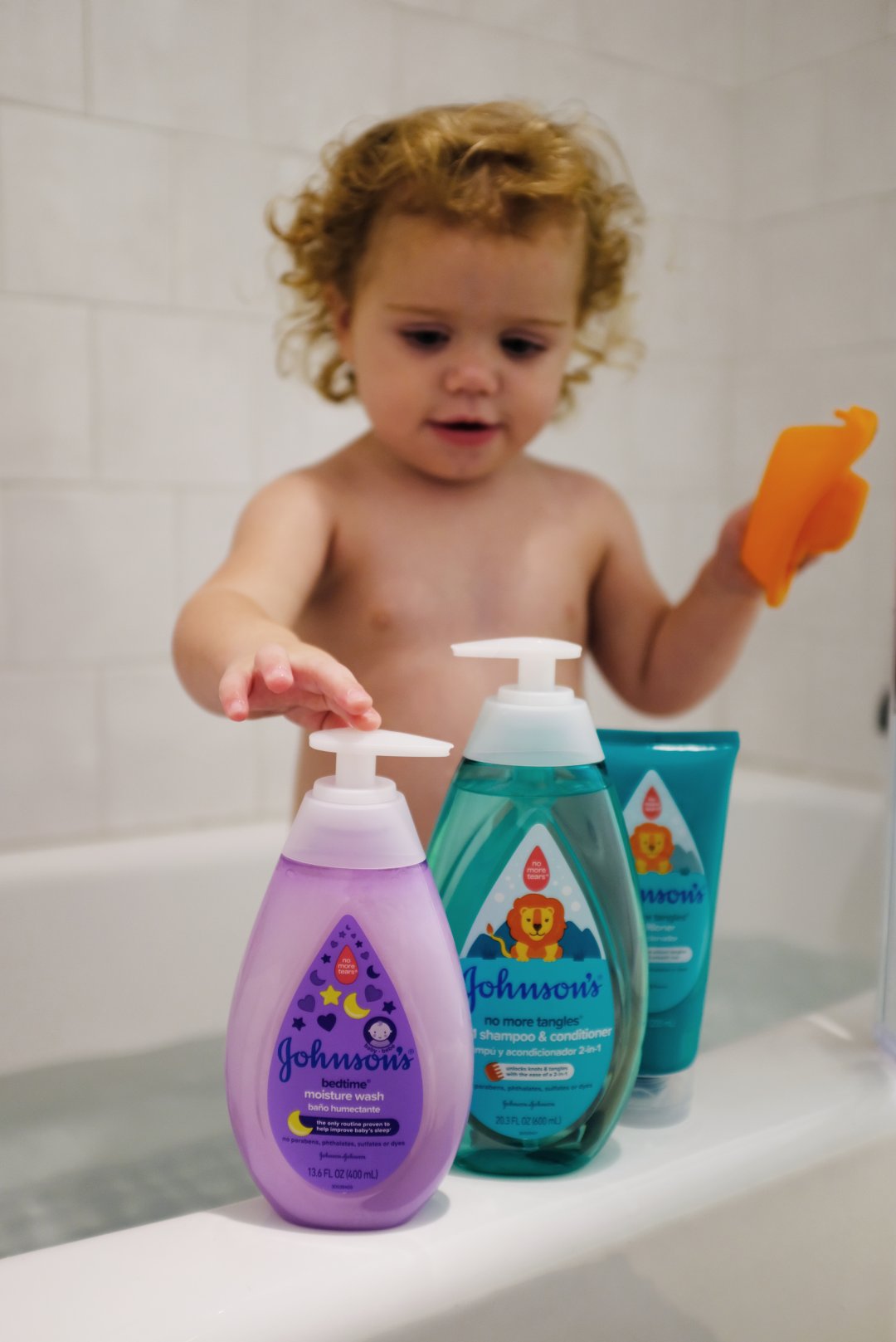 About a year ago, I shared about how much I love JOHNSON'S® products, even for my own use. (I can't believe how teeny tiny Lila Sophia looked in the post!) We are still going JOHNSON'S® strong in this family, and now their products are even gentler because they are paraben-free, do not include phthalates, and are hypoallergenic.
There are many reasons we stick to JOHNSON'S®, like how they've listed to parents and reformulated their products – they are even creamier. One of my favorite changes include the easy-to-use pumps that make JOHNSON'S® Bedtime Moisture Bath and JOHNSON'S® No More Tangles 2-in-1 Shampoo & Conditioner easy for Lila to use, but allows me to twist them into a "locked" position so she doesn't overdo it. (We are also pretty obsessed with JOHNSON'S® No More Tangles Detangling Spray!)
It took me a while to decide on the bath wash while standing in the aisles of Target. I love the lavender scent, but was intrigued by "cotton touch." I will definitley try that one next time. My cousin says it is definitely the best scent. Lila thoroughly enjoyed hugging the different bottles as I tried to make a decision. Or perhaps she can choose next time! I'll take any excuse for her to work on her colors. 🙂
Do you have a favorite item or new scent?
xoxo