Buster is my number one lady. She is the first dog I ever adopted, just before I graduated college. When I drove two hours to meet her I just knew we were a good fit. At the time her caregiver called her TJ DAWG…that had to change. Buster might be a boy's name but it suits her perfectly. I'll never forget how she reacted when she first met Sampson! We had to pull her out from under Daniel's car!
Buster and I have been through so much together. She moved around Austin and Houston with me, went camping, learned to swim, flew in a plane, played in parks, pulled me on rollerblades, and so much more. Lately the most action she gets is balancing all the things on her head! Buster is 12.5 years old – she definitely deserves a break.
For a lazy old lady, she's awfully good with Lila. I'm so glad she has this chance to get to know Buster for a little while longer. Lila points at Buster often and pats her on the head. I swear she purposely drops food on the floor just to pet Buster as she walks by to get it. Buster and Lila may not cuddle, but they coexist, which is just the sweetest.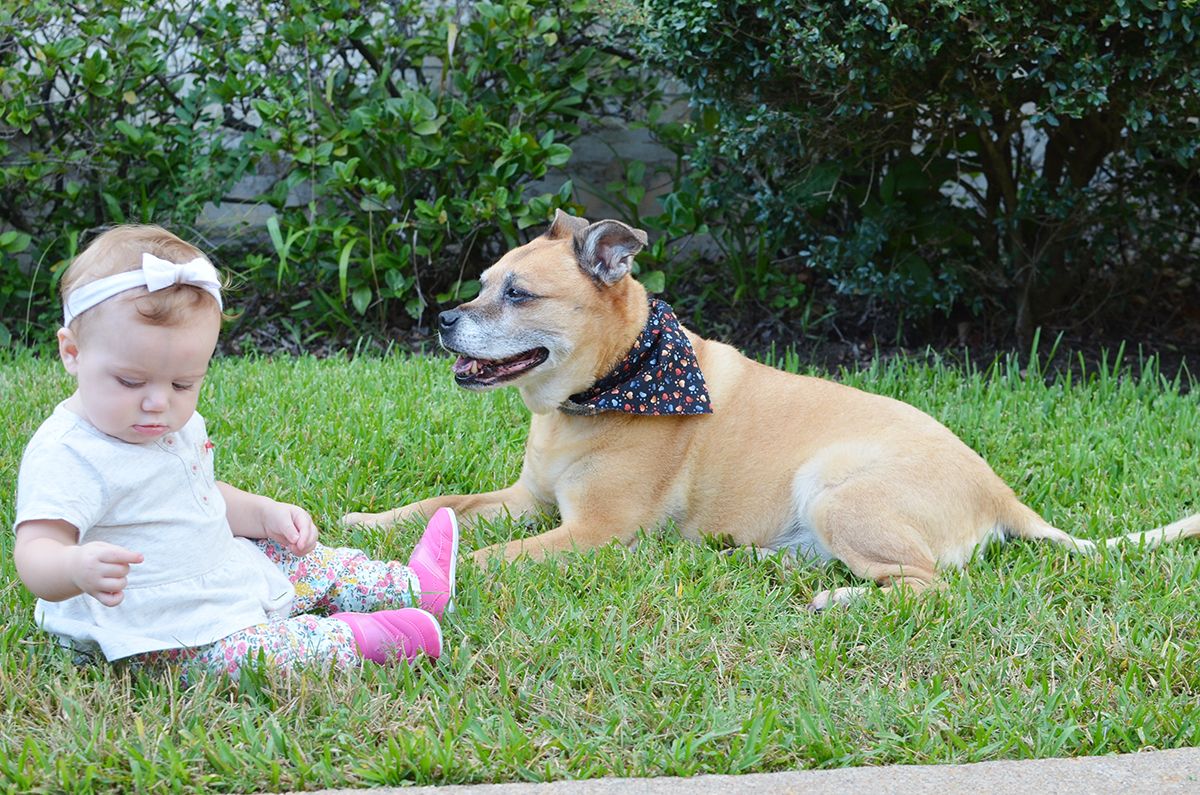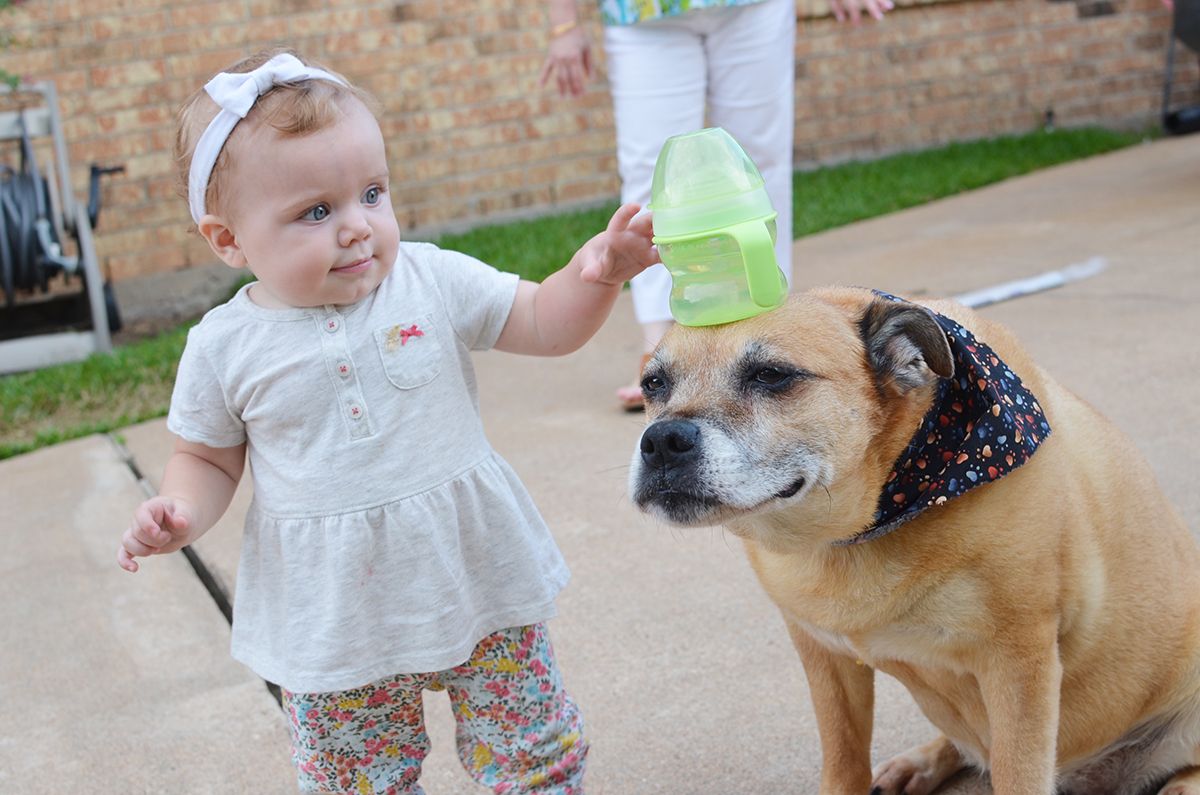 It's true I don't bother Buster too much anymore, but it was pretty easy to get her to "pose" for these balancing photos once she tried her new Science Diet® food! My mom used to buy Buster the smaller kibble, but the crunch on these large breed morsels is way more appealing to her. And the chomping sounds are reassuring in regards to her dental health! I first saw Science Diet® on sale at my veterinarian's office, which makes sense since it is their #1 choice to feed their own pets. The products are also developed by vets, scientists, and pet nutritionists. I don't buy Science Diet® at the vet's office – it's much easier to order from Amazon Subscribe and Save so I don't have to lug around the huge bag! We always get the biggest size. Ordering from Amazon allows them to arrive like clockwork [you set the schedule] in this pretty box for 15% less than ordering them as needed.
Besides kisses and cuddles, I think Buster feels the love through her diet, which is why we like to feed her scraps fill her bowl with natural, high quality ingredients. I have not seen her so excited over a bowl of dinner in a long time. I want to take care of my sweet old lady, which always starts with her health.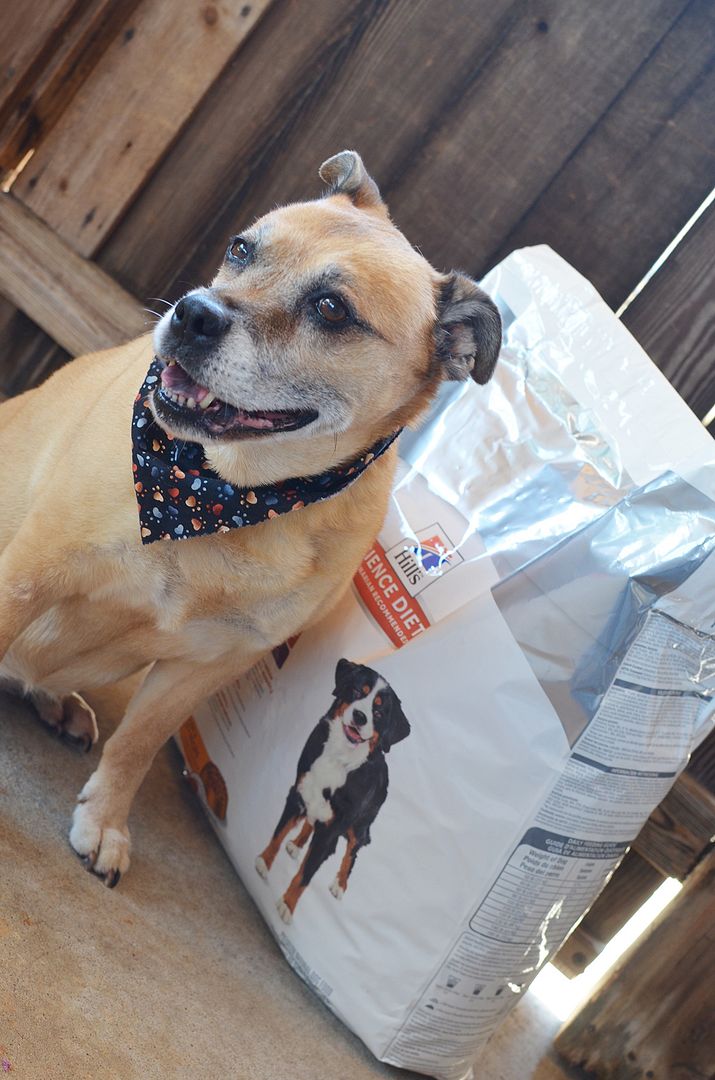 How do you show your pets you love them?
xoxo