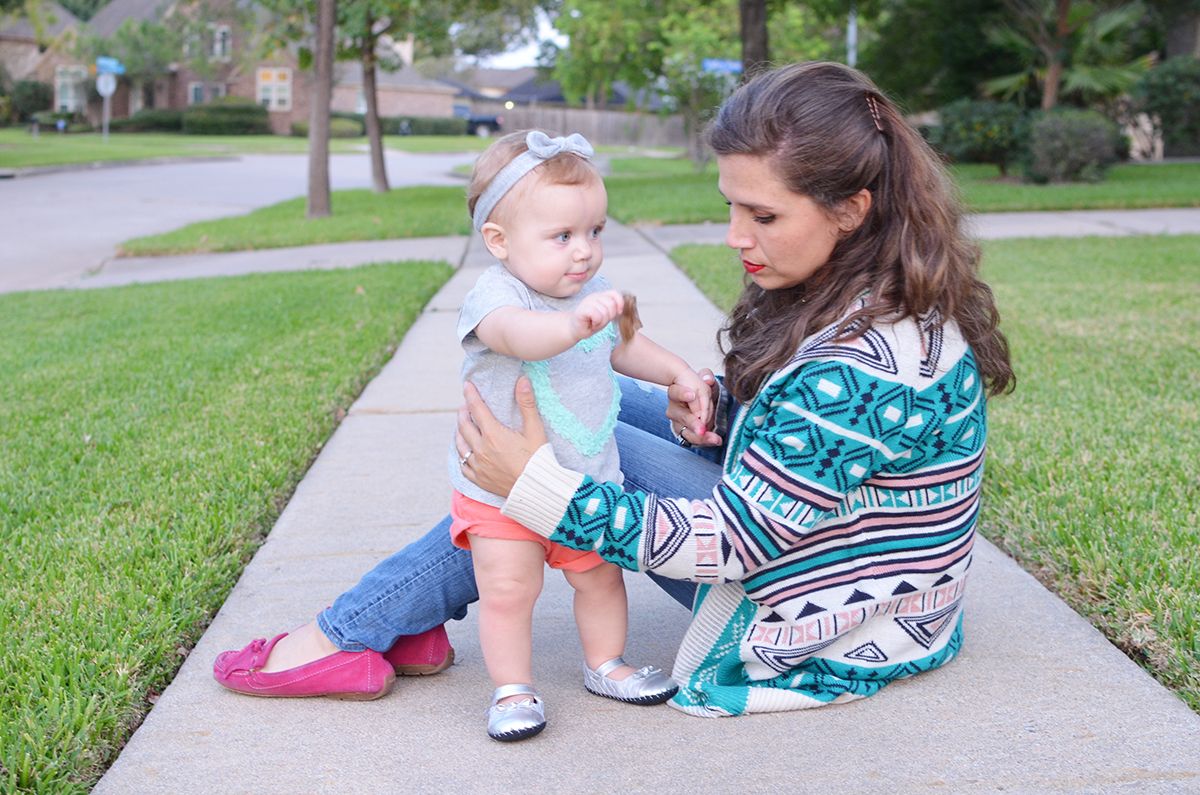 Working on: Welp, school is back in session, so that combined with work has been taking up most of my time. I am barely keeping up with the librarian life! I want to do extra things and be creative but it seems like there's always something else I should be doing. And school is about to get hard. I'm kind of scared. The motivation is not quite there, and I assume it's work/Harvey related.
Daniel has been working on plans for the house, which is pretty exciting. I primarily want to throw more things away, but most of the drywall has been replaced and the master bedroom is done. Woohoo! We are making lemonade out of stinky flooded lemons and taking this opportunity to update the kitchen and possibly remodel the "master" bathroom. It's pretty shrimpy, so we are going to see if it's possible to make it a tad bigger. You know, earn the title "master bathroom."
Anticipating: My sister is getting married in one week!!! So exciting!! We are so lucky to have somewhere to stay, but things have been messy and crowded and cramped, so it will be nice to get away to a huge hotel and possibly relax a bit between wedding activities?? I can't wait to see my sister in her giant white dress. It's going to be very surreal.
There's actually a lot going on next month, too….Lila Sophia is getting baptized! And then she is turning ONE. We are hoping to celebrate all of these things, especially her birthday. Fingers crossed we can move in and get the house ready in time. PLUS Daniel wants to bring back the Halloween party, so we will see how that goes. I can't even handle Fall 2017. It's the most depressing, busiest, and most yet exciting! Don't be surprised if I am laughing one moment and crying the next. :-O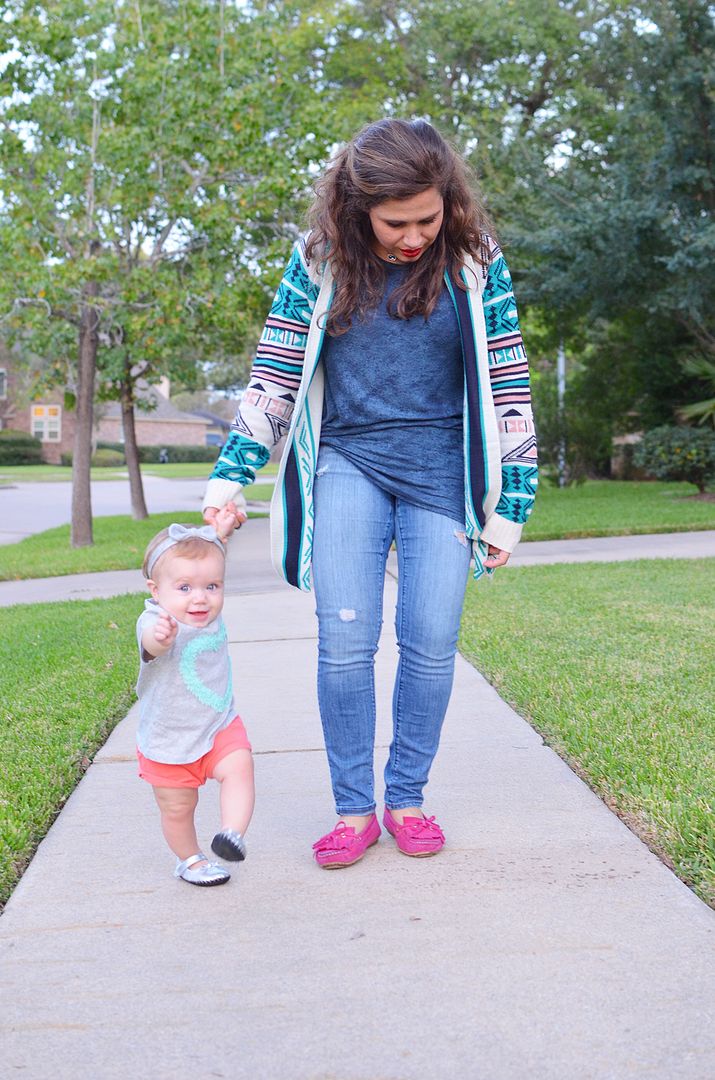 Wearing: The weather seems to be transitioning – or maybe it's just some cool fronts brought on by hurricane season… As soon as I saw this cardigan I knew I had to have it. The colors are bright and fun, it looked so soft [and it is!] and is perfect for working in the library. With this nutso Texas weather I can wear it with almost anything. Even jean shorts and sandals, which actually sounds really cute. 🙂 PinkBlush has transitioned to layerable fall clothes and I love love love it. Most of my previously featured PinkBlush attire has been perfect for work, too. Florals go with any season. 🙂 Check out their website this weekend as they have a side-wide 20% sale going on!
I also need to mention what Lila is wearing, because how cute is she?? [Not biased at all…nope!] There were a couple Houston Moms Blog sponsors that reached out after they discovered some members of the team had been displaced due to flooding. I was in complete shock when Lila started receiving the most amazing packages! Hailey, from Crazy 8, sent her a variety of 12 month + clothes, which will come in handy since most everything I saved she is seconds from outgrowing. Same with the folks from Pediped. Such cute shoes for her that she will grow into soon. I can't wait to show them off even more later. 🙂 Each of those links goes to the item she is wearing, but you can also browse their websites [Crazy 8 // Pediped]. They've both got Fall sales going on.
Listening to: I mentioned my longer commute earlier, and most days I take advantage and listen to a book on tape. A friend of mine recommended A Man Called Ove which has been a very chill listen. This week was mentally tough being away from Lila, so I mostly just shuffled my old playlists. Why do throwback tunes get me in such a good mood?
Eating: We are staying with my parents, remember? And being Cuban, my mom is pretty amazing at keeping us all very well fed. That, combined with the fact that Sandy and Bo decided to "donate" junk food to our cause…I'm mostly eating when I am here. Just in time to be in my sister's wedding, right? Uh oh… I've made a very short-term exercise pact with myself. Fingers crossed…
Speaking of weight, I actually took an Everywell metabolism test recently. The results are really interesting to me since metabolism has a lot to do with weight [duh], but also energy levels and mood! The main three components are cortisol, testosterone, and TSH. Cortisol is the main stress hormone, so I'm glad I took this saliva/blood test before all the flooding happened and before my classes started! Those levels are good to go [normal]. Testosterone was my main interest because it influences fat burning and muscle development, and wouldn't you know, my levels are low. Booooo! No naturally thin genes over here! BUT it appears that because my TSH [Thyroid-Stimulating Hormone] levels are on the low end of normal, which is closer to hyper rather than hypo thyroidism.
Anyway, if you are interested in one of Everywell's really cool take home tests, it's really easy. Just prick your finger, spit into a tube, and you are all good. 🙂 The instructions are really clear!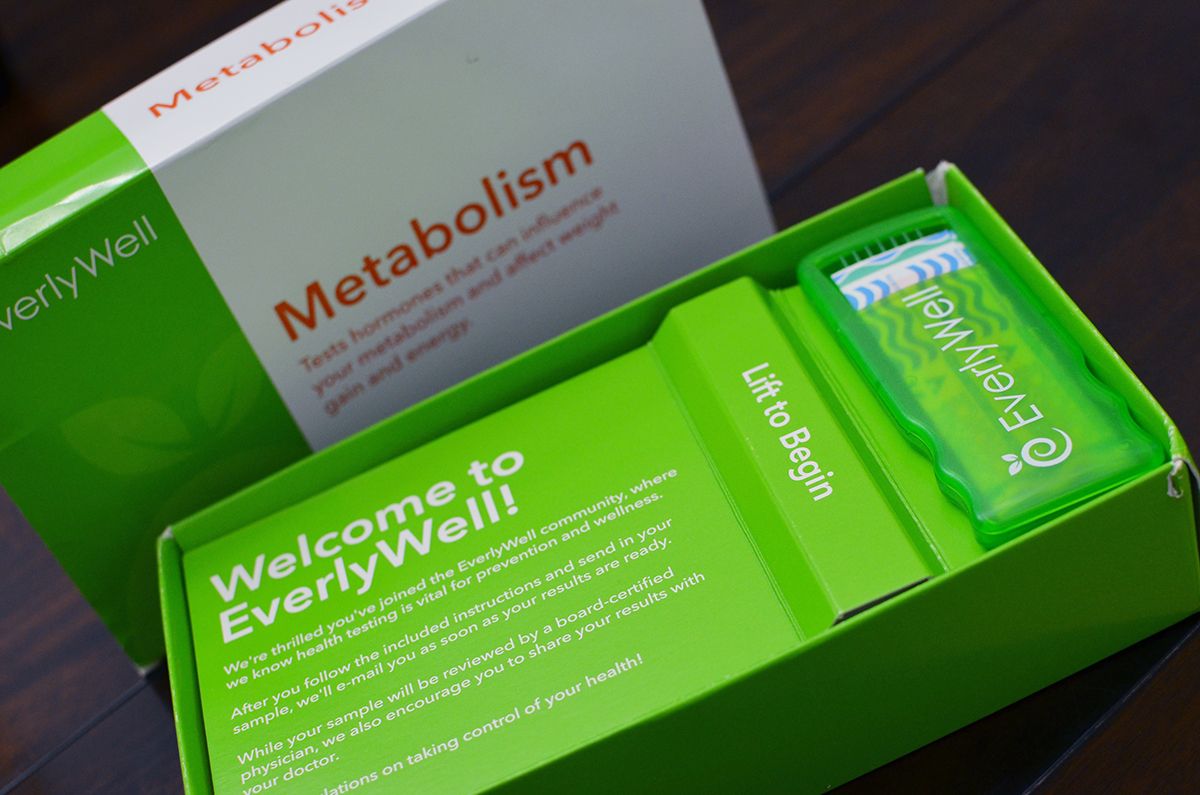 Reading: I've actually been trying to read a couple books that are in my school's library! The Best Man and The Girl Who Drank the Moon – specifically because they are considered controversial. One student already told me their parents aren't allowing them to read one of them. I also want to read Wonder before the movie comes out in November. So far it's really interesting! Much like the book Out of My Mind, Wonder really gives readers a new perspective in regards to unique populations. As for my own personal reading, My (Underground) American Dream is currently on my bedside table. I'm hoping it provides me with just the motivation I need for school this semester…
Watching: My parents have cable, and now that I'm working all day, I enjoy becoming a couch potato in the evenings so much! I guess at home I was a bed potato. ha! I can't wait for Dancing with the Stars to come back on. Everything else I've been watching is mostly just reruns.
Motherhood:
So basically Lila is walking. She's been full blown walking since the beginning of September, though she started taking a couple steps here and there in early August. Because she's so small and remains toothless it looks pretty impressive!
Lila is getting better at following commands, or at least understanding you enough to decide to agree or rebel. The little sneak!
She's got a little attitude these days and will throw things on the ground, or pretend she's taking an item and then throws it if she is moody.
Her "silly faces" have been cracking us all up, too.
Daniel set up her crib in my old room that we are staying in while at my parents'. It's definitely helped her sleep better. The pack and play had her waking up several times a night in comparison.
I've adjusted somewhat to being away from Lila during the day. It still hits me some days [as mentioned earlier], especially if the morning feels rushed. When she stays with my parents it's a little easier because my mom sends me photo updates, but I know Lila enjoys being social at daycare. The struggle is real. 🙂
Daniel, Lila, and I are so grateful to our sweet friends and family that have helped us out during these post-flood times. Houston is hurting, but so much of our community has stepped up. Thank you.
xoxo
p.s. Don't forget to use our Amazon affiliate link in order to help my family make our home livable again. [more info here]
p.p.s. This post contains affiliate links.
p.p.p.s. You have a week to enter this really awesome giveaway!