This post is in collaboration with Lularoe Monica Lynn VIP. All opinions are my own.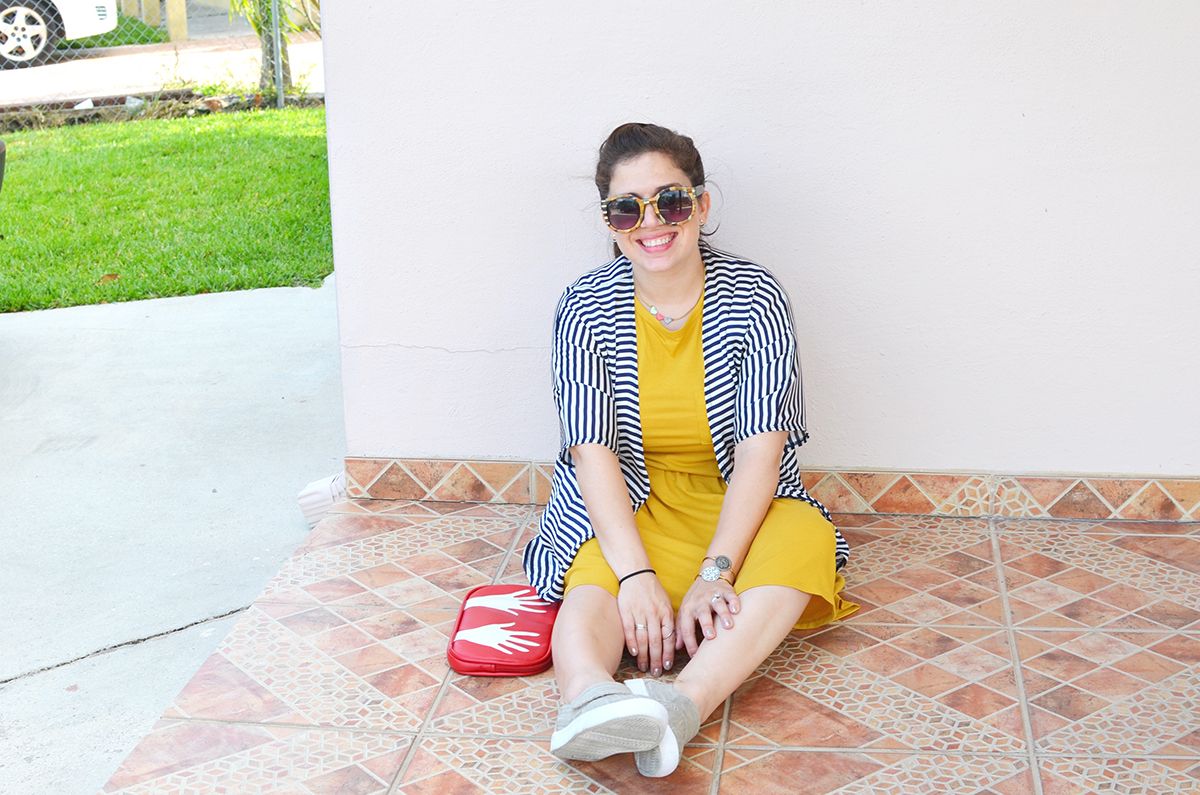 Working on: I've been working on my resumé, finishing up my first semester of classes, and slowly writing blog posts. I'm excited to have a collaboration with H-E-B coming up. In case you missed it, I was randomly selected from the Houston Mom Bloggers group to try out their curbside service earlier this month. And along with this super awesome giveaway [scroll all the way down!], I'll be giving away $100 to Fracture soon!
I'm also working on trying to muster up the willpower to get back into fitness mode. I was doing pretty well a couple months ago, and totally fell off the wagon when classes got a little nuts. I've still been going to Crossfit, but the intake is what needs work. 🙂
Anticipating: I'm really excited to be celebrating our 4 year wedding anniversary next month! Daniel, Lila Sophia, and I are headed to Port Aransas. I've never been, and we are staying in a little camp-style community through AirBnB. LS will have a little tent to keep her out of the sun when we aren't swimming, plus a couple fans. It will be her first time in the ocean because I refuse to let her into Galveston water. haha! If you have been and have any recommendations, please share! Or you know, recs regarding take an infant to the beach. 🙂
My cousin is due in about a month and I can't wait! Obviously this means yet another trip to Miami. December 2016 – December 2017 seems like it will be jam-packed with Miami visits. I am trying not to stare too hard at my credit card bill. Ayyy-ohhh!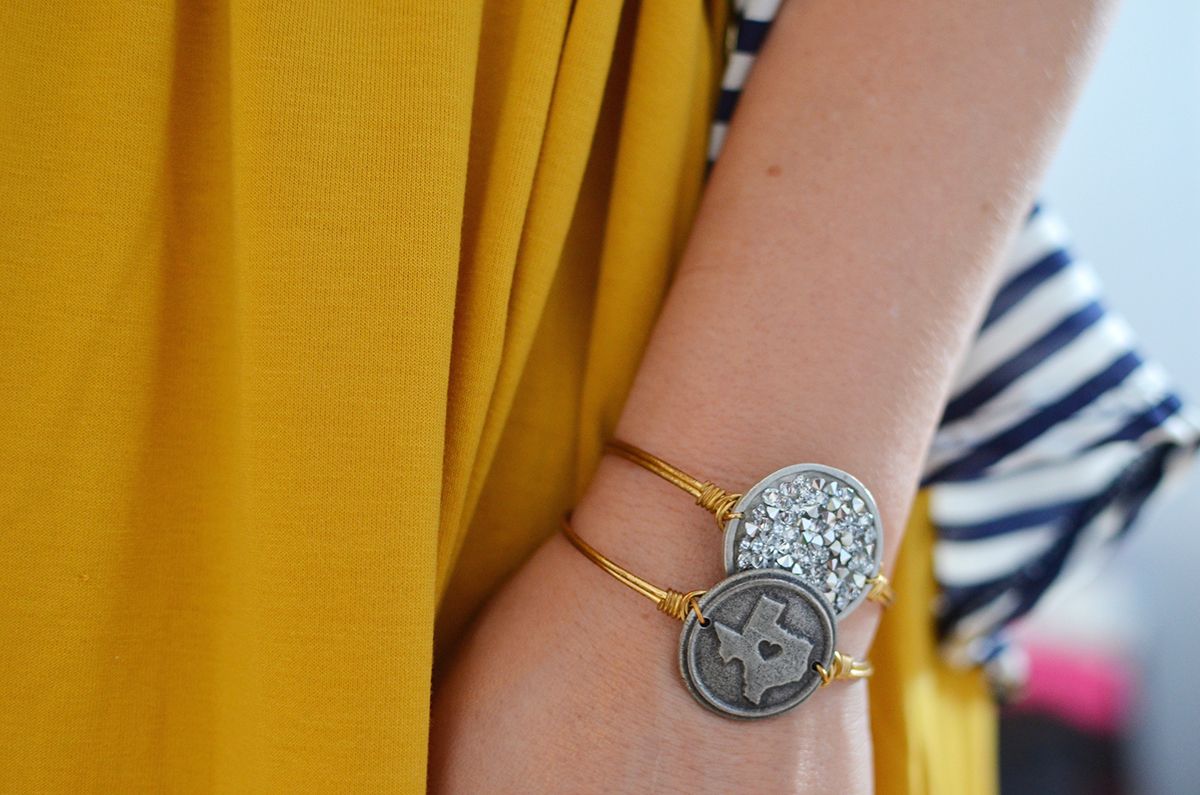 Wearing: I am a broken record singing Lularoe's praises. Their fabrics are so soft and cozy that I have been living in their leggings, Irmas, Julias, Carlys, and more recently, Biankas. My crack dealer consultant is the lovely Monica, who is linked all over that last sentence. If you are interested in giving LLR a spin, like/join her group. It's not spammy at all, you can peruse pictures, descriptions, be in the know if a sale is coming up, and she replies in a timely manner, too.
This is how Lularoe works, since I didn't know until recently. 🙂
Navy & White striped Bianka  //  Mustard Carly  //  TOMS
my fave Cykochik clutch  //  Luca + Dani bangles  //  similar criss cross ring
Little Ray of Sunflower origami hearts necklace  //  similar chain belt
Black Springs Folk Art confetti sunglasses  //  similar front/back earrings
Listening to: I finished S-Town a couple weeks ago. There need to be more episodes! It was over way too quickly, right??
I've still got "Island Music" still playing on Pandora for LS and I throughout the day, too. I need more podcasts. Do you have any favorites??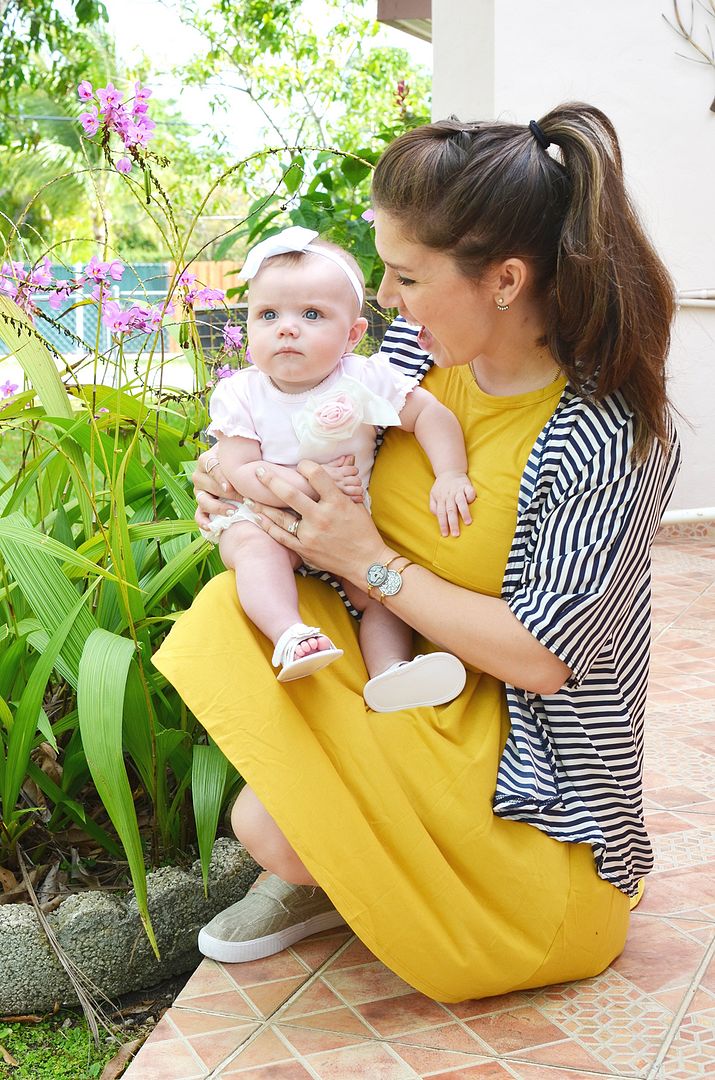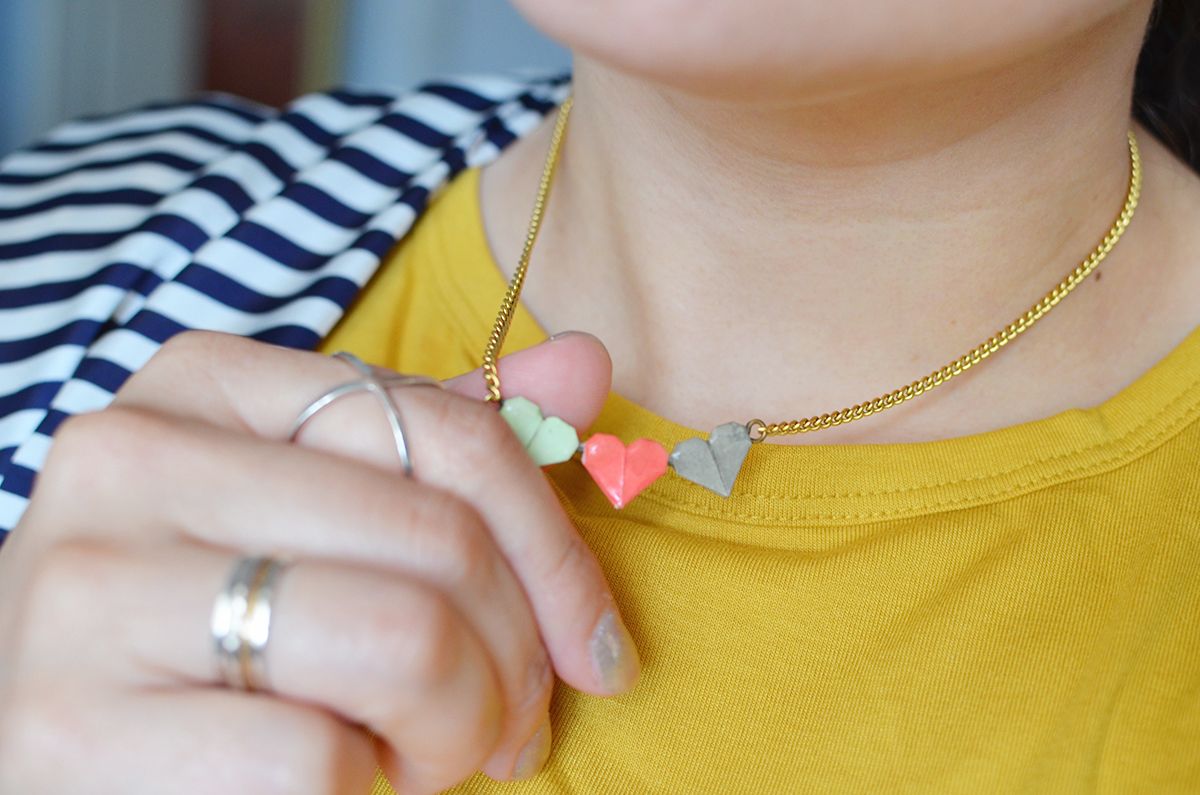 Eating: Basically the same situation as my previous currentlies post, but I didn't mention a "milk maker" smoothie I saw someone drinking. It's really good, and possibly effective…though I have also been taking this supplement, so who knows. Regardless, it's a tasty concoction of avocado, spinach, Greek yogurt, and honey. NOM!
Oh, and Daniel has been super sweet and making the perfect eggs and toast. 🙂 [[I'm all about simple breakfasts.]]
Reading: I just finished This is Our Story and really liked it! YA, of course. About a high school kid that gets shot while hunting with friends…and a teenage girl trying to solve who did it. I checked out Strange the Dreamer from the library and just started it. Since classes are almost over I might actually be able to finish it before it's due! [Years ago I saw Laini Taylor speak in my old school district!]
Watching: My friend totally got me into Riverdale, and I've continued to slowly keep up with The Originals. How does one even watch current TV shows? My patience is wiped and I almost want to give up watching if I can't binge at least 2 or 3 episodes in a night. haha!
My mom and I used to watch Dancing with the Stars together, but my work schedule is kind of wack, so I have watching on my own thanks to Hulu. I think one day Daniel and I should take dance classes together. I feel so cheesy, but it seems like it would be fun if it was in a class where everyone is cheesing.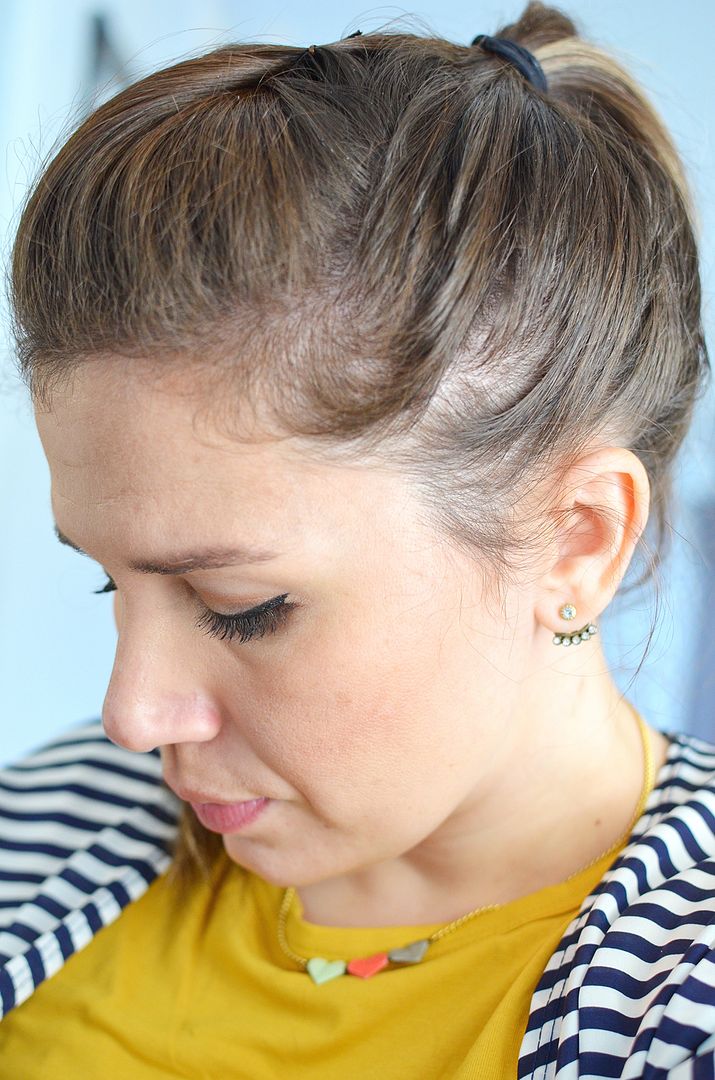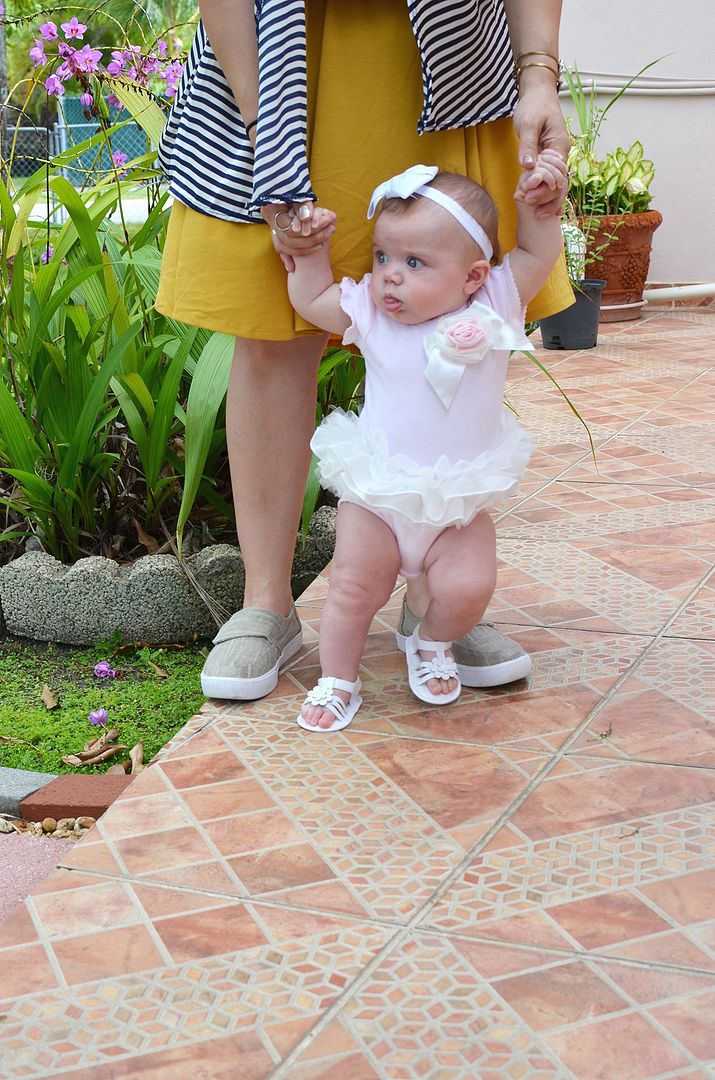 Motherhood: 
The most important thing that happened this last month…Lila Sophia pulled herself up to a standing position in her crib! For a couple days she pulled herself up to her knees, then immediately went to full on standing. It's seriously the cutest ever.
She isn't quite mobile yet, but she gets on her hands and knees and sort of throws herself forward to where she wants to be, then rolls onto her back. I realized the other day that part of the reason she isn't crawling yet could be that we don't put her on the floor very often. I've heard that some babies skip crawling and go straight to walking, and I wonder if that has any correlation to having pets in your home? [AKA why we don't put her on the ground.]
LS went through a "stormy period" right in the middle of our visit to Miami. It was upsetting because we see the family so little. Most of the time she was smiley and content as long as I was holding her.
She turned 6 months on the 21st, and that's when we started giving her "solids." So far it's only been rice cereal mixed with breast milk, but we have already noticed improvements with swallowing and duration of the feeding [LS kept getting frustrated]. Whenever she starts to get fussy we move her "food" into a bottle with a bigger opening so's not to ruin the eating experience. I think she will enjoy avocados next. 🙂
This last weekend LS "swam" in a pool for the first time! She seemed to really enjoy herself, but a cold front was rolling in, so she was only in the water for about 5 minutes. Regardless, we are currently dealing with our first baby cold. It's so sad! I've been using the FridaBaby snot sucker "nasal aspirator", which has helped a ton. LS cries while Daniel and I take turns holding her still, but you can hear the difference, congestion wise, and her tears stop just as quickly as they came. It helps her nurse better, too, because she can, like, breathe again. 🙂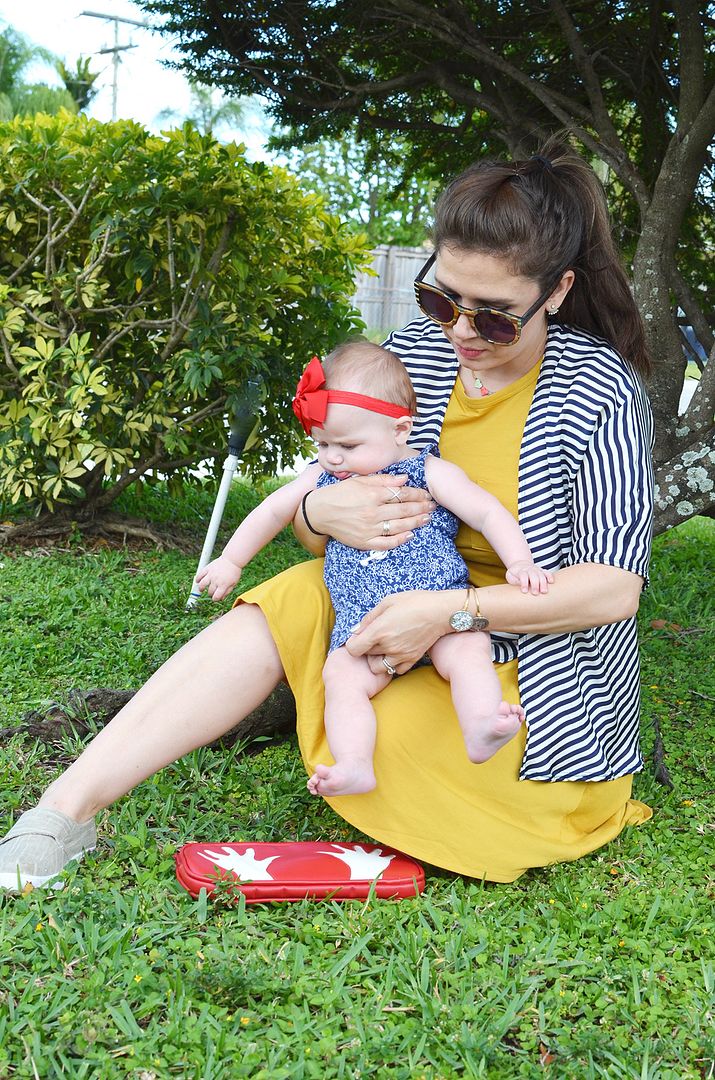 What are you up to? Any book/show/baby recommendations?
xoxo
Don't forget to enter the giveaway below!! Open to US residents only.
The only mandatory entry is listed first, everything else is optional! Good luck!
a Rafflecopter giveaway
This post contains affiliate links.