Thank you, friends, for your kind words in regards to Sampson's passing. We are doing better, and trying to distract Osa with more exercise than usual – and ourselves with more television. [As you will see below…]
Working on: School! So far classes are going really well. Spring break provided some much needed rest for my brain, but classes are picking back up, and so is stuff in the blogging and social media world. I may have some collaborations in the works.
I've also been shooting out my resume…a librarian job in the fall would be wonderful, but since I don't have a minimum of 12 hours in my masters program until August, I may not get a job that soon. So whatever happens, happens. And on the bright side, I'll have more time with Lila Sophia. 🙂
Anticipating: My cousin's baby! My sister's wedding! There is a lot going on this summer in relation to both of these events and I'm excited to be there for everyone. And experiencing it all with LS and Daniel will make it all even more fun. 🙂
Speaking of traveling, D and I are thinking of how to celebrate our wedding anniversary this year. We want LS to come with us and I'm kind of craving water. I'm not much of a beach person, but since being preggo, for some reason, I am? I already bought her a little beach tent and a couple fans. But I'm not sure we should drive too far with her. Thoughts?
Wearing: All of the Lularoe. Still. 🙂 I actually need to go through my pre-baby clothes to see what still fits and what needs to go. Le sigh. I've put it off long enough. And even if I got down to my previous weight [always so close!], I'm not sure my chestal region will cooperate. ha!
Pictured above: Julia dress  //  Bianka kimono
Boho Betty wrap bracelet (Use code GRRFEISTY to get 20% off.)
Listening to: Same ol, same ol'. That new station I mentioned in the last update. A variety of 80s, 90s! More recently, after a friend of mine posted some snaps of her vacation in Hawaii, it made me miss the atmosphere and music, so LS and I have been enjoying the "Island Music" Pandora station.
Eating: I really love Hello Fresh! Hopefully one day I can order it semi-regularly. Until then, I've been trying out different Instant Pot dishes. Daniel is more of a fan than I am. They've been awfully sludgey/stewy type meals. Thank goodness my mom cooks big batches and sends me home with leftovers. She made my faves recently – including egg croquetas! I guess maybe I should finally learn how to make a few of these dishes.
The other day I was reminded of my first-time-out-of-the-dorms diet. I basically lived on those little tuna lunch packs, and rice, chopped tomatoes, and olive oil. Today I craved the rice/tomato concoction, but added some protein into the old "recipe."
Reading: The last book I read cover to cover was The Hate U Give. The description was something I would usually skip over because of how controversial the topic is. I am so glad I decided to give it a shot. Even after I was finished I my mind kept wandering to the characters' lives.
Currently I'm trying to read This Is Our Story. It's interesting enough, but I've been in the ultimate lazy mode – see my TV shows below. Yikes!
My sister in law loaned me her old baby food books, so I am getting ready for next month. I guess I have put it off long enough. 🙂 Though technically I did let LS taste a pickle the other day.
Watching: I feel like I have a list of shows to catch up on…and it's kept me "busy."
The Originals [For some reason I started watching it and just kept going! It's back on regularly, too.]
Shadowhunters [The show isn't as good as the books, but I still like it…]
GIRLS [finally caught up!]
Big Little Lies [I haven't started yet! But I read the book so I'd like to watch.]
Dancing with the Stars [oops! I already need to catch up.]
Little Einsteins [for obvious reasons…]
Motherhood: Every day seems to get more and more fun. […I say before she starts teething like crazy…] My favorite new characteristic is how she reaches for me. Whether someone else is holding her, or she's laying in bed with me and I am still too far away. Sometimes she will just reach for my face and hold it close. Or briefly snuggle my neck. And then her hands get all tangled in my hair…haha But it's still the best.
She's either obsessed with cups or with the aroma of @BrooklynBeans1. ☕️? #BBRHB pic.twitter.com/anjoZVLlr6

— roxy (@grrrfeisty) March 21, 2017
LS's babbling has returned, and she seems more comfortable with it, too.
She is also pats things a lot, and reacts if you start patting back [slapping the table].
The cup obsession has begun. It started with a disposable coffee cup and has moved on to my water bottle and regular cups. She love using them as teethers.
She can't sit up by herself yet, but loves playing in a seated position. Sometimes I'll set her in her crib and she goes to town with the toys in there. When she falls back it just means it's playtime with her feet – another pretty cute addition to her skill set.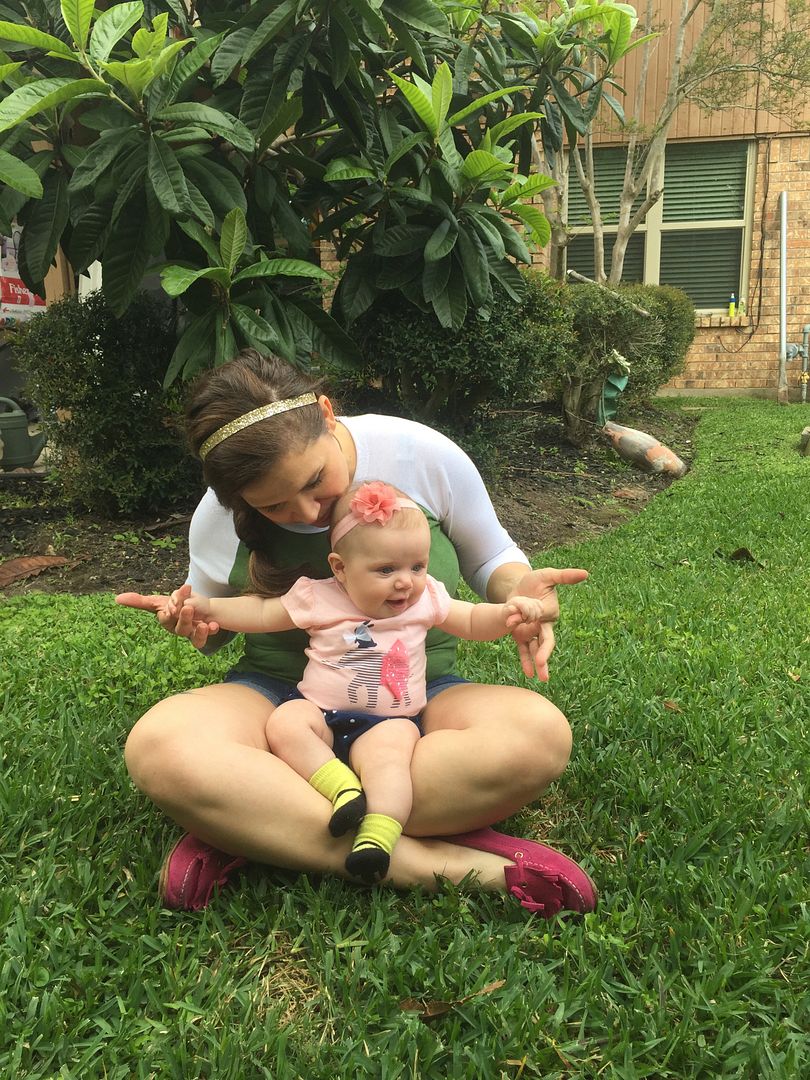 This post contains affiliate links.
xoxo