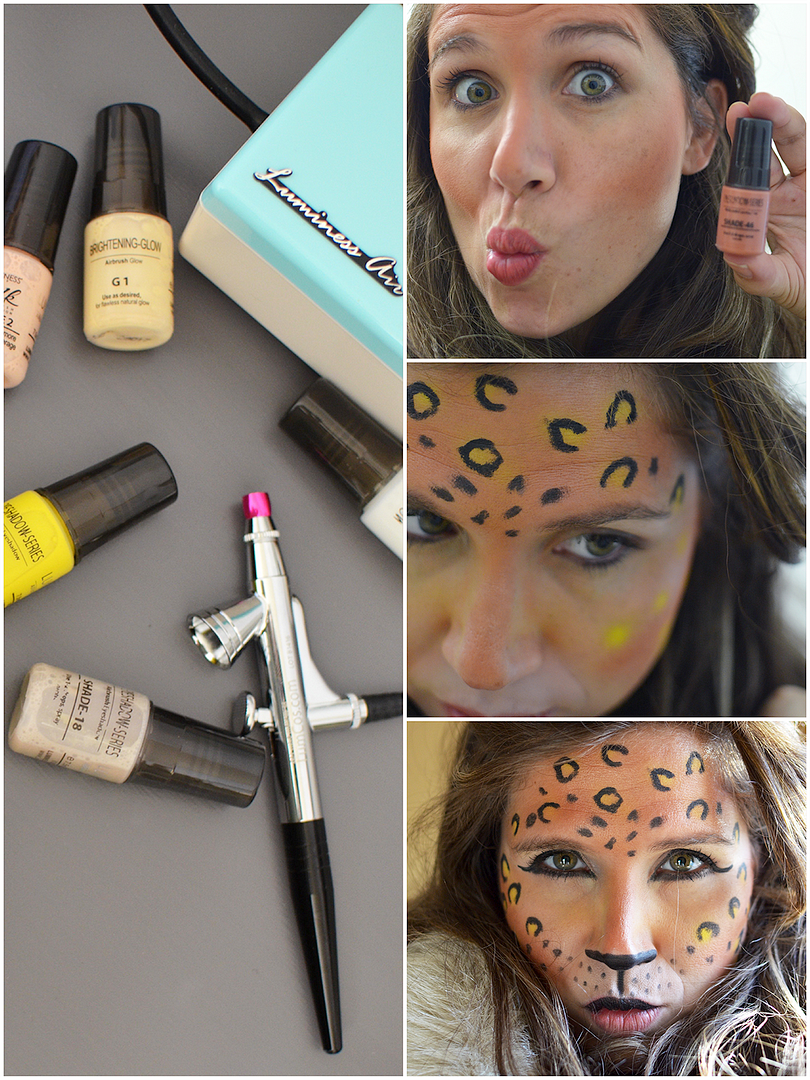 After having so much fun with the deer makeup tutorial, I researched a few other animals to try with my Luminess Air Airbrush Cosmetics. I was torn between a leopard and a bunny…and obviously went with the leopard because the spots seemed like a fun challenge!
Leopard Print Makeup Tutorial
Because this "mask" requires more coverage, I only used foundation under my eyes, but opted for just the primer everywhere else.
Use the picture below to assist with makeup placement! Within the black outline is where you will begin with Eyeshadow 46, basically starting at your hairline and moving down to the cheekbones. You'll want to fade a bit on your forehead between your hairline and eyebrows. Definitely adds some fun texture.
Next up is the bronzer! Still in the black outlined area. It adds a beautiful glow and additional contour. Also spread the bronzer along your cheeks to widen the color there.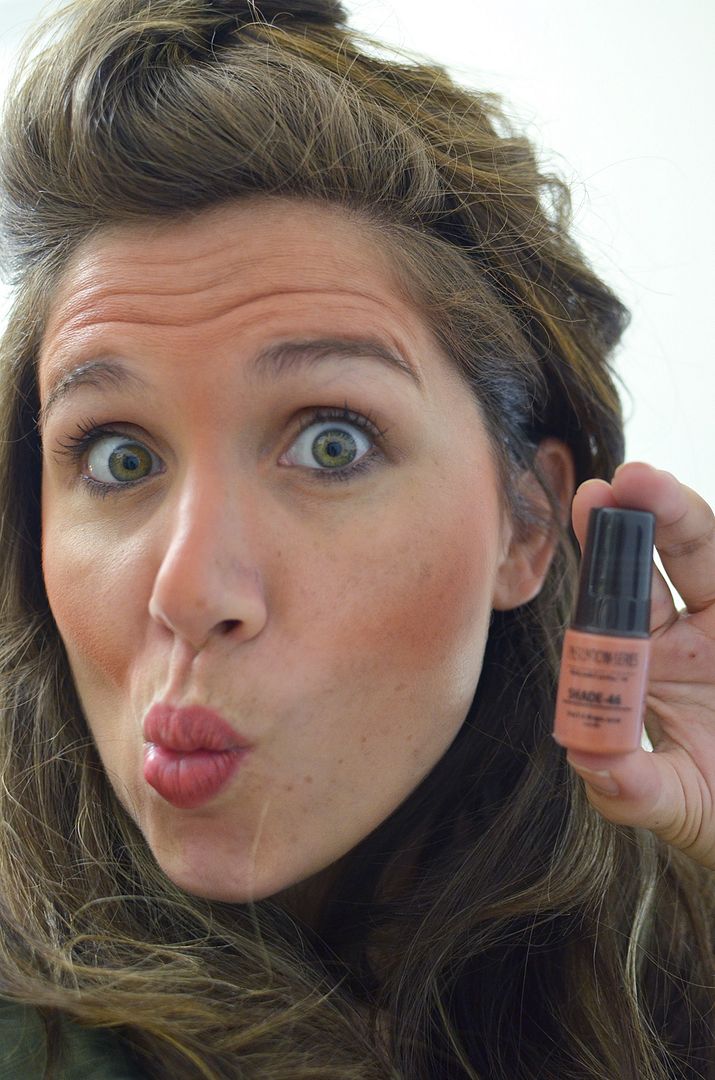 Grab the Brightening Glow and spray along your laugh lines, as shown in the outlines photo. You'll need to get the area between your top lip and your nose, around the mouth, your lips, chin, as well as the jaw line. I went over the area a couple times to make sure it lightened up enough. Also add a bit of glow below your eyebrows for some contrast.
On my eyelids I used Eyeshadow 18 [greenish] to keep the area a bit darker.
Use Eyeshadow 45 [yellow] to blend between your cheeks and nose, as seen below [and in the outline], before getting started on the spots.
Time for the fun part! Add some yellow spots do your forehead and cheeks with Eyeshadow 45, but make sure to stay away from your nose and mouth. Since the spots are concentrated they take a bit longer to dry, so give it a minute. Do a test run on your hand to see about how far you should be with the wand. 
Using black eyeliner, make full and half circles around the yellow spots as seen below. Add a few "messy" black spots between, as well. The spots above your lip are more precise as they are the "whiskers."
Lastly, line your eyes [make sure to catify each corner] fill in your top lip, nose, and connect the two with a line. Add some mascara and MEOW!
For extra feistiness add a bunch of volume to your hair! Tease it, add some hairspray, and you have transformed into a wild cat!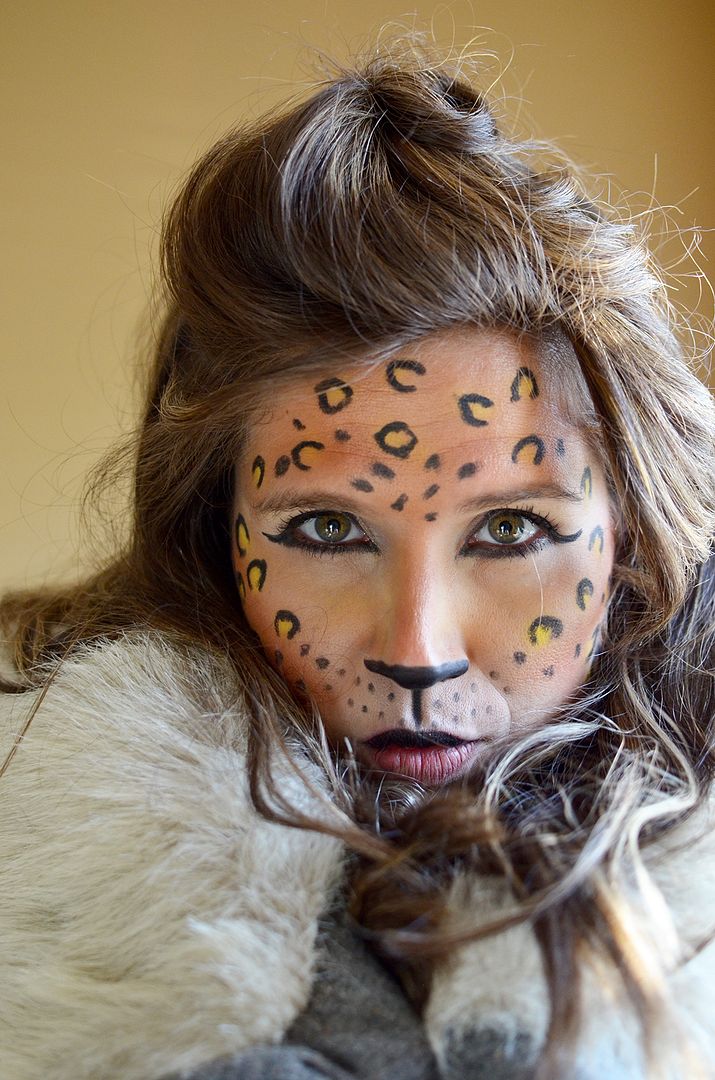 I hope you enjoyed this tutorial as much as I enjoyed creating it! The spots were my favorite part because at first it just looked like I was sickly, but as I outlined each one it all came together. I happened to have a faux-fur lined coat that went perfectly with the leopard "mask," for some fun photos. Have fun with your makeup this month! You've got the best excuse: HALLOWEEN! 🙂
If the descriptions are too confusing, I found it easiest just to stare at photos and work from there. 🙂
xoxo