Prada Marfa is actually located in Valentine, TX, which is about half an hour from Marfa. In the city, a 30 minute drive feels like nothing. In the desert? It felt like it might never end! On the way back to we decided to break up the monotony by stopping in Valentine, TX to snap some photos of a few abandoned buildings, and one really cute [closed] library. There was a basketball hoop and ball set up in back, so the boys stretched their legs for a few minutes before we made the drive to Alpine to catch the Broncos game.
So, like I said, Prada Marfa is in the middle of nowhere. You can basically assume that any cars heading in the same direction as you have the same destination. We were one of three or four cars that came and went. For the most part, folks took their pics in about 5 minutes. I offered to take their photos to get rid of them faster [tee hee], but one lady insisted on her little son be the one to take a "Beyoncé style" photo of her jumping in front of the structure, which, in case I haven't made it clear, is an art installation. The items inside are real, but I think I read somewhere that the shoes are unpaired and something is wrong with the purses? To discourage theft. [There were a couple bullet holes/dents in the glass.]
After quite a few failed attempts by her son, the lady finally asked me to take a photo of her. I made her jump a few times and she was finally like, "okay, thanks." Ha! I didn't do it on purpose! Just wanted to make sure she paid for making me wait got her shot. JKJK… *chuckles*
My sister wanted me to add that they were keeping themselves entertained kicking around an adult toy that was on the side of the road. [SERIOUSLY. This is what Snapchat is for. Things I won't photograph. ha!]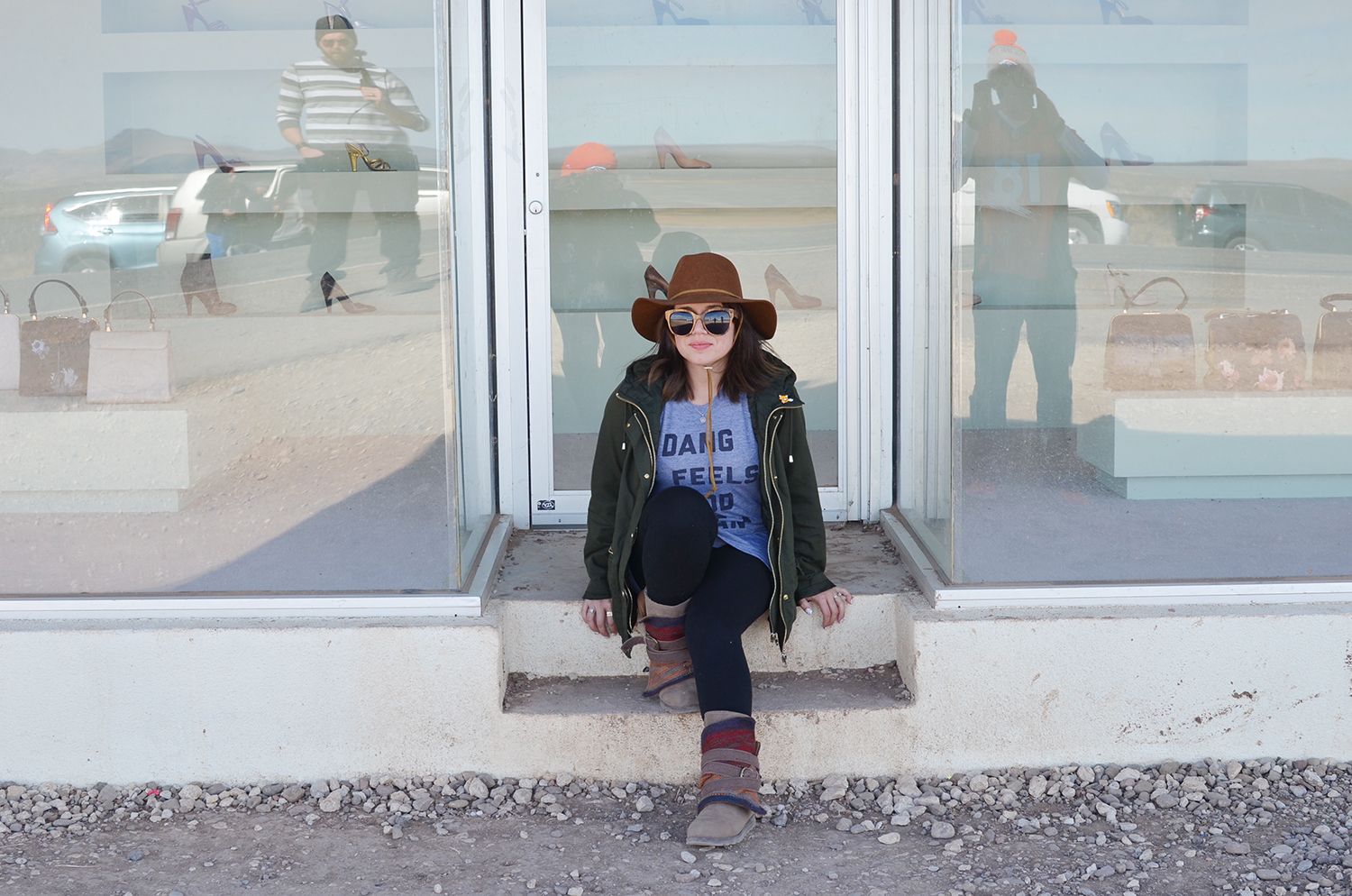 Bueno Shop Texan tee  //  Black leggings  //  Muk Luks boots  //  Topshop coat
Pantropic fedora  //  [formerly] Tumbleweeds HC sunnies  //  grrFOXY enamel fox pin
Thanks so much to Daniel, Sandy, and Bo for making the treck to Marfa and the surrounding area. I had so much fun!
xoxo