When I tell people I am trying out this diet, I get a lot of criticisms. About starving myself mostly. First off, it's plenty of food. And it's 3 days. What harm can the food pictured above do in just 3 days? The photographs are precisely what I ate. Yes they could have included some spinach leaves in the mix, but oh well. Like I said – three days.
I got all my information from TheMilitaryDiet.com. After attempting to research what the ice cream was all about [see below], I've come to the conclusion that it is simply included so you don't go crazy. 🙂
Day one was fine between breakfast and lunch. I love peanut butter, so my first meal was a treat! I woke up around 6am with Daniel, got him set up, then ate my toast and peanut butter. I saved the grapefruit as a late morning snack since I wasn't feeling hungry, and was afraid I'd get very hungry before lunch. By noon I felt great! I had my tuna on toast and left the house to meet a friend for coffee. This was a great distraction! But I should have grabbed more than my apple from dinner to tide me over because I was pretty hangry after my workout! I wasn't feeling faint or anything, just moody because I wanted dinner NOW and still needed to prep and photograph it. ha! Subbing the tofu for the meat [and later tuna] was the best idea! I thought it was delicious cooked the way we did. Seared over coconut oil, with pepper, and garlic powder.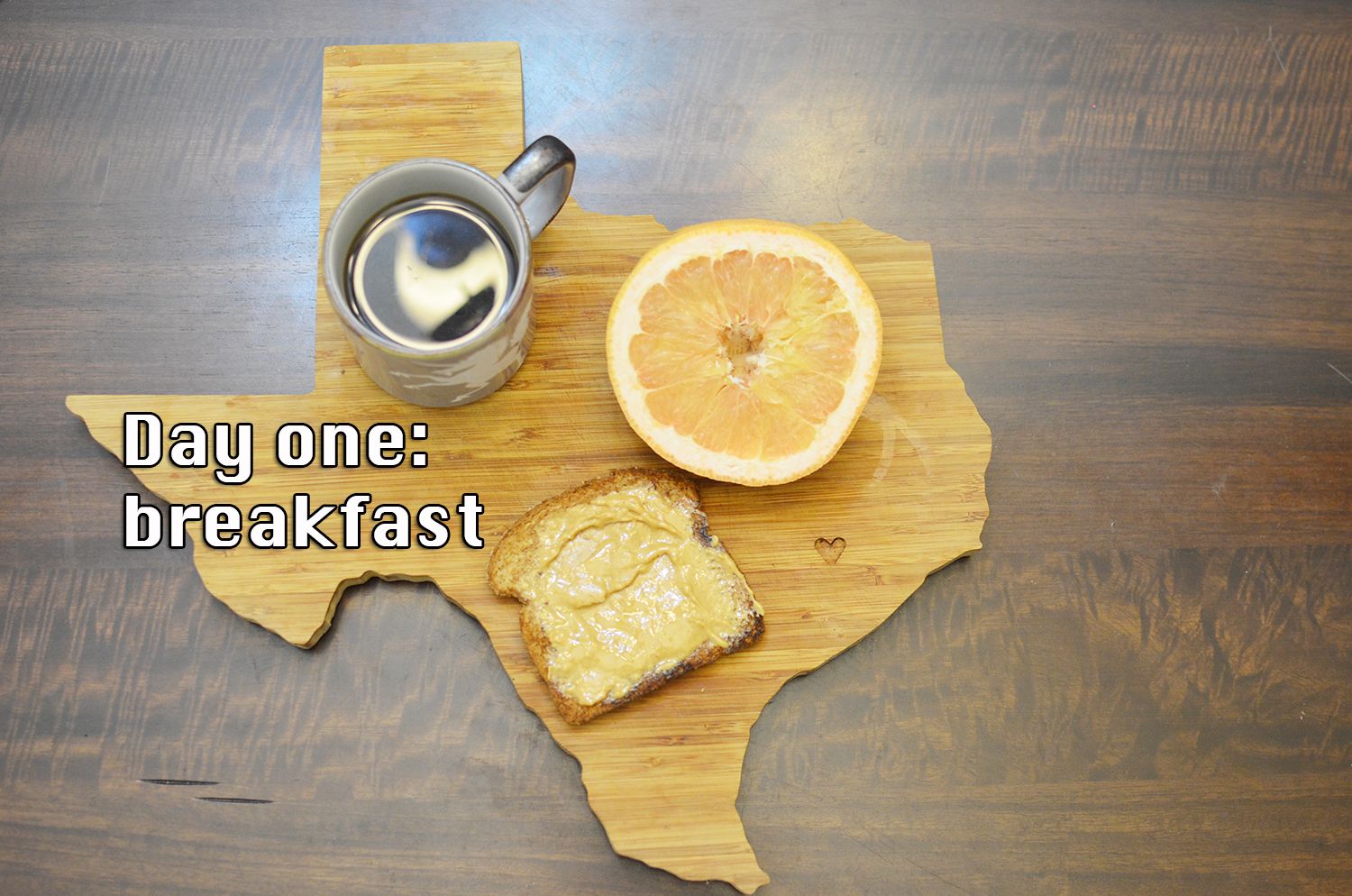 Coffee, 1/2 grapefruit, toast + 2 tblsp PB
1/2 can tuna, toast [+coffee]
Subbed tofu [seared, salt, pepper, garlic pepper], 1/2 banana, 1 cup green beans [+apple – ate as snack earlier]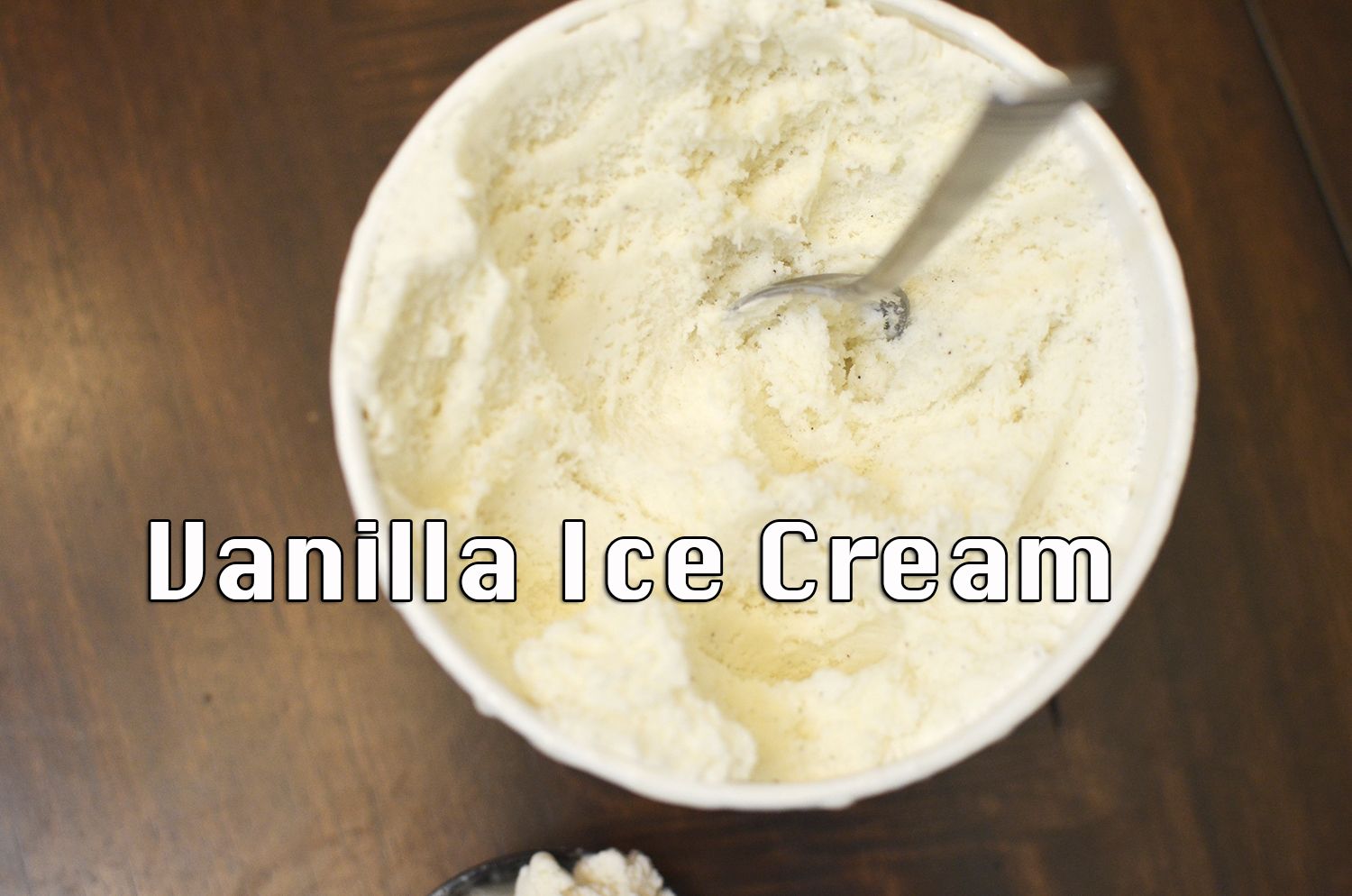 Part of dinner that I ate later. 1 cup of vanilla ice cream! 🙂
Day two: I feel like this was the only struggle, and I'm assuming it's because I wasn't having as much sugar as I usually indulge in… Breakfast was a decent size! I slept in a bit and didn't have to spread out my breakfast, but I had the egg on toast first then snacked on the banana throughout the morning. I packed my lunch up and took it on my babysitting gig. The kids looked at my like I was crazy. But after adding some salt and pepper to the cottage cheese, it was actually pretty good [with the crackers]. I also tried spreading it out, but was feeling particularly hungry, so that didn't last long. I wasn't going to be home until close to 7, so again, I got pretty hangry. See a trend here? It's between lunch and dinner. I'll need to carry more of my dinner around with me next round, especially on day two when it's big enough. Dinner includes 2 hot dogs [soy dogs in our case], which was my favorite part! I added a bit of mustard because it's allowed. I indulged in my half a cup of ice cream, too. NOM.
Edit// During the second and third week I ate some of my fruit between lunch and dinner and felt just fine. 🙂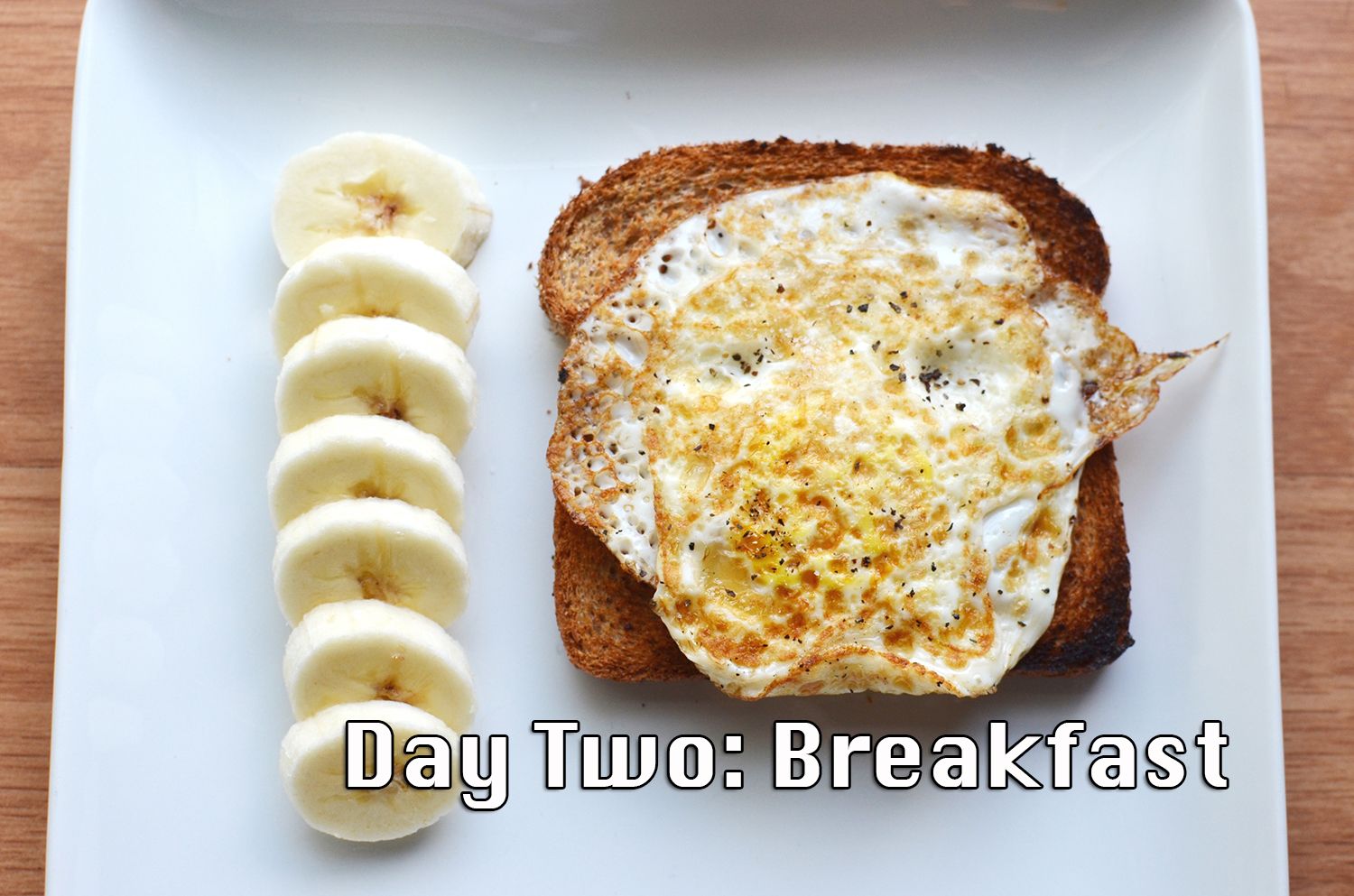 1/2 banana, toast, cooked egg
Boiled egg, 1 cup cottage cheese, 5 saltine crackers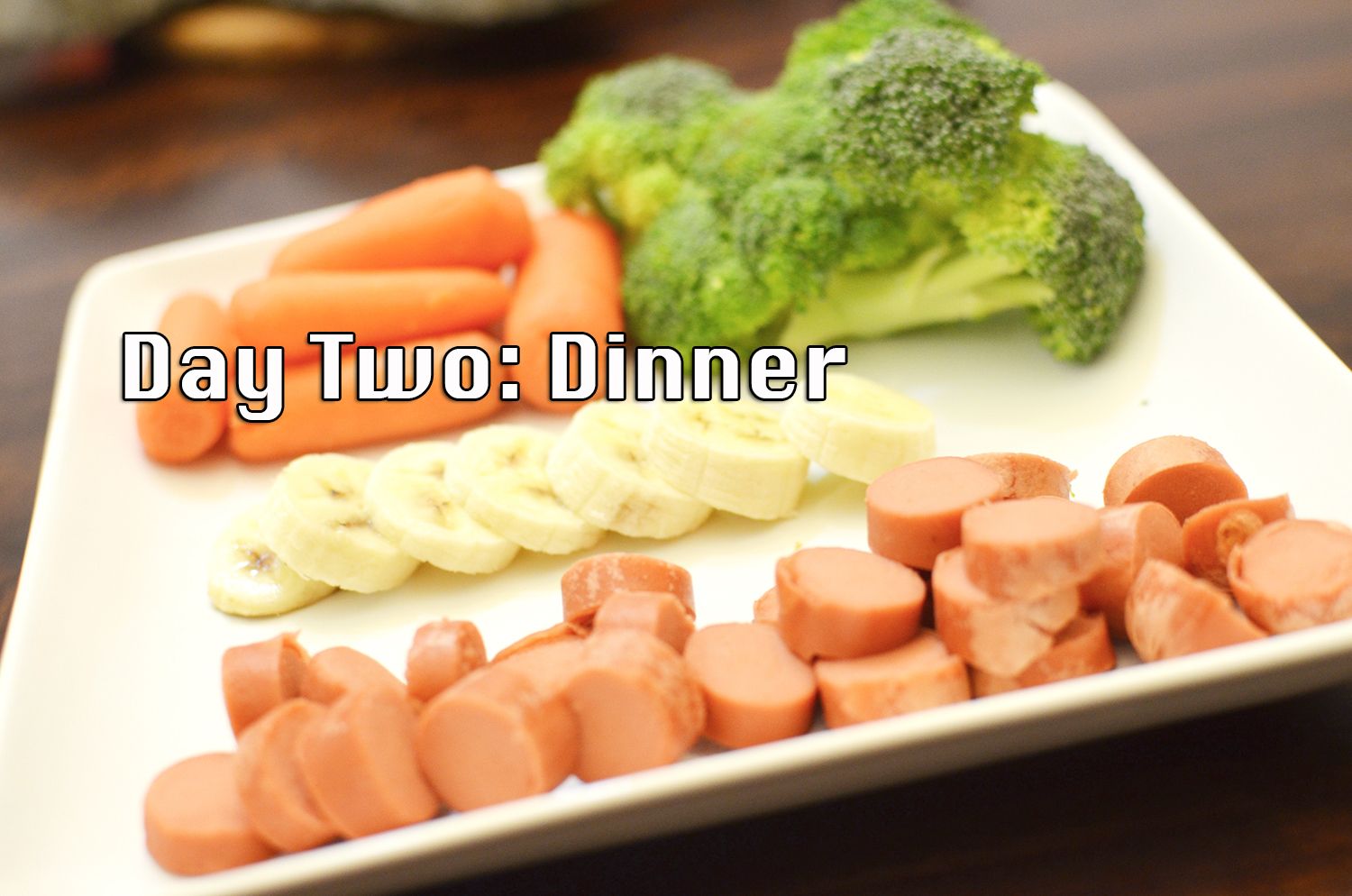 1/2 cup carrots, 1 cup broccoli, 1/2 banana, 2 hotdogs [soy dogs] and 1/2 cup vanilla ice cream
Day three: I was feeling fine again. 🙂 I was excited to be able to eat other items on the 4th day, but it wasn't that bad. I had a pretty busy day, but it involved a lot more food denial! My mom and I were driving to Galveston to see our dentist/my sister for a check-up! I woke up early and spread out my breakfast as I did some chores and exercised. The drive to and from Galveston was great! I ate my egg and toast in the car on the way to the restaurant and then ordered a spaghetti to-go so that Daniel and I could share the next day. 🙂 It smelled so good! While my mom and sister ate, I sipped on some coffee. Remember, I had just eaten my lunch. Don't assume I was suffering!
I attended an event later that night [another great distraction!] and ate my dinner on the way. I also received a free meal ticket for some tacos at this event… Luckily the other blogger I met was also dieting, and we both used our food tickets for bottles of water. ha! So sad. But they didn't have any veggie options anyway.
After a night of more socializing than usual, I showered, hopping into my pjs, and slowly [and delightfully] enjoyed my cup of vanilla ice cream. In bed! Then I dreamed of what I could enjoy the following day…
[I need to add that I also consumed two prunes and therefore had less than 1 cup of the after-dinner vanilla ice cream. Changing up my diet meant I was going to need a bit of help in that department. Apologies for TMI, but figured this is important information to share.]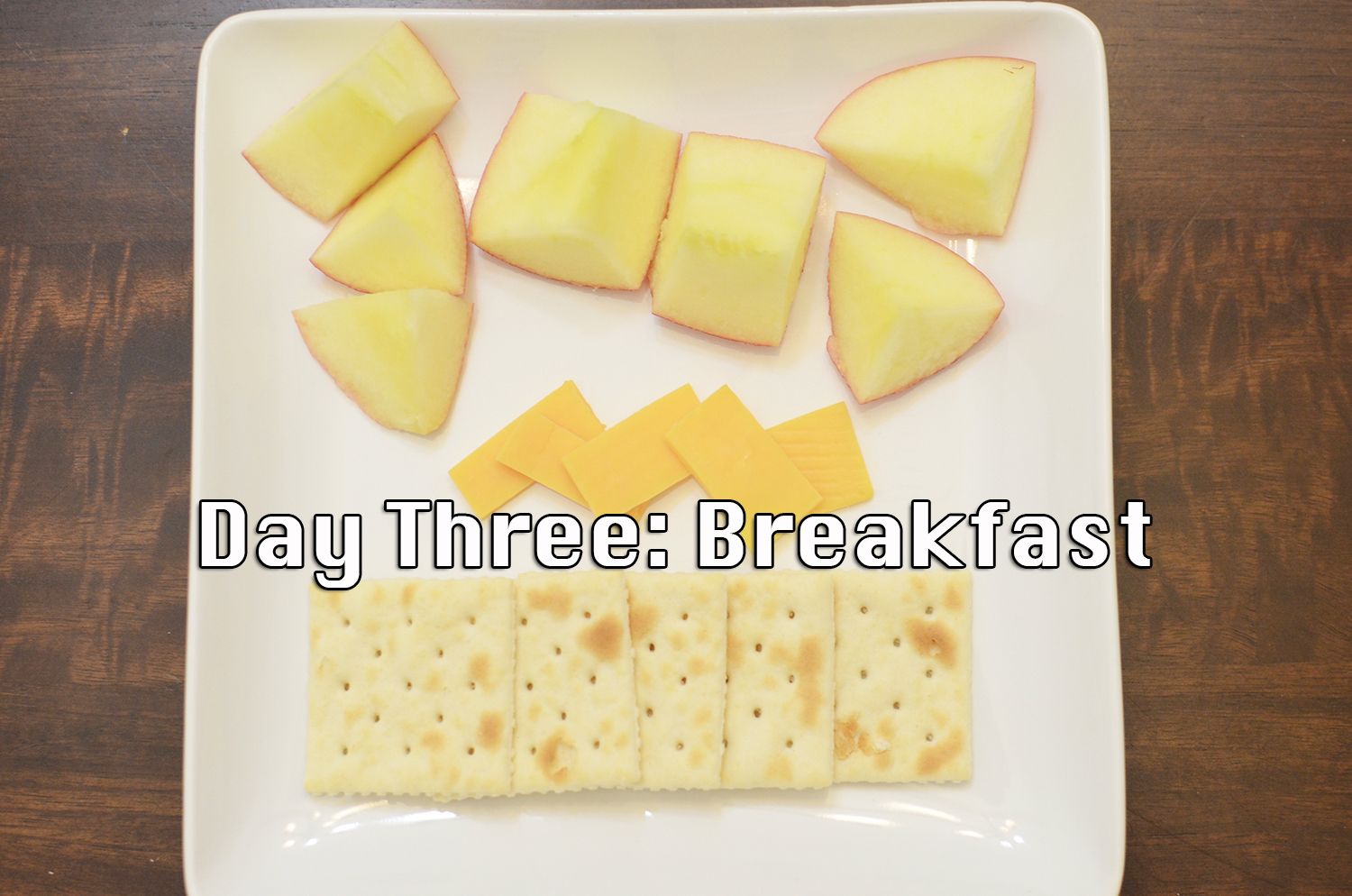 1 small apple, 1 slice of cheese, 5 saltine crackers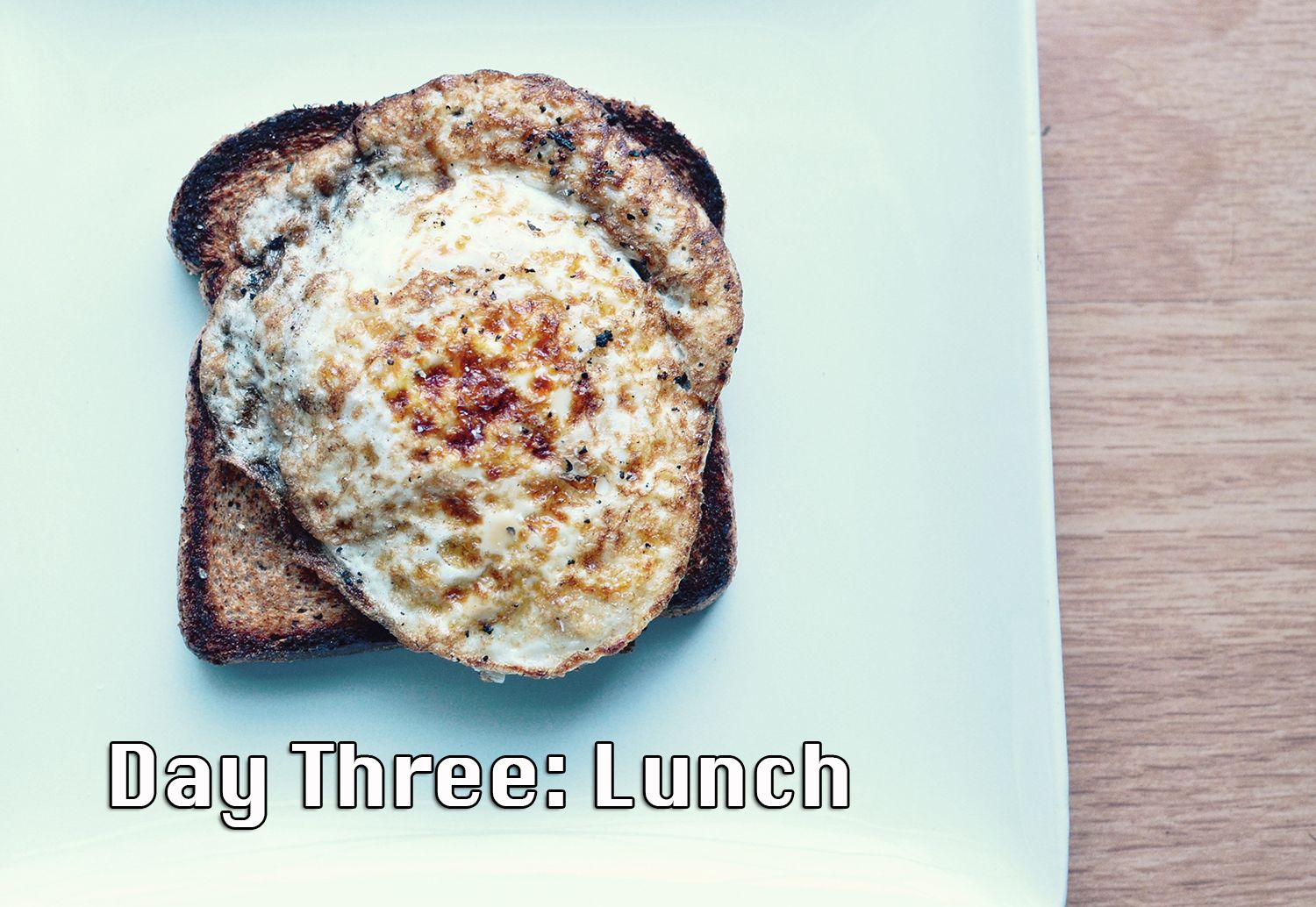 1 slice of toast, 1 cooked egg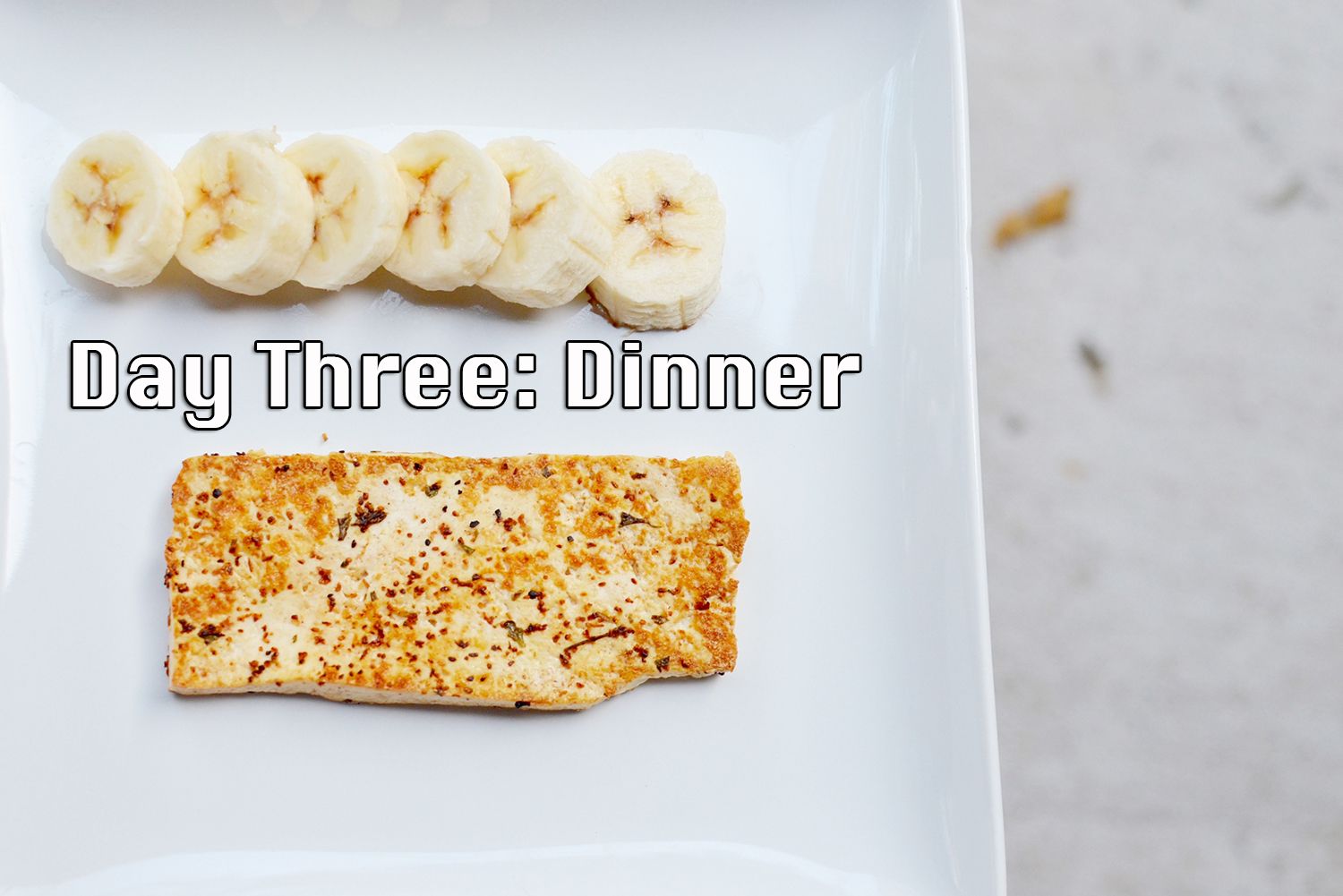 1/2 banana, subbed tofu [same as above], 1 cup of ice cream
I was most excited about having milk and sugar in my coffee! Surprisingly I chose to sleep a little more rather than eat. Then I even prepped everything and limited my intake. Daniel and I indulged a bit more on day two off the diet, but we are still on the right track, and even lost a little more weight the day after our first off diet day. We are going to continue trying this out 3 days a week because the food is really great. But we all know it won't last too long! Hopefully the smaller meals will rub off, though. I'll keep you posted!
Conclusion: After 3 military diet days I lost 5 pounds. After my first non-diet day I was down another half pound. I expect to naturally go back up a couple pounds, but should go back down once we do another three days. Remember I'm just under five feet tall, so 5 pounds, to me, is a big deal!
Edit// I'm on my third week of the military diet. And am still down over 5 pounds with a one or two pound fluctuation depending on what I eat during my off days. 🙂 Daniel and I have decided to add a bit more protein [in the form of beans] to stay properly nourished.
Video footage:
Day One  //  Day Two  //  Day Three  //  Conclusion
If you try it let me know how it goes! Daniel has been pretty excited about his weight loss. I have to admit, I am much more comfortable in my jeans!
xoxo