This shop has been compensated by Collective Bias, Inc. and its advertiser. All opinions are mine alone. #RinseMadeRad #CollectiveBias
Daniel and I recently traveled out west for a friend's wedding. I was so excited to dress for real fall weather, I immediately packed up my favorite pieces of plaid, as well as a few complimentary articles of clothing. Once we reached our hotel in Jackson Hole, Wyoming, I took my scarf off and set it on the bed. "Oh look, they even provided us with this really soft blanket!" You hush, Daniel! He loves teasing me about my obsession with blanket scarves! They're so huge, especially on a small person like me, he can't help but mention it. At one point my friend Bobbiejean and I were both wearing the two scarves I brought and he teased, "If only I had remembered to wear my blanket to dinner, too." ha! Silly, husband.
You know what else I'm obsessing over this time of year? Flannel! It's seriously just the best. I may or may not have pulled all of my flannel tops from the back of my closet at the first sign of a cold front. So soft, so warm, so plaid. These tops are very versatile, too. With jeans, leggings, tucked into a skirt, buttoned up, worn open over a top, buttoned half way up over a tank – there are many options! When it's very cold, buttoned up and accessorized with a blanket scarf is my preference at the moment. In case you didn't catch that earlier. 🙂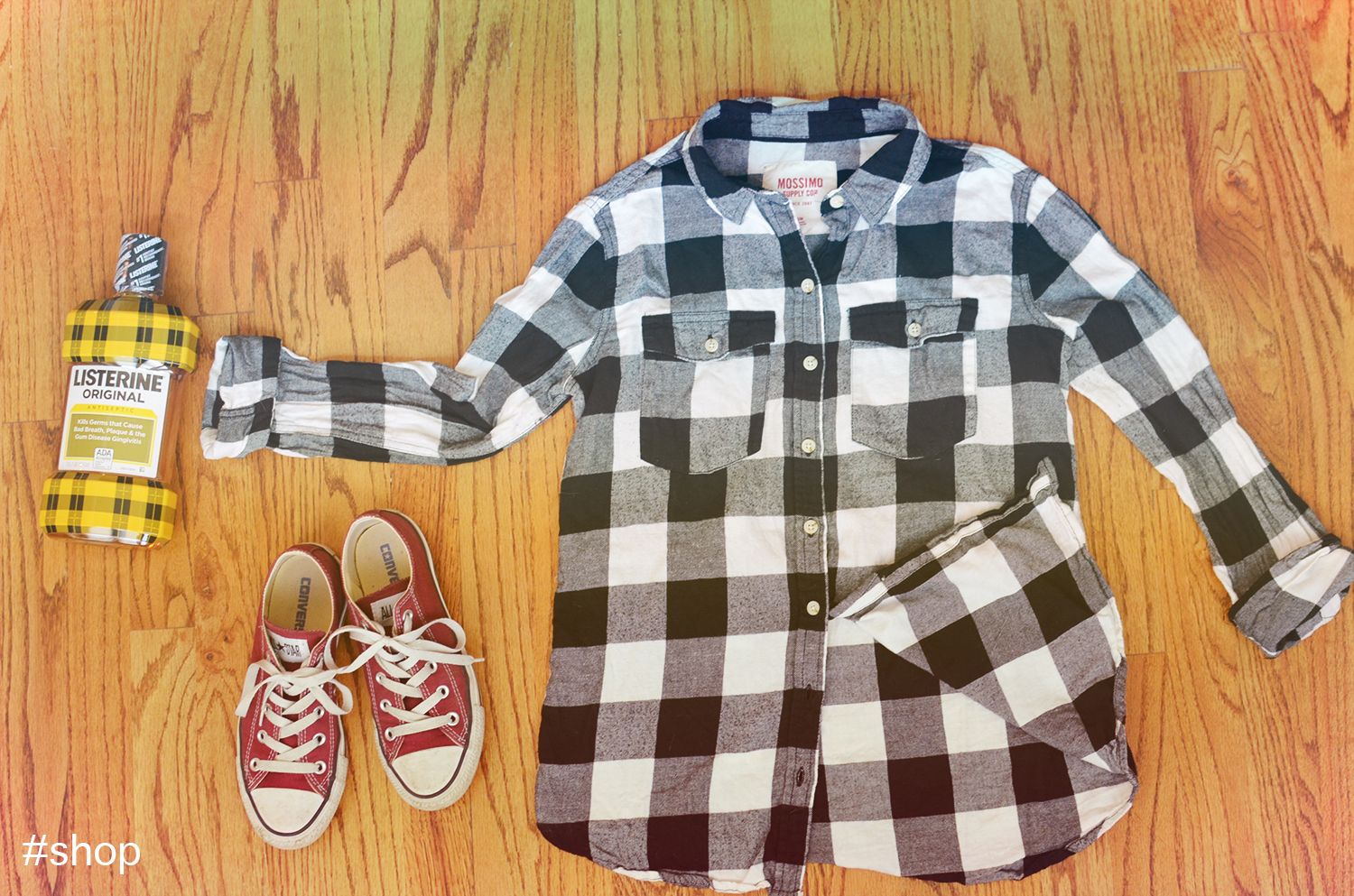 If you hadn't noticed the rad plaid trend already, now you certainly will! Especially if on one of your many Target runs. Who can resist LISTERINE®'s trendy [and temporary!] fall packaging?? As if everything in that store wasn't cute enough! I bought two of the four different designs. The yellow plaid matches my TARDIS bathroom perfectly! And thank goodness I packed one of the bottles in my suitcase! This trip consisted of a lot of road trip snacking, and my mouth was begging to be brushed and rinsed each morning and night.
Speaking of packing, it is a very difficult task with a cat in the vicinity. Adorable, but difficult.
You can't miss the display at Target – they've even got a plaid banner to draw you in. I used LISTERINE®'s packaging to match my favorite fall trends, but can't you picture these designs in a trendy bathroom, too? Or in a guest room with complimentary decor/colors? That's where my second bottle is stationed. 🙂
What is your favorite fall trend? Are you as excited about plaid this fall as I am?
xoxo
p.s. for 10% off through the end of the month, make sure to take advantage of Target's Cartwheel deal!