I love attending blog conferences. Being surrounded by people that do similar work and have similar struggles is incredibly motivating. Poor Daniel has to hear me whine about my online life all the time, but at a blog conference my friends understand because we are all going through it. Someone left a crappy comment, you haven't met a Twitter goal, you lost a few followers on IG, your family doesn't take you seriously, you keep pitching different companies and don't hear back…the list goes on and on. And while these are all of the negatives, you also get to share your positives! For example, while at Blog Elevated I met an Instagram goal that I could share with a couple people and know they would be excited for me!
My hand ached by the last session. I took loads and loads of notes, tweeted, and met some really sweet people. In an attempt to condense, here are three very great lessons I learned at Blog Elevated.
Our keynote speaker was Rae Hoffman. She shared her incredible story with us as she also gave some great advice, like other people's opinions don't matter. I tweeted my favorite quote as soon as I heard it. Perfection.
"I used to care about other people's opinions until I tried to pay my bills with them."

#BlogElevated

— roxy (@grrrfeisty) September 19, 2015
This is definitely one of my biggest struggles. Most of the time I overthink everything I share. Whether it's a Twitter update, Instagram photo, blog post… The cycle is as follows: Choose a photo, type a caption, exit/save because I am not satisfied. Open it back up and wonder if it's good enough, will people identify with it? Like it? Close it again. This will happen two to three times before I decide whether or not to share. I wish I could not care. I just want to post beautiful, colorful, happy photographs. But will you like or comment? I care too much.
Where this lesson truly applies to me is in real life. If someone asks me what my blog is about, I need to sound confident in the description. It's not just my online life, it's everyday life for me. I need to share my posts and not get paranoid that I will lose friends. I need to shrug it off when people I know say something rude about what I do. That's when I need to stop caring about people's opinions.
Ashley McCleery from Lily-Jade gave us some great tips for what brands look for in an Instagram profile. I have a long way to go, but what stuck the most was:
First impressions make up 80% of a person's opinion.
Your first 9 photos are your first impression. Your profile description, too. It should include a great hook – in just one sentence.
[[She pretty much suggested you save all of the other stuff for Twitter!]]
A lot of my goals have to do with my Instagram account. I feel like it's become somewhere to "mini-blog." Emphasis on the mini – I like to get a little personal sometimes, but also don't like writing a book in that little window. And this is definitely where I psychoanalyze myself and my followers the most. "Which photos do they like best? How do I post the things I want to and remain consistent?" I feel like I have been searching for a secret formula for years now and am even farther away than before. Hopefully everything I learned in Ashley's session helps me out! So far it's causing me overthink what I am about to share even more. haha!
Abbie Unger had a great session about Facebook groups. What stuck with me most is to be generous to your followers!
What does that mean? Products. Well not just products, but apparently the main thing I am missing seems to be some kind of product. This is where I am stuck. I wish I had freebies! A PDF checklist of awesome bullet points to help you do this awesome thing I can somehow offer you advice on. But what?
My friend Kiki has done so great in this category. She's always writing and giving away e-books to her Facebook groups. One time she made a great checklist, and more recently an online course. Great teacher right there! She's even given me a few tips about what I could create. Maybe it's just confidence that I lack?
Speaking of Facebook groups – they are huge. I have a FB page for my blog, but when someone posts, only I can see it – unless you go hunting around the page. A group allows you to have discussions with other people! This is where the aforementioned freebies would appear, too. If you can think of something someone might be interested in receiving from me, by all means, let me know. 🙂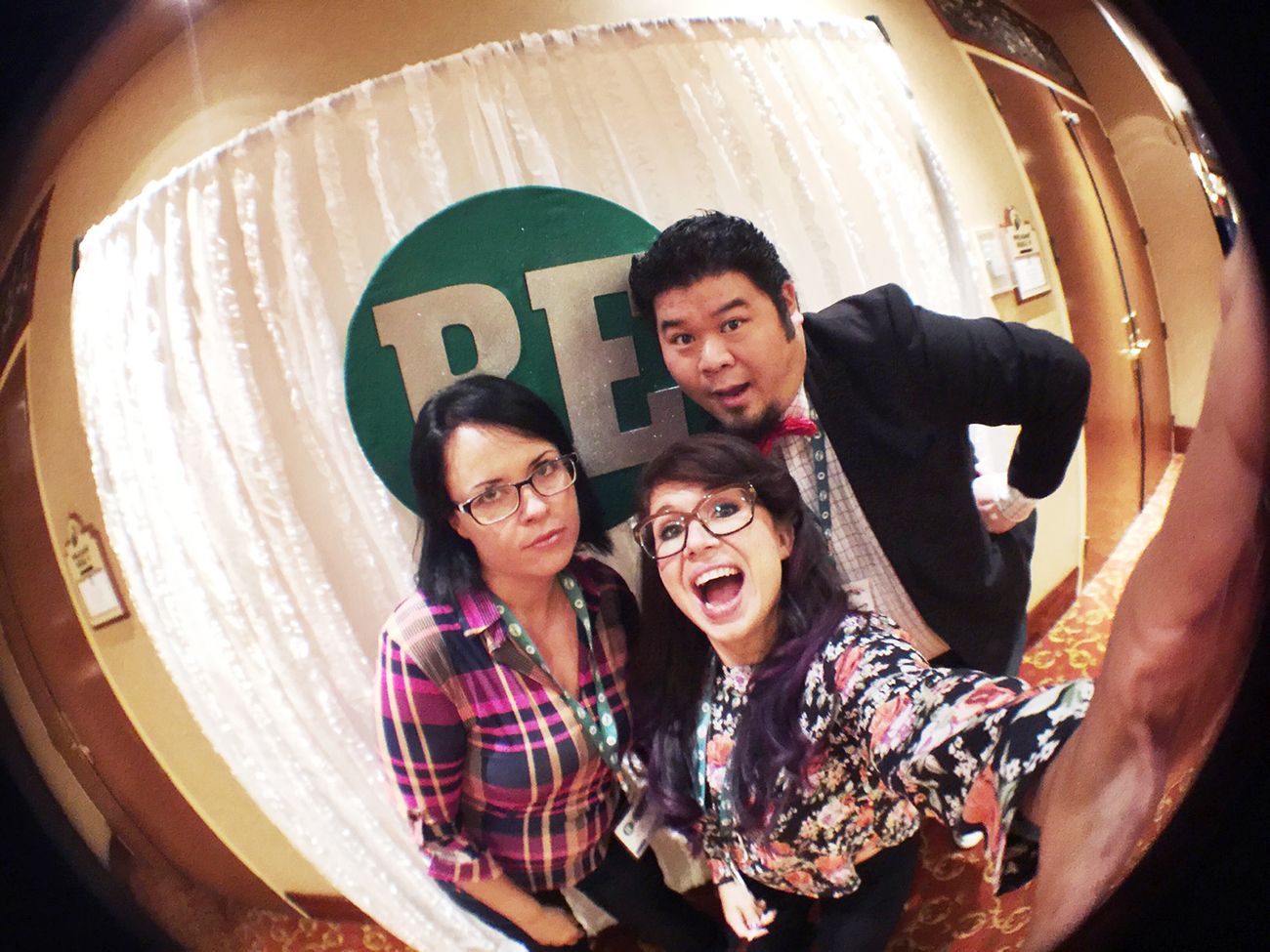 The annual "Kiki hates us" Blog Elevated photo. Kiki, me, Eric.
There was so much more knowledge crammed into this little brain of mine! But these were my three main takeaways. Are they useful to you at all? Do you have any similar advice to offer? By the way, thanks for reading my blog. Your interest is so important to me and supports my website and livelihood with every click.
xoxo