Sometimes you just take a day. You screw the plans and hang out by the water. After educating myself thoroughly
last weekend
and working my little brain to death, I did just that! I wasn't ready for the responsibilities of real life yet.
Sandy had the day off on Monday and invited me to come visit. She and Bo were going to explore the other side of the island, where none of us has ever been. I grabbed my new Courtney Allegra swimsuit and my GoPro and hit the road [and then the water]!
The ferry ride was a very fun filled 20 minutes or so. On the way to Crystal Beach the boat slowed down very quickly because we were about to intersect this ocean liner. It was pretty intense how close we got. The GoPro makes it appaer farther away, which is a shame since there were a few dolphins going to town on the front of the boat. They were having a blast jumping in and out of the water!
The ride back was even more fun because the water was choppier and we kept getting splashed. As we dodged the waves we were on the lookout for more dolphins, hoping to see one jump all the way out of the water. No luck this time!
We ended up at a park and on foot. There was a single house facing the ocean that was completely gutted. I didn't go inside, but one of the windows had been shattered and there was a dresser drawer filled with old photos just below.
Bo pulled the drawer out and we began sifting through the photographs. There were a few childhood photos, like the one below, but mostly 35mm photos developed in the 90s most likely. The process felt like we were invading someone's privacy, but we were so interested, and the park was practically abandoned, we just kept looking through them. I wonder where this family is now? Why is the drawer just sitting there? How did just that fragment of their lives get left behind? Ahh…old photos. Even if they aren't your own. So interesting.
Here comes the fun part. There are a couple abandoned bunkers within this park. One is completely sealed off, but the other had a set of doors [like the ones below] that had been left open. There weren't any signs, so I'm not sure if we were trespassing, but we definitely investigated. The place was pitch black except near the doors where a few slivers of light came through. There were cement rooms that we entered cautiously – until I grabbed Sandy's arm and she screamed bloody murder. Ha! Bo had it right when he described it as reminiscent of the Blair Witch Project.
Our blood was pumping from the fright fest so we started playing around: doing handstands, balancing on the rocks near the ocean, and posing for pictures of course. 🙂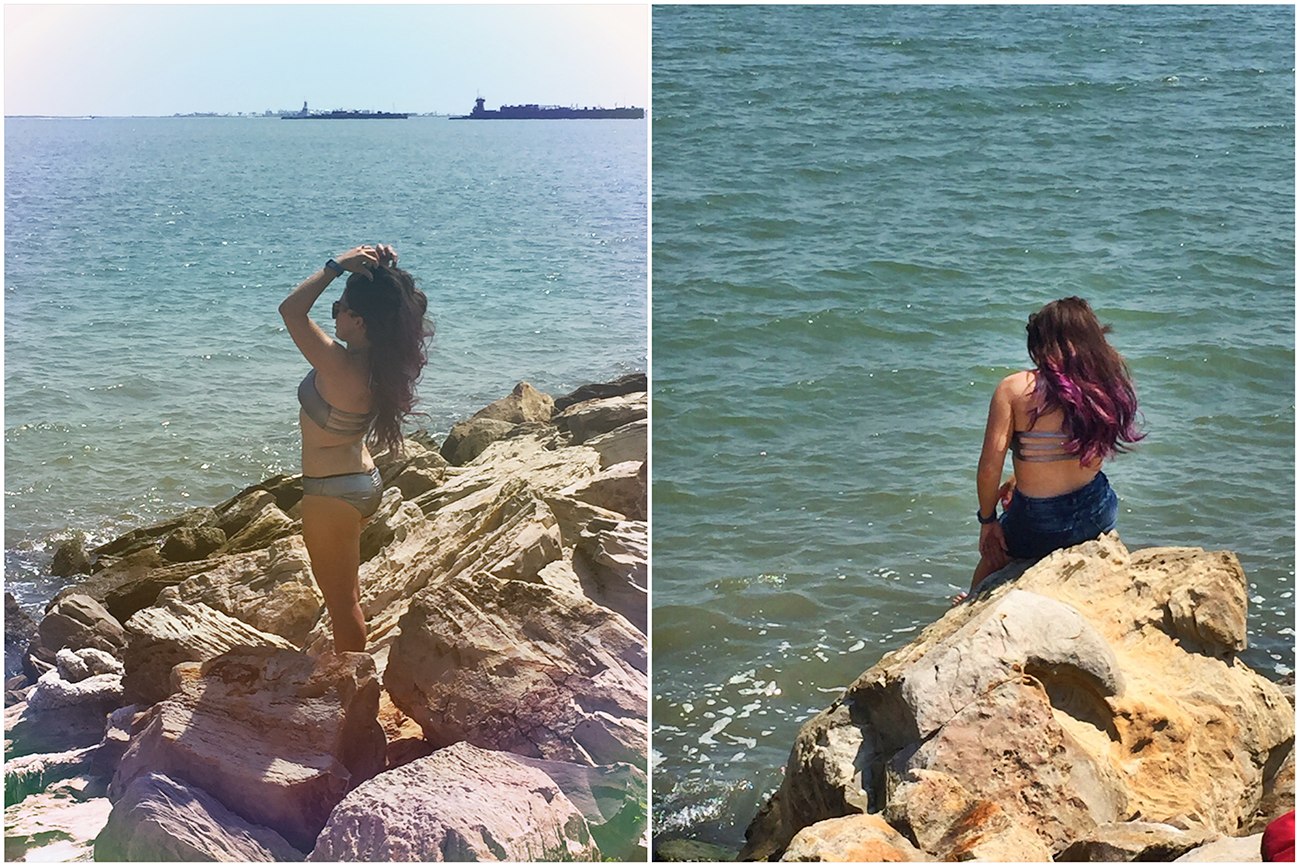 Can you tell that my torso is about 2 inches long? Ha!
Bathing suit by Courtney Allegra, 18 year old designer and philanthropist.
"You CH!" "No, you CH!"
There are still a few weeks of bathing suit season hanging around in Houston, but for the most part it's time to pack them up until next summer! I'm honored to have received this unique suit via Courtney Allegra. Especially since she partners up with a number of charitable organizations like The Cancer Survivors Fashion Show and AIDS Healthcare Foundation. 🙂 I've never had a suit with such a strappy back. It's so fun!
How are you saying goodbye to summer??
xoxo