Last summer I got my PADI open water certification. I felt like a little fish. I learned things quickly and performed well. Daniel took the course to review his own skills and was the perfect buddy. He reminded me of things and helped a lot.
Last month I got my advanced certification and the class was definitely harder. I'm not sure if it was my lack of confidence or what, but it was not the same experience I had previously. One of my dives ended with the instructor saying, "You just need to dive more."
So I did. I went on my first trip thanks to Daniel's mom! She invited us along on her scuba club's Little Cayman trip. It was a whole week. We spent our mornings on a boat, lunched on land, and then had one more dive each afternoon. We were so wiped each night, we had to force ourselves to stay up past 8pm!
Each morning, 20 [or so] people would get on the boat. Daniel and I would clean out our masks and check our oxygen, then head up to the top of the boat. Those were pretty much our assigned seats because whenever we were on that boat, we were at the top. It started out that way because I didn't like being in such a big crowd, and I was nervous, so it was a nice escape. Then it just became the best view, with the wind [and sometimes water] hitting me in the face. Every once in a while others would join us. As the week went on, more people sat up top. I let my introvert juices flow until anyone started chatting with me. I don't mind, but staring out into the ocean and enjoying the waves was so calming. I loved it.
The first dive was to check our buoyancy, thank goodness. I struggled with staying down once I got too shallow – like 15-20 feet. This only becomes dangerous if it was mid-safety stop. Most of our dives started deep and then ended shallow so we could swim around and explore a bit while doing the safety stop [get more oxygen rather than nitrogen flowing through your system before hitting the surface]. Daniel and his mom were pulling me down a lot those first couple days. I added some extra weights to my vest and did great afterwards. I think can even remove them now. There's so much balance involved. Much more than I thought. 🙂
It was recommended that I not even try to take photographs those first couple dives, but I couldn't help it. Once we were in an open enough area and I felt like I was swimming along fine and dandy, I whipped out my GoPro. I even bought a few different filters for the different depths. My favorite photographs are of diver profiles from near, far, their silouhettes, etc. I'm working on the wildlife photographs. Might need a "selfie stick" for those close ups since the GoPro has such a wide angled lens.
Daniel had to tell me that I could not swim off to take photographs. We needed to stay together as a buddy team. What was the first thing I did? Chase a turtle. He grabbed me when I almost surfaced with the little guy. Oops… I got better after that. Turtles were my ultimate favorite animal to observe. I saw a handful of them during the trip, a couple sharks, a wide variety of amazing fish, stingrays, some shrimp, other crazy cool tiny little animals, and a moray eel on the very last day. Daniel noticed a difference in coloring within some coral. Everyone else had just gone through a swim through [tunnel through the coral – so cool to do!] and we were floating around trying to figure out what was in this coral. He sinks to the bottom to try and look at it from the entry and sees a tail. He poked it and rushed upward when an eel head poked out of the top hole [the arrow in the photos below]. I missed getting it on film/photo because I got scared. Those things are big! Reminded me of the Ursula's pets on the Little Mermaid. Eek! Bad Daniel. Luckily that eel's head was on the other end.
I'm going to attempt to make a video from some of the footage I took and will share that later. If you ever had the tiniest interest in scuba diving, I highly recommend getting certified. And you can join clubs so you are familiar with most of the people, too. Lots of trust there. These photographs just don't do it justice. Daniel described diving as flying, and it totally is. There is some kicking involved, but it's mostly all about the breathing and buoyancy. Below the water there's a whole other world. Mountains and mountains of coral and lovely animals. There were a few times when I was surrounded by glistening fish – those moments were perfection. I just floated and watched. You just can't get enough.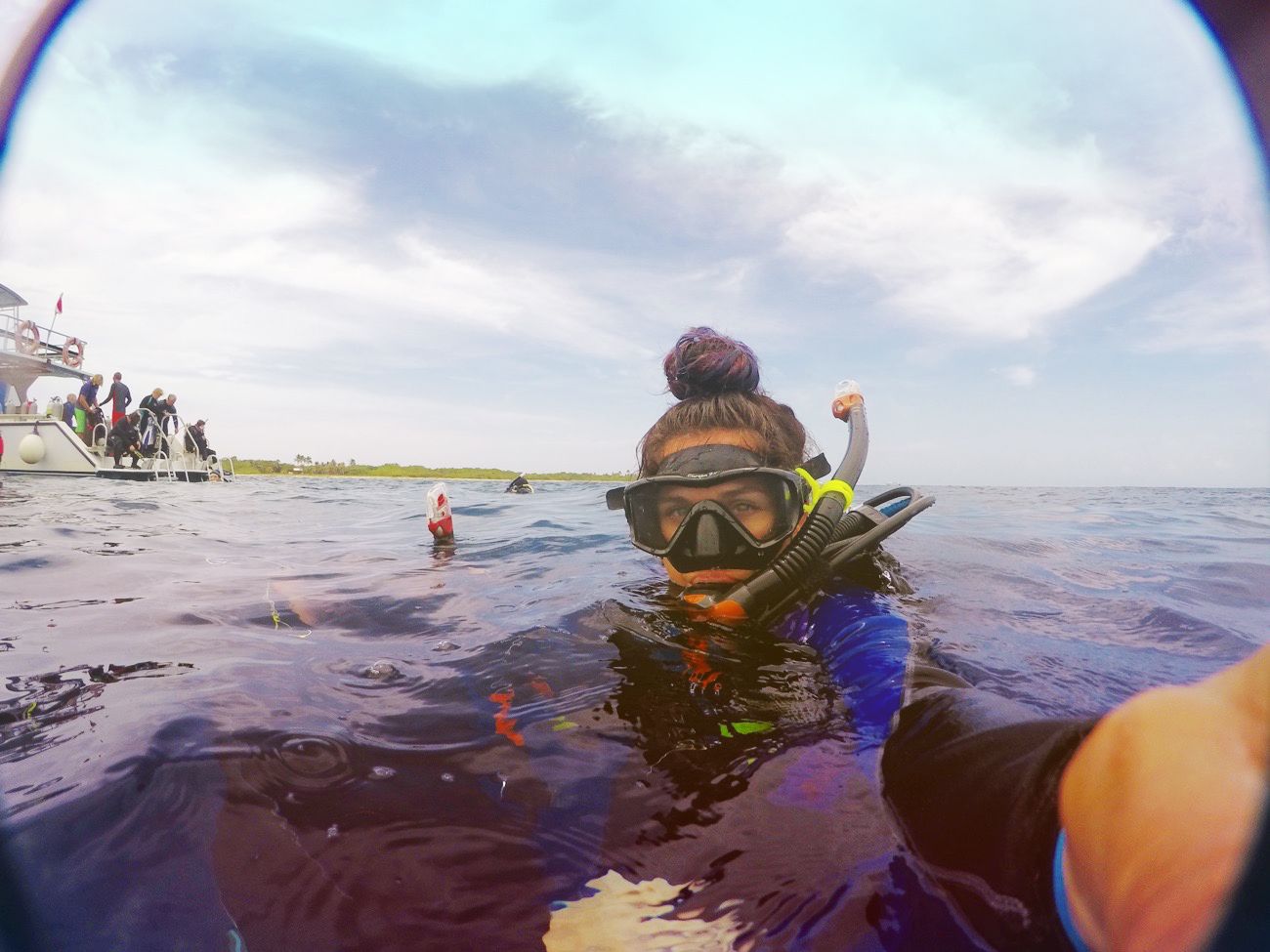 floating around with my snorkel in while I waited to go under.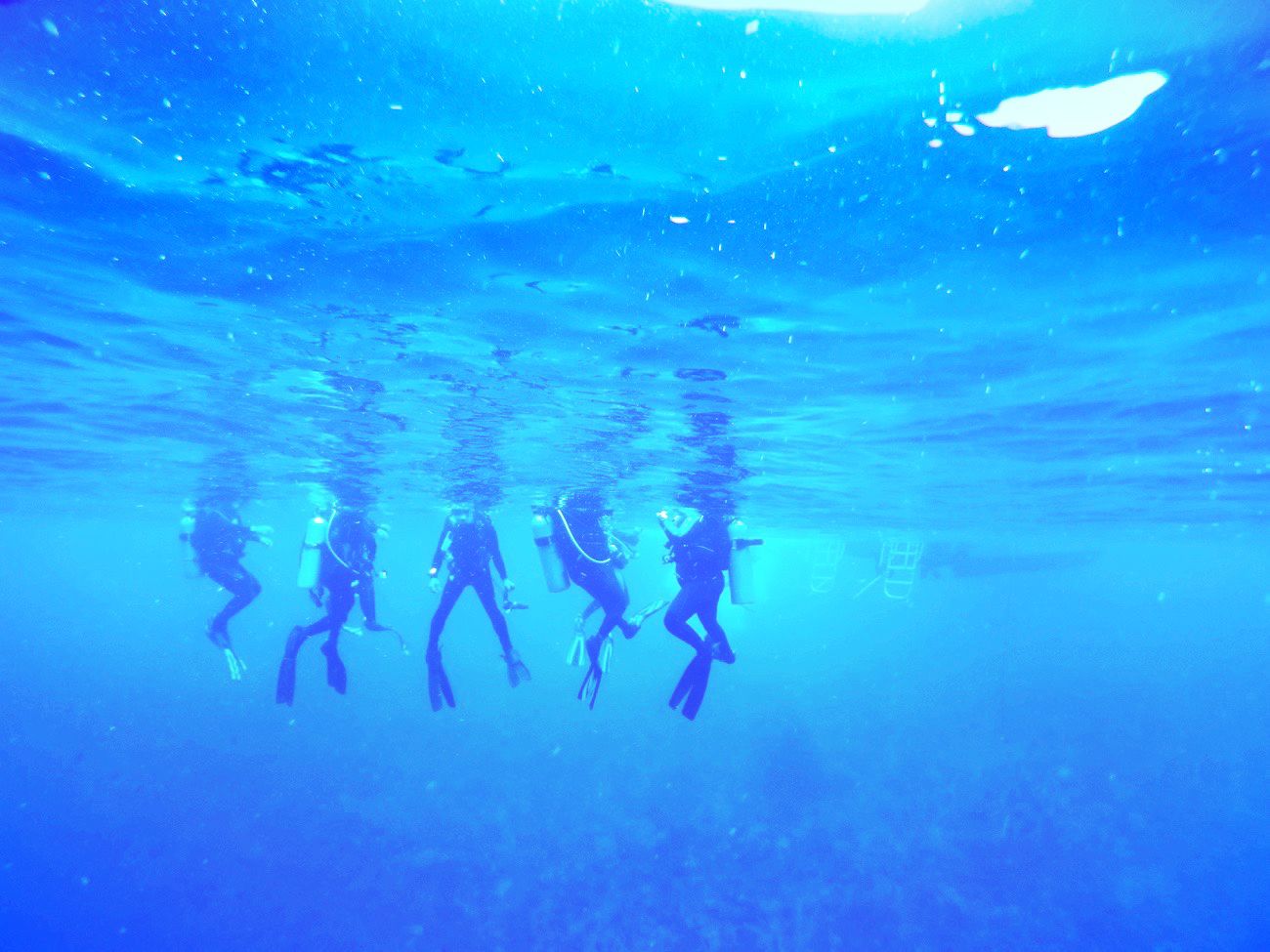 waiting for everyone to get in
some of my favorite moments are looking up at the divers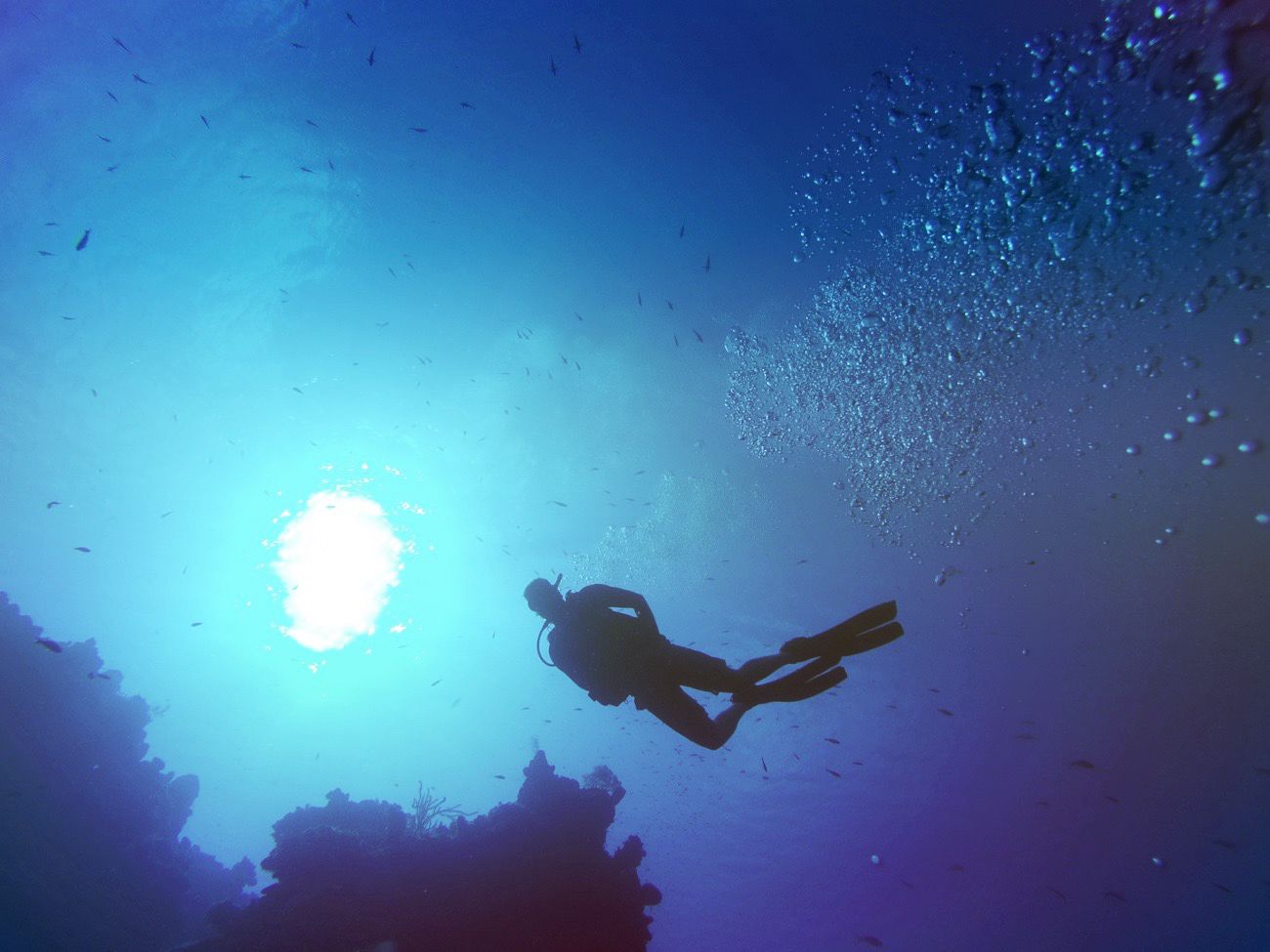 Daniel, flying.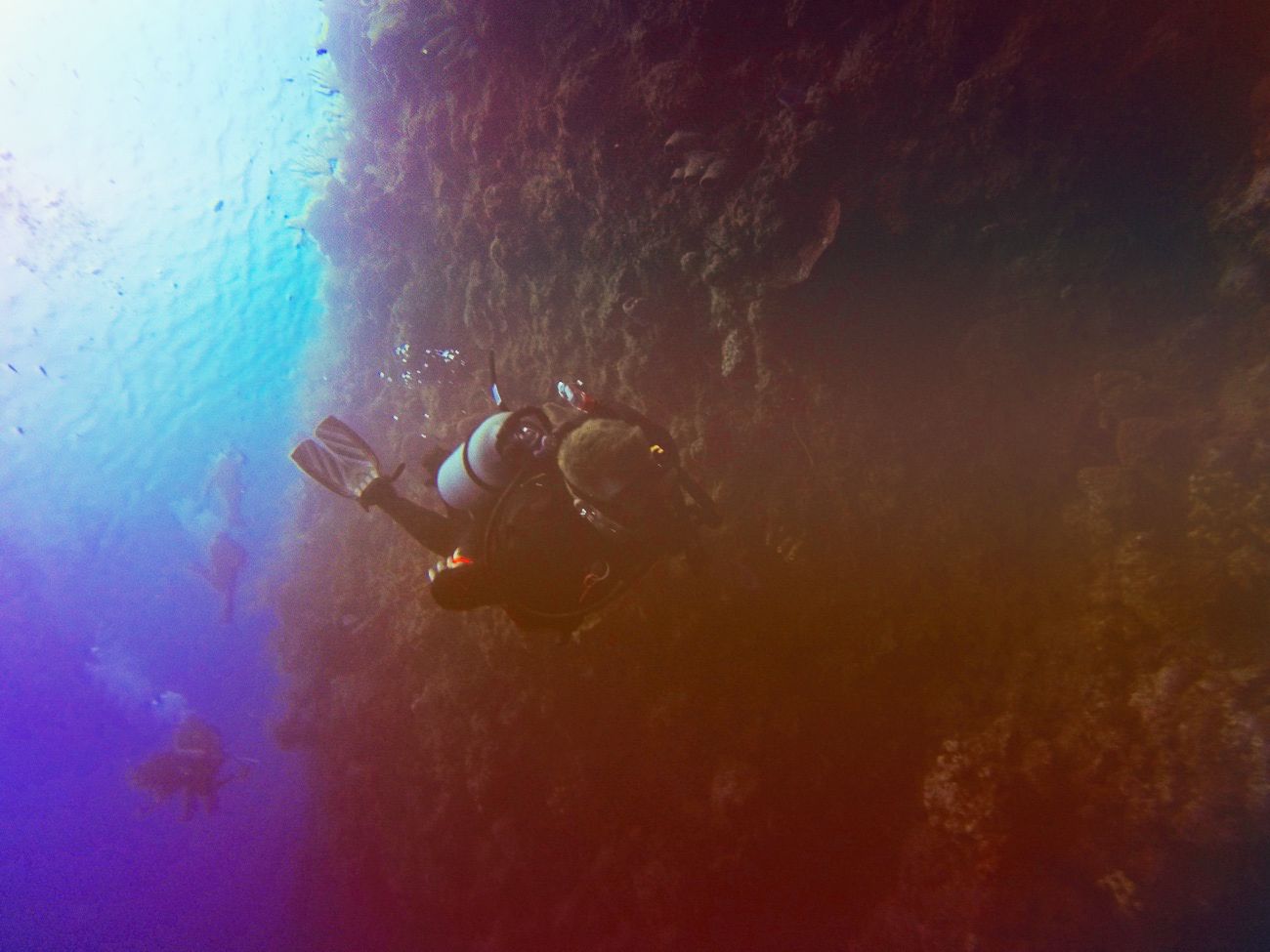 Daniel in flight along a huge coral wall.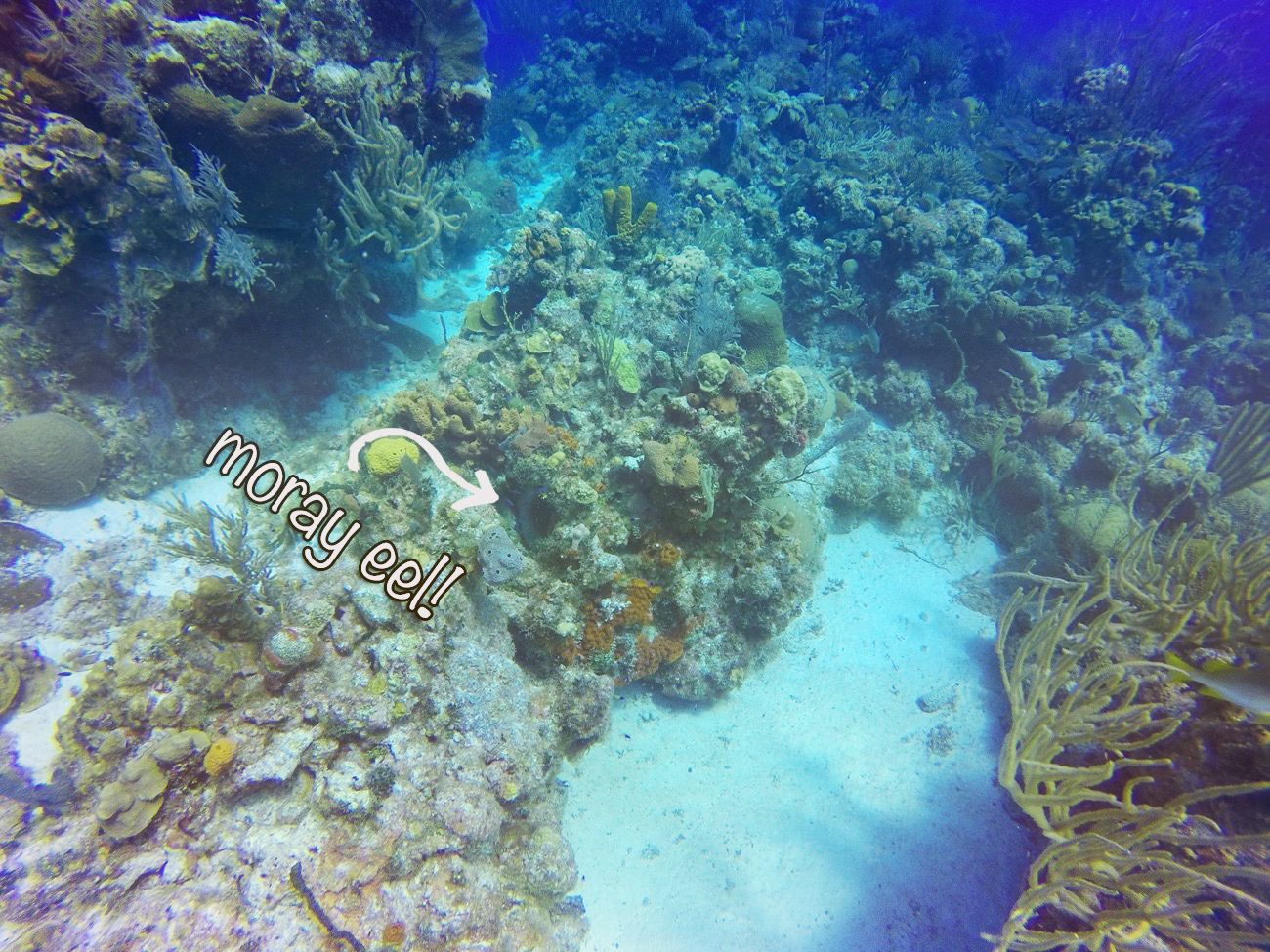 The arrow points at the eel's body. It's tail was barely sticking out of the opening below the orange coral in the photo.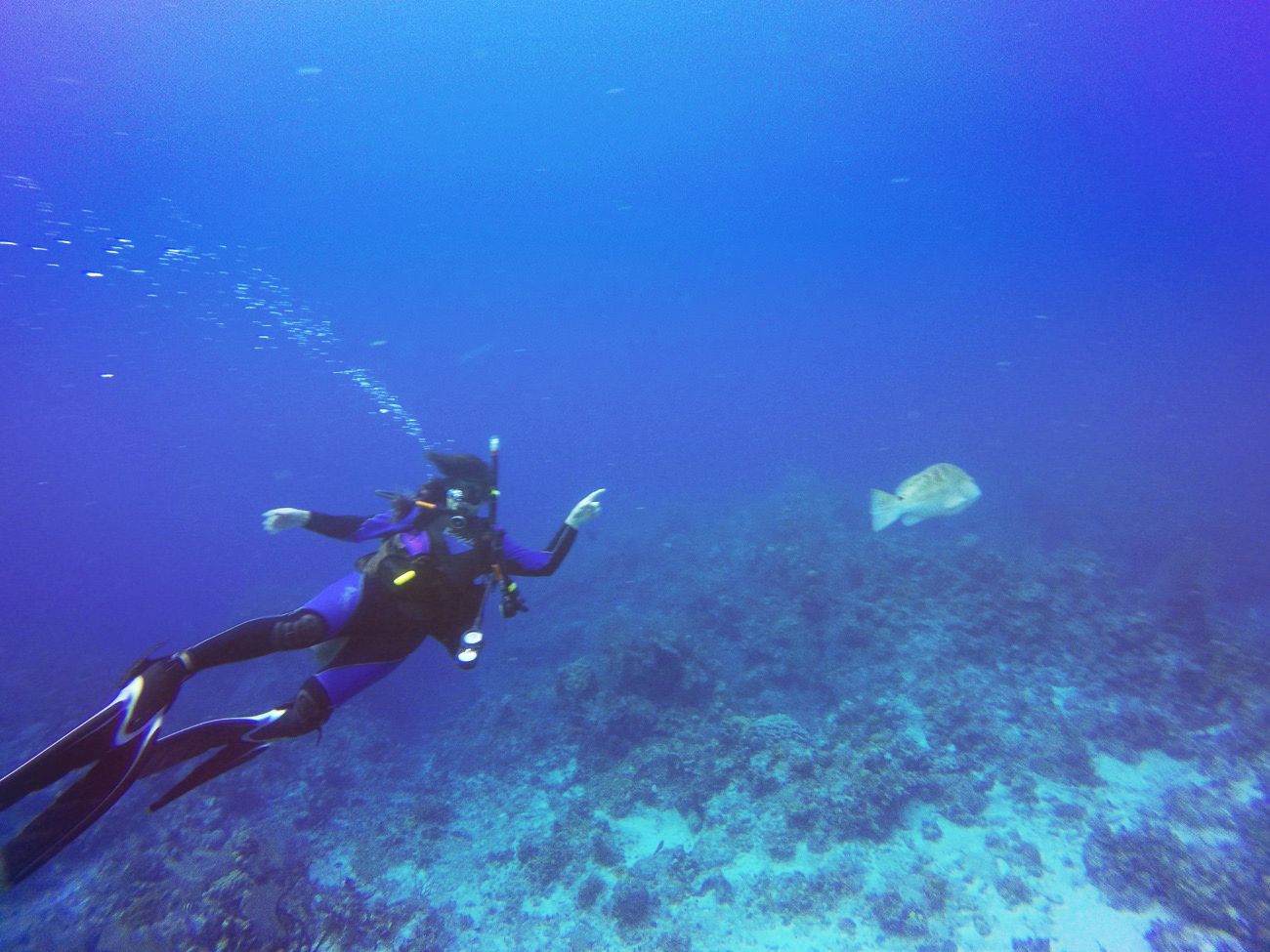 Groupers are "the labradors" of the sea. They like being pet below the "chin." I didn't have the courage! Next time!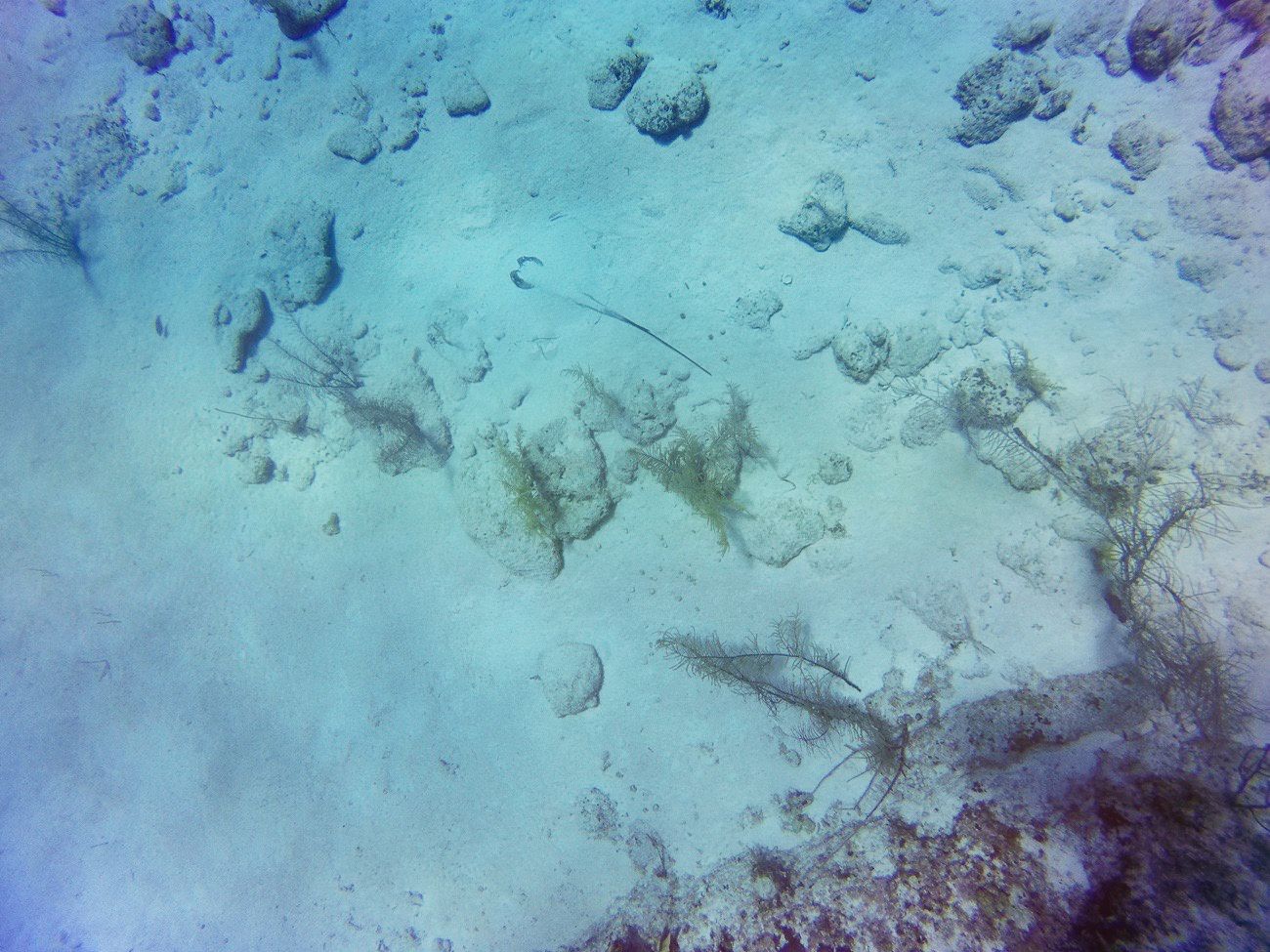 We saw plenty of stingrays. They're hard to see when they bury themselves in sand, too! I almost freaked when a diver almost landed straight on one. Luckily they only attack if provoked. It just swam away when the diver got too close.
This shot was my favorite [on Instagram] but I wanted to share this fist pump afterward. I was so happy to have a photo with my favorite sea animal!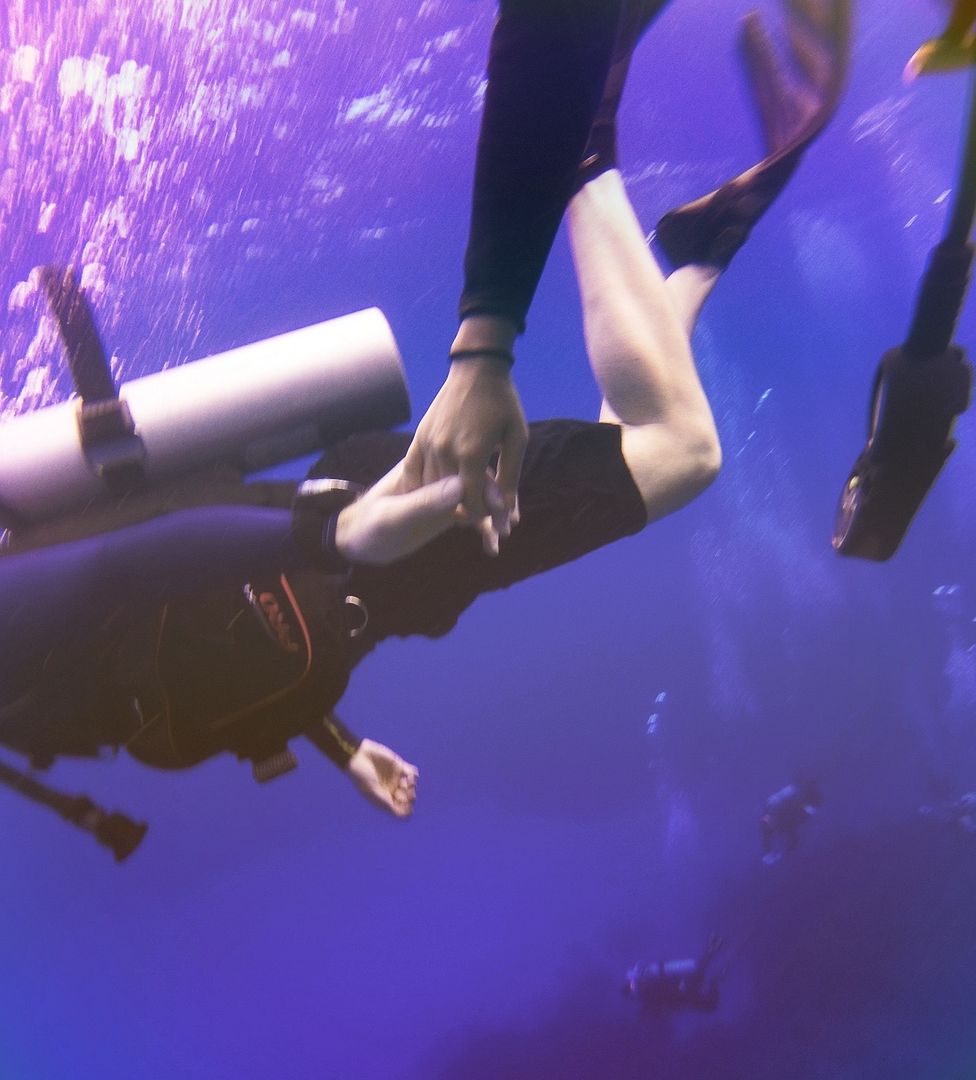 best diving buddy ever.
xoxo