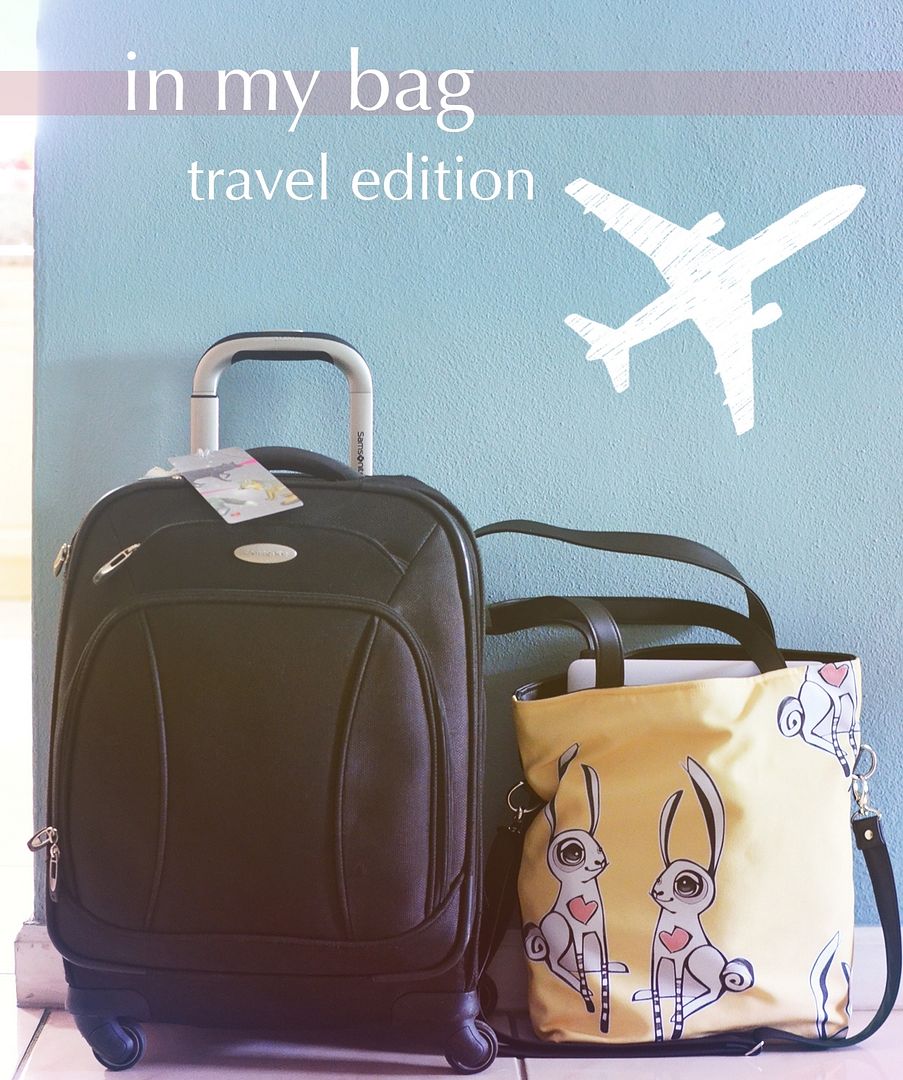 This summer is full of plane trips – hooray! The most frustrating part is, of course, going through security. While I am not going to show off what goes in my carry-on, you will receive a detailed tour of what goes into my "personal item."
As a blogger, I travel with my laptop often. The frustrating part is removing it from the carry-on, and the case, closing everything back up, and setting it in it's tray then putting it all back. All while tip-toeing around because you've already removed your shoes and the floor is EW.
Before leaving the house, I swap the neck pillow for the laptop [sans case]. My Love Bunnies tote is the perfect size for it, but since I won't be using my laptop on the plane, it will go back into the carry-on post X-rays and body scans. Oh, how much easier it makes the security line! Why did it take me so long to think to do this??
Ok, so once my neck pillow is returned to its place, these are the contents of my Love Bunnies tote that gets stowed beneath the seat in front of me.
Aforementioned neck pillow for random sleeps as I nod off read a book. Sometimes this is in the form of a Kindle. 🙂 Bottle of water [so I can order coffee, or perhaps wine], olloclip for random selfies, Splenda for the coffee I may order, "liquids" AKA hand lotion and lip gloss, Neutrogena shine control powder [so I don't look all gross and plane-shiny upon arrival], glasses, license and credit card tin, headphones, and my primary Love Bunnies clutch that I use while out and about in my destination city.
[[Speaking of makeup, I recently purchased Mehron Setting Powder – whoa. My eyeshadow lasts so long without forming that icky crease. No need to reapply once you've landed! I tried keeping track of how long it lasted the other day. I feel like it wasn't until somewhere between 9-10 hours that a crease formed.]]
My clutch holds everything I use on the regular, not just when traveling. Usually my silver tin with my license and CCs goes in here, too, but I need that handy for security.
A pen for random notes, chapstick, Houston Roller Derby date cards, a small pack of gum [that gets refilled with the big packs I buy often], super cute phone and its new case [usually it's in the olloclip case], wallet, and obscured by Rory's cute little head, bobbypins.
I've loved collaborating with Nikki of Cykochik this summer. Her bags are completely handmade with vegan materials. I still use the clutch I purchased a couple years ago, too! She strongly supports the vegan/veg community and it's an honor to carry these adorable bags that represent so much more.
Do you have any tips or tricks when it comes to traveling? Like the ol' laptop/neck pillow switcheroo – or, ya know, something better? 🙂