I had planned on making breakfast tacos for Daniel's birthday, but he requested this chile verde breakfast casserole, which I modified. Can you tell we are into the Tex-Mex around here?? It was relatively easy, and I was at home dealing with the dishwasher anyway. 🙂
Chile Verde Breakfast Lasagna
cooking spray
1 bag of Morning Star crumbles
5 eggs, beaten
1 fresh jalapeño – stemmed, seeded, chopped
1/4 cup sliced green onions
1/8 cup snipped cilantro
nine 6-inch corn tortillas
1 bag Monterey Jack cheese
one 16 oz jar of salsa verde
sour cream for topping
avocado on the side
1. In a large skillet, cook the crumbles, add the jalapeño, and move into a bowl.
2. Beat the 5 eggs and scramble in the skillet, pour it into the bowl with the crumbles.
3. Add green onions and cilantro and stir up the mixture.
4. Spray the crockpot with cooking spray and later the bottom with three corn tortillas.
5. Add half of the crumble mixture over the tortillas, followed by 1/2 the cheese and 1/3 of the salsa jar.
6. Add three more tortillas, the rest of the mixture, more cheese, and more salsa.
7. Add the last of the tortillas, cheese, and salsa to the top!
8. Cook on low for 4 hours.
9. Serve with sour cream and sliced avocado!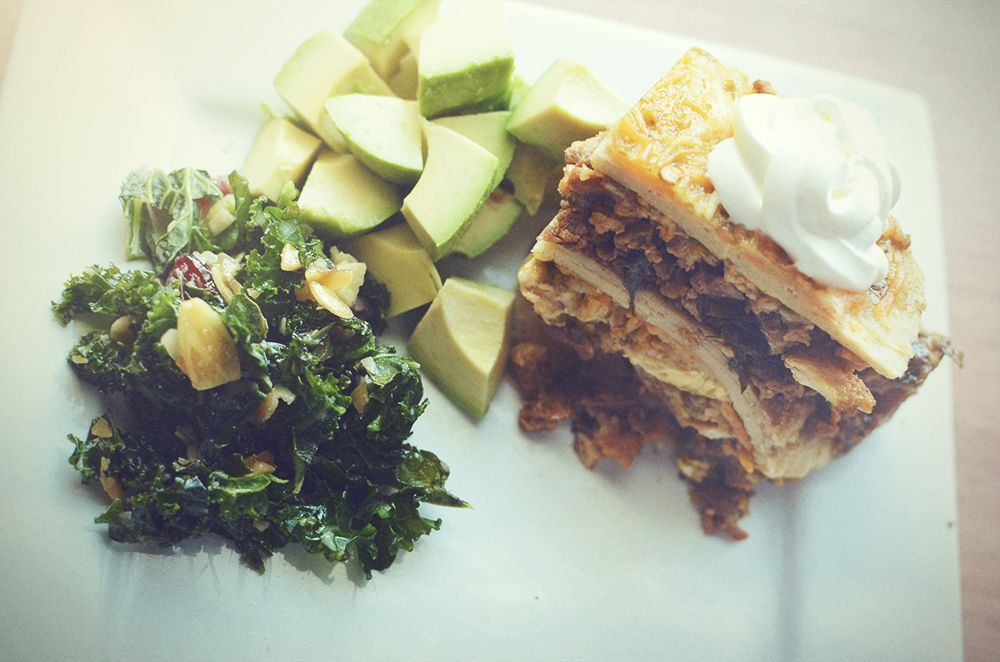 Daniel isn't big on sweets, but over the years I've noticed that he really likes apple-themed/flavored desserts. Pie, turnovers…muffins? So I looked up an easy crockpot recipe for some kind of apple cake and this is what I found! My picture totally sucks. I made it the night before, took it to work the following morning, and didn't get any good photographs. It didn't make as big a serving as I would have liked, but did feed about 12 people, regardless that they were nice and took small helpings… Maybe it just seems that way because it was so thick. Hmm…
Apple Dump Cake
cooking spray
5-7 Granny Smith Apples
1/8 cup sugar
1.5 tsp cinnamon
1 box yellow cake mix
2/3 cup oats
1 stick butter, sliced
1. Peel, core and slice apples. Spray the crockpot and pour into the bottom.
2. Sprinkle the apples with sugar and 1/2 tsp of cinnamon. I recommend less because it was pretty sweet.
3. Pour the cake mix into a large bowl. Add the oats and 1 tsp of cinnamon. Stir it up and sprinkle over apples.
4. Place the slices of butter over the mix.
5. Cook on high for 4 hours.
6. Serve warmed and with ice cream. NOM!

I made the cake first, before Daniel requested the casserole. Both look way better within the crockpot itself…I wish we could've enjoyed the cake straight from the pot! It looked a little gross poured out.
When the cake was done I dumped it [get it?!], cleaned the dish, and added all of the casserole ingredients, and cooked overnight. But the casserole definitely looks better coming straight from the crockpot because of it's layers. 🙂 Isn't it so pretty?!
xoxo
Check out my absolute favorite slow cooker meal: Vegetarian Tamale Pie