I recently ended my 3rd full season with the Bosses, and celebrated my 4th derbyversary last month. Each year I've improved a bit, and this last year, I was able to improve my
mental
game. Through cross-training, a
little
bit of running, and loads of foot-work practice, I've had the guts to take more risks. Increasing my confidence was the best way to better my skills on the track.
Photo credit: Steve Beard.
2014 has been my personal best year so far. I made the main jammer rotation, the cover of a program, a poster, "twirling" became a regular thing, and was just elected co-captain. I was never voted "best jammer" by my team in our post-bout awards, which I always hope for, but I'd say my list is a pretty good size. I have even gone through our stats after the games to see if I've improved, made an impact on our score, etc, and, while there's definitely room for improvement, I am typically pleased with my performance.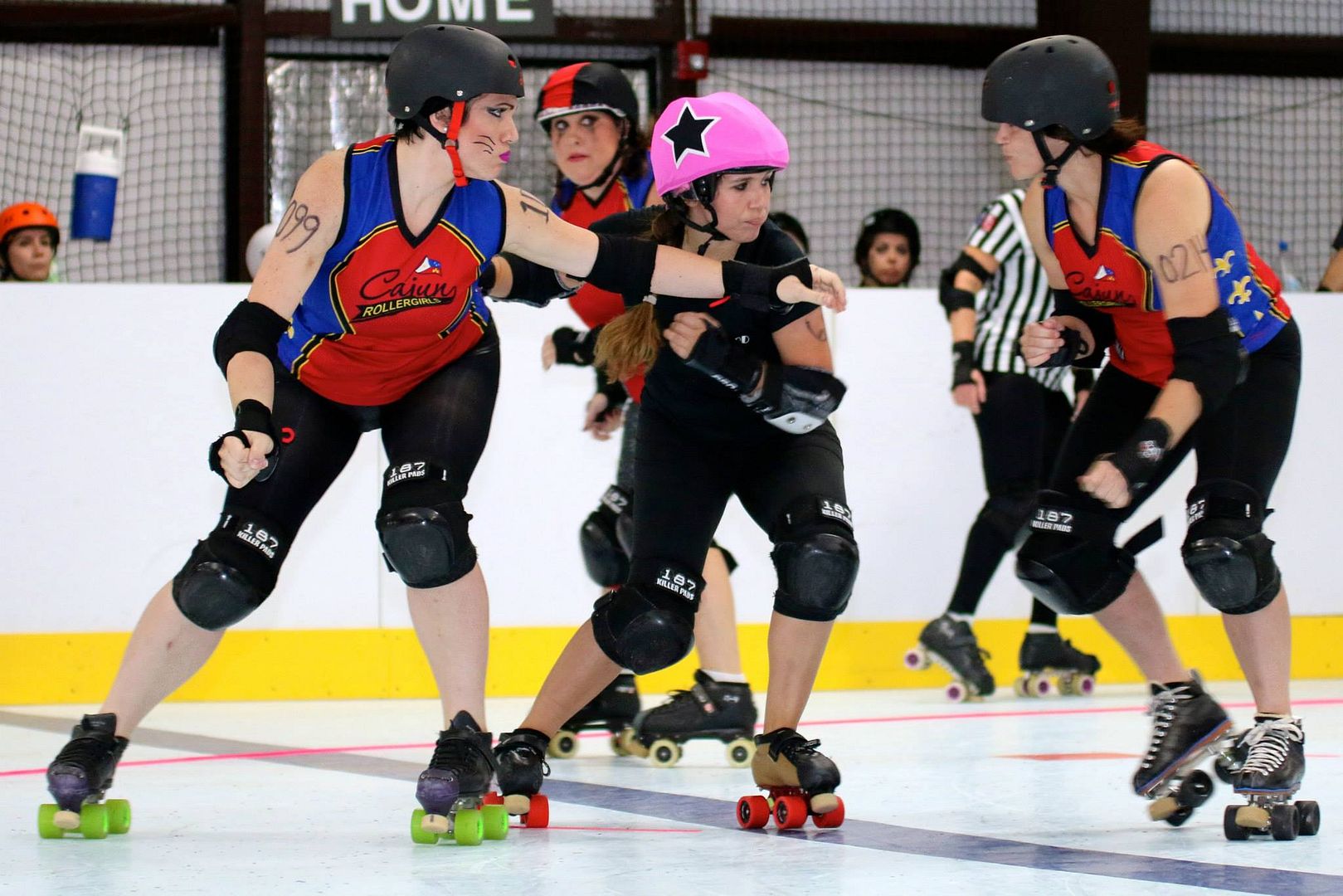 Photo credit: Steve Beard.
We are currently in our "off season," which lasts until January. Because I also play for the Knockouts [where I got my jamming start!], I am not completely off-skates just yet. We had a game against the Cajun Rollergirls a couple weeks ago, and have another coming up in October, and a tournament in November.
Photo credit: Lehane Richards
Photo credit: Lehane Richards
I was really anxious about this last game. I hadn't skated since our champs bout [one month], and because of teaching, I hadn't been to Crossfit in two weeks at the time. All I had been doing was walking the dogs a couple times a day, and a tiny bit of running. Thank goodness I hadn't completely lost my endurance! Our coach told me I was flying that night. Pretty awesome words since I was feeling really nervous!
Endurance is a never-ending battle for me. I fear inactivity because I'm afraid I will lose it – hence my 5K/10K off-season plan. Any Texans know of a good one I can sign up for? I might do the Turkey Trot again, but it depends where I'm celebrating Thanksgiving this year. 🙂
xoxo