I am a member of the Collective Bias® Social Fabric® Community. This shop has been compensated as part of a social shopper amplification for #CollectiveBias and its advertiser.
#EatMoreBites
#CollectiveBias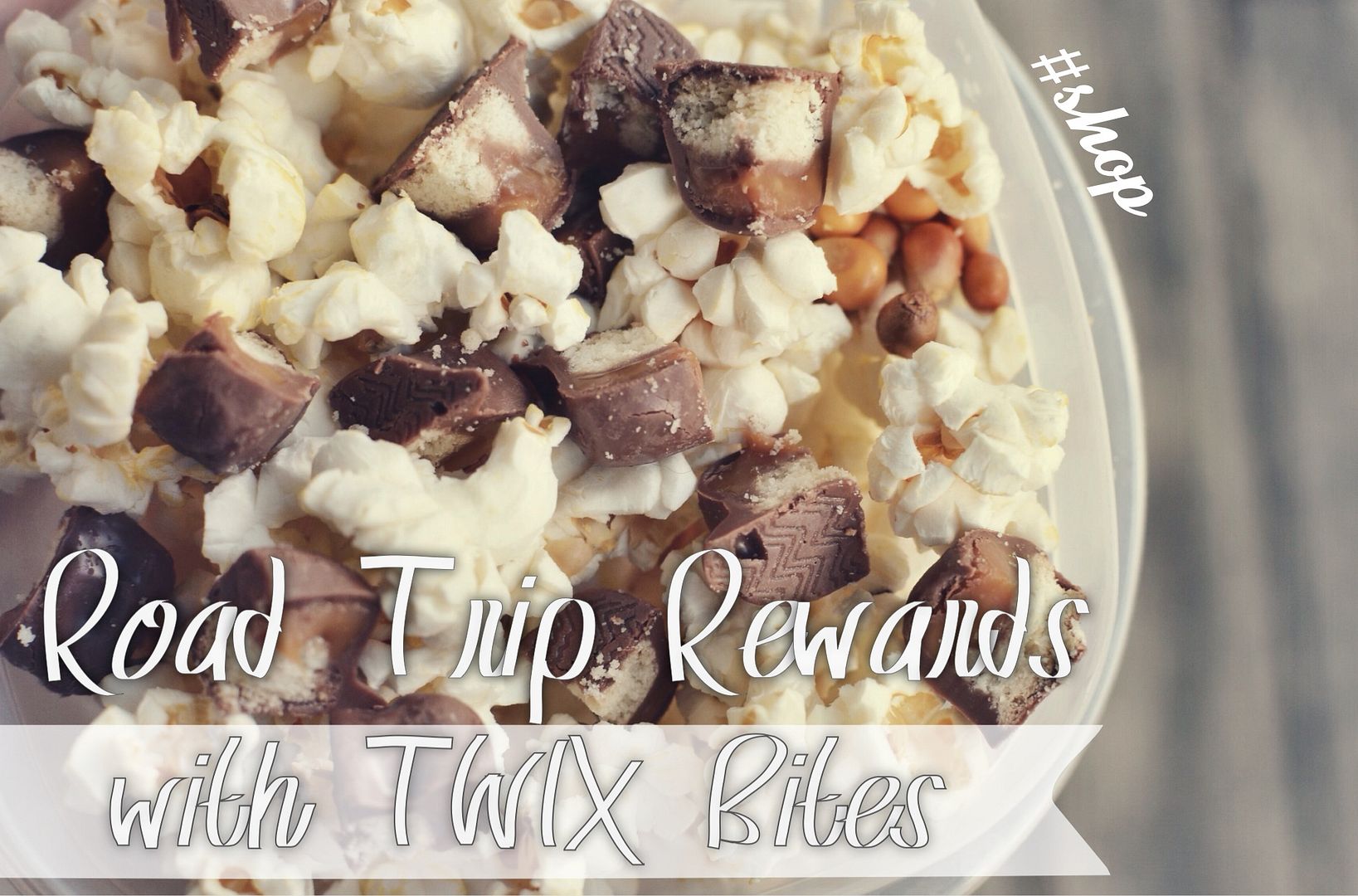 There are two situations in which food is always extra
exciting: a day at the beach, a day in the car. At the beach you can be as
messy as you want – there's a giant sink just a few feet away, right? But once you start talking about road trip
grub, the
type
of snack starts to matter. It can't be too messy, but a
combination of flavors is always good… One of my favorite, simple, on-the-go
snacks are
TWIX Bites
. They are perfect enough to pop into your mouth without a
mess of crumbs. And because I've been trying to cut back on sweets, these are
the perfect size for guilt-free indulgences.
On a recent road trip to the country with Daniel, I used
TWIX Bites
as an incentive to quit one of my very worst driving habits:
picking. If I'm behind the wheel, my hands get bored. You'd think a steering wheel
would be enough, but alas. My little hands will wander all over my face, scalp,
etc, wreaking havoc with every imperfection.
TWIX Bites
assisted me in two
ways: 1. If I didn't touch my face for a certain amount of time [determined by
my sweet passenger], I was allowed a chocolatey snack! 2. After a couple
TWIX Bites
and no wipes or sanitizer, I couldn't touch my face. Ha!
TWIX
to the
rescue!
For the month of May I participated in a diet bet and had to
watch what I ate relatively closely in order to lose the required amount of
weight.
TWIX Bites
ebbed my chocolatey cravings, while keeping me on the right
track to my goal weight!
In preparation for my next road trip [this weekend!], I've come up with a salty/sweet snack to surprise my car-mates with. PopTWIX! Cut your
TWIX Bites
into fourths and pour them into a Tupperware full of popcorn. The chocolate and caramel will stick to the warm popcorn, creating a perfect marriage of flavors that are taste-bud-ready. Just make sure to bring some hand wipes along. 🙂
What's your favorite road trip snack? What kind of methods
do you use to quit a bad habit?
xoxo
p.s. Give a bag of
MARS Bites
a chance and visit Walmart with a coupon below!
Save $3.00 Off any two (2) MARS Brand Bites, 6oz. or larger. Includes TWIX®, 3 MUSKETEERS®, MILKY WAY® Simply Caramel, MILKY WAY® & SNICKERS® offer: