As an athlete, taking proper care of my face has been frustrating. I'm either gross and sweaty at Crossfit, or gross and sweaty [and in a helmet] at roller derby practice. About two weeks ago I sucked it up and started my skincare "routine." I will be honest, I try to use these products semi-regularly, but have missed a day or two. Even so, I've noticed decent results in a couple weeks. Hopefully after a month my skin will look and
feel
even better.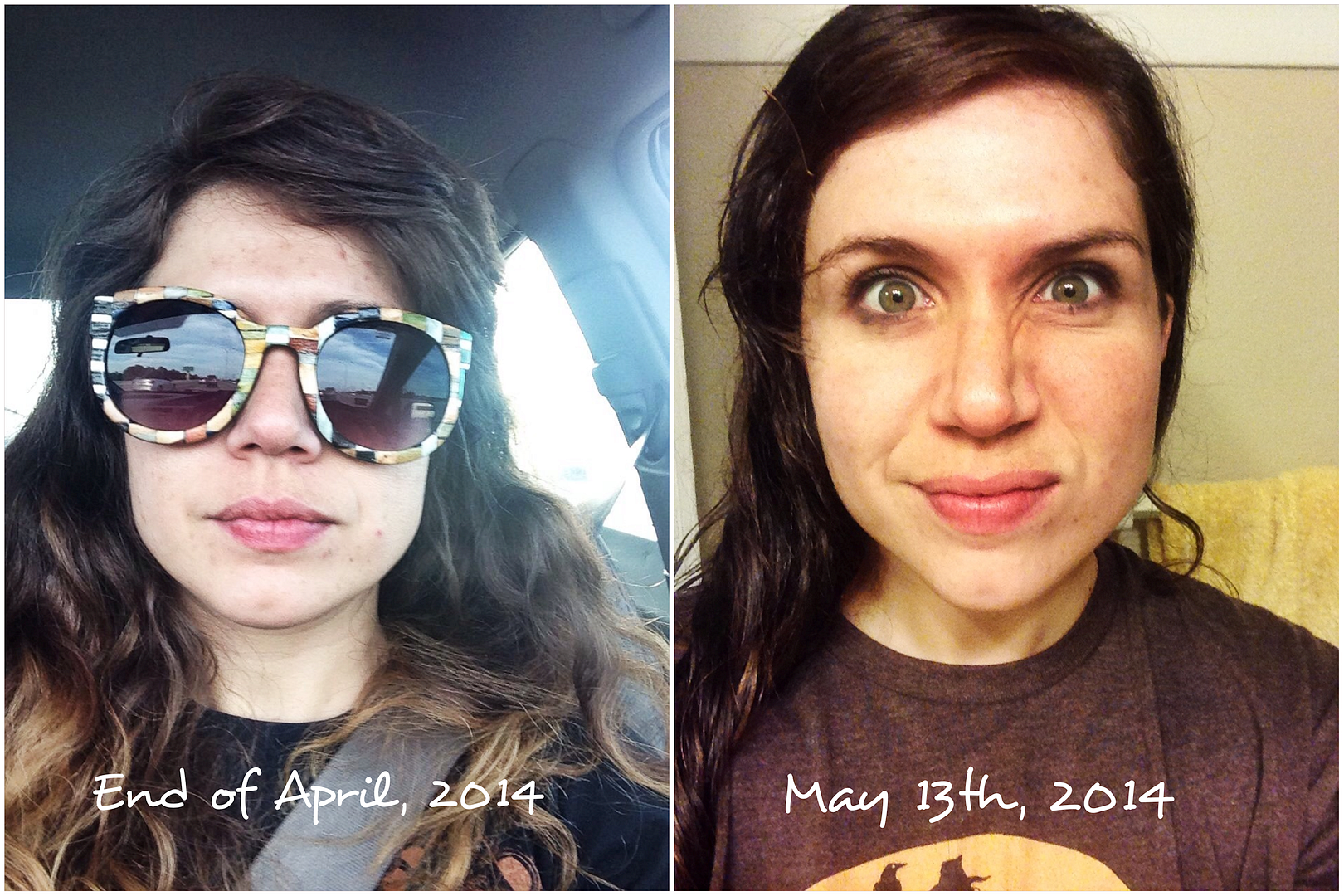 Both photos are post-face-wash and make-up free. I upped the clarity in these photos to accentuate the zits. On the left you can see more prominent pimples on my forehead and jawline [and marks on my cheek]. On the right you can tell that my forehead has calmed down a bit [except for where my bangs lay], as well my cheeks and jawline. Just a couple left on the far right cheek…go away pizza face! EDIT// oops! The photo on the right was actually taken on May 14th.
I use the mud mask 1-2x/week. It's supposed to shrink your pores and therefore lessen acne. As I mentioned in my first post, the mask is pretty intense! The label says your face will pulse…and it definitely does. As the mud is drying and tightening, it's as if your heart is beating through your cheeks. The sensation isn't as bad as the smell, though. The instructions say to mix the powder with apple cider vinegar. Blech. That is what I dislike most. haha After each use my face is smooth and only temporarily red. Since my first application, I have been using it before hopping in the shower for easier removal.
I use the Olay Pro-X brush about once a day, and then a Bioré foaming cleanser the 2nd and third time. I've accidentally missed a couple days within the 2 week period of scrubbing. I'm going to need to order a refill of the exfoliating scrub it comes with because I'm almost out! The brush leaves my face feeling extremely smooth! I scrub pretty "hard" [pretty soft brush!] on my cheeks, jaw, chin, and forehead [so…all over??] because those are my problem areas. It's also really easy to use in the shower, and made to withstand getting wet [not immersed in water, mind you]. Over the sink works fine, too. 🙂

Other things I've been trying:
Post-workout I scrub my face clean. Action Wipes recently sent me a pack of their product that I've been using on my face, as well as other extremities that get dirty [crossfit] or stinky [roller derby]. This keeps my face, etc, clean and refreshed for my 20-40 minute drive home, depending on which workout I had that night. The wipes smell like eucalyptus – so good! I'm hoping that adding this to my routine will keep my "helmet line" from breaking out.
Smack also gave me a sample bottle of Kiehl's Midnight Recovery oil. I've been using it for the past week and still have quite a bit left. You don't need much. The fact that it's an oil allows it to rub easily over your whole face with just 3 drops.
Last adjustment I've made? WAY LESS PICKING. Miracles happen, folks.
If you are interested in my skin care journey:
Post One: skin care and pizza faces
Post Three: coming soon 🙂
xoxo