Eep! I haven't gone through very many books. Maybe a goal for 2014 would encourage more reading…although everyone knows
summer vacation + travel = BOOKS BOOKS BOOKS
. I love it. Ugh, I can't wait. 🙂
The thing about reading as you travel…paperbacks just won't cut it. I might be able to sneak a maximum of two in my luggage, but they're going to become a problem when it comes down to space! Thank goodness for my kindle. Woohoo! Seriously, the only time I will prefer it to a real book: packing. I've purchased my two paperbacks that will come along with me [unless I tear through them fast enough]. But first – let me take a selfie books I recently finished:
My book buddy and myself [student-teacher book club!] read Will Grayson, will grayson last month. As previously mentioned, I can't believe I didn't pick this book up earlier. I adore John Green's novels and Every Day by David Levithan was amazing. So of course a book born of these two authors would be just the best. Two boys with the same name meet by chance [or destiny?] and kind of help each other out in the process.
While chatting with my book club partner about how amazing Will Grayson, will grayson was, she recommended Thirteen Reasons Why by Jay Asher. I picked checked it out that day and pretty much read it cover to cover over Easter weekend. It's about a girl that tells the story of her life [via cassettes] leading up to her suicide, and the people that added to the domino effect. It sounds super creepy, but it's not. You just want to find out why the narrator is on there! Good stuff. And now I want to listen to cassettes again.
Recently purchased and on their way:
Let's Pretend This Never Happened by Jenny Lawson- because duh, this lady's blog is hilarious.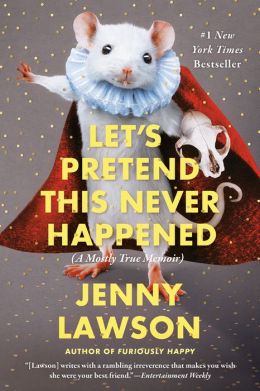 The Sergeant – I know this author personally. She is extremely talented in the "smut" department, and I'm excited to read my very first scandalous novel. 😉 [[Nope, I've never read the Fifty Shades series!]
What have you finished reading recently [or currently reading]?? Any summer recommendations?
xoxo