Below are a couple photos of
one
of my favorite crockpot meals: Tofu BBQ. This dish, and the spinach and black bean enchiladas are my absolute favorites. 🙂
[[I used my
Cuisinart PSC-350 3-1/2-Quart Programmable Slow Cooker
for these recipes.]]
Tofu BBQ
2 containers firm or extra firm tofu, pressed
1 1/2 cups ketchup
3 tbsp brown sugar
2 tbsp soy sauce
1 tbsp apple cider vinegar
1 tbsp red pepper flakes
1/2 tsp garlic powder
salt and pepper to taste
Now comes the hard part. Combine all ingredients in crock pot and cook for 5 – 6 hours on LOW. I accidentally cooked it on high so it came out a bit runnier that it should have. Makes some delicious sandwiches! 🙂
Edits// Daniel picked out some fancy ketchup that came in a jar –
Sir Kensington.
Pretty tasty. I also added some teriyaki sauce with the soy sauce. Not sure it changed things much.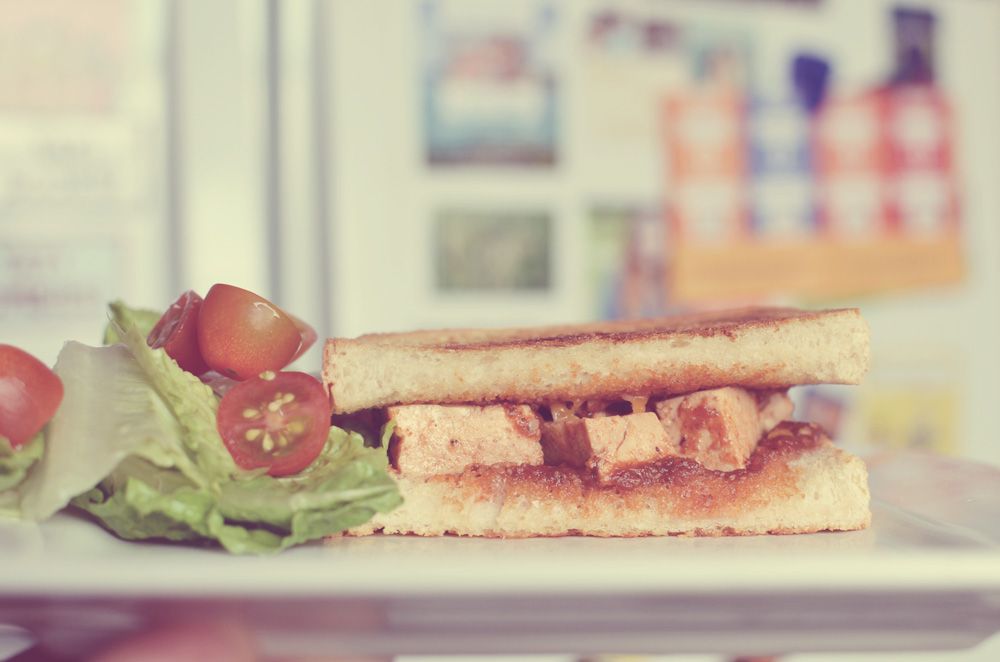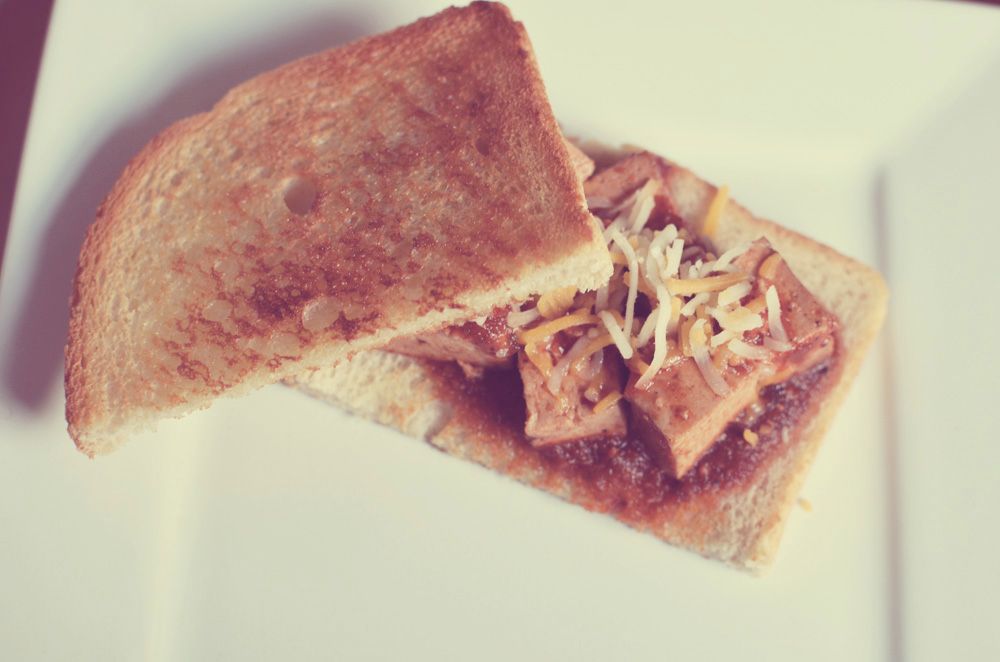 Spinach and Black Bean Enchiladas
1 15.5 oz can of black beans, rinsed
1 10 oz package of frozen/chopped spinach – thawed and squeezed of liquid
1 cup frozen corn
1/2 tsp ground cumin
8 oz [mild or sharp] grated cheddar [2 cups]
kosher salt and black pepper
2 16 oz jars of salsa [3.5 cups]
8 6-inch corn tortillas, warmed
This one actually takes some prep:
Mash 1/2 the beans, add 1/2 tsp of salt, 1/4 tsp of pepper, the drained spinach, corn, cumin, 1 cup of cheese, and the rest of the beans. MIX! //
Pour one jar of salsa on the bottom of the crock pot. Place about 1/2 cup of your bean-spinach mixture in each corn tortilla. PROTIP: "warmed" = nuke the tortillas for like 30 seconds so they are more malleable!! Roll them up and place them side by side [squished together!] on top of the salsa pool [open side down]. I ran out of room and stacked a few on top until the mixture was gone. Put the rest of the cheese on top, and top with the 2nd jar of salsa. //
Cook on LOW for 3 hours.
I didn't take a photo because…it wasn't pretty. BUT it was delicious! I added guacamole as a topping. Sour cream would have been perfect. Unfortunately Daniel chose the SPICIEST salsa that ever existed. I could barely enjoy my tasty new dish!
Do you have any tasty vegetarian crock pot dishes to share?? I am obsessed with trying them out! MEALS FOR DAYS.
xoxo