I am a member of the Collective Bias® Social Fabric® Community.
This shop has been compensated as part of a social shopper insights study for Collective Bias and their client. #EasyGifts #cbias
When I was in the classroom I received all sorts of trinkets for which I am very grateful. Some parents/students might be a little stumped when it comes to what to give a teacher, which is why I'm going to share a couple easy gifts, involving a popcorn ball recipe and mug full of hot cocoa and beef jerky – and you can get everything at Target!
First off, teachers love food. My co-workers and I love joking about bringing leftovers to the teachers' lounge and how quickly they would disappear. Teaching all day can work up a huge appetite and, I'm not gonna lie, for me it meant some serious emotional eating. Ha! But standing/walking all day balances that out. 🙂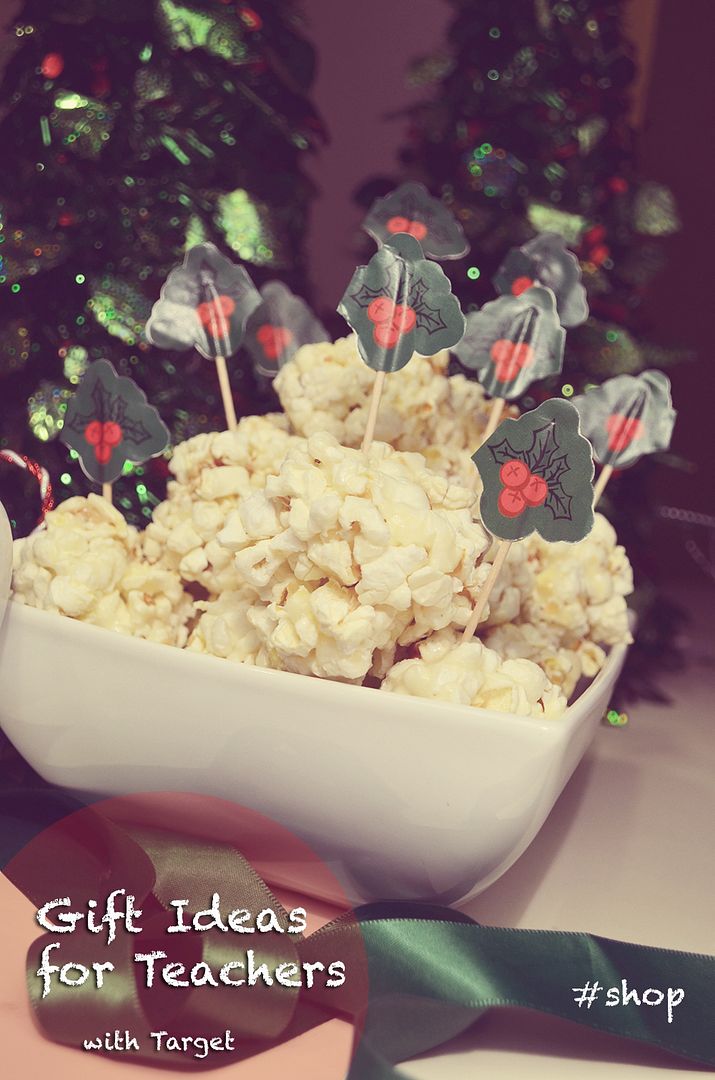 So make your teachers a sweet treat – I know I still do! A quick and easy example are these Mallow Popcorn Balls. I used a little less than 3 bags of Orville Redenbacher Kettle Corn [because I ate the difference…] and made enough balls to feed 5 teachers [3 balls each]. One more bag and I'll be set!
Mallow Popcorn Balls
Ingredients: Orville Redenbacher's Kettle Corn // Mini-marshmallows // Un-salted butter
Directions: Pop 3 – 4 bags of popcorn and pour into a casserole dish. Eat the ones that land on the counter // Melt 1/2 stick of butter in a saucepan. // Add 4 cups of mini-marshmallows and stir until melted. // Pour mixture evenly over popcorn. // Wait a few minutes to cool, then grease your hands and start molding popcorn balls in your palms. // Set popcorn balls in 2nd dish to finish cooling. // Package. 🙂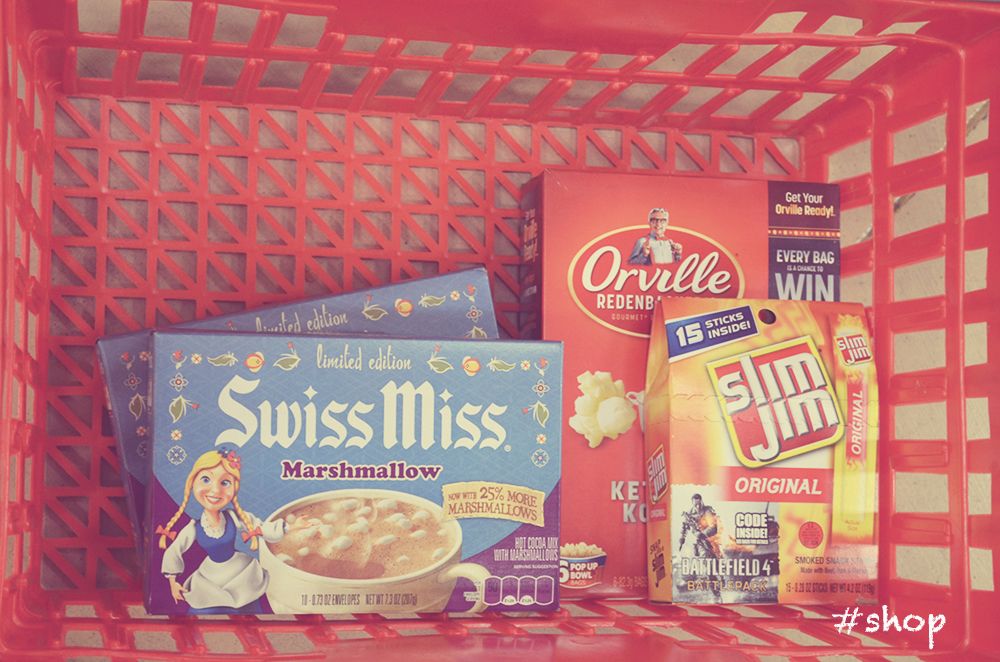 * * * * * * * *
Secondly, teachers love mugs. Especially when they are filled with treats [refer to "Firstly" above]. Think back to how often you've seen your teachers holding a beverage receptacle. I know I used to put away 3 cups of coffee easily throughout the day.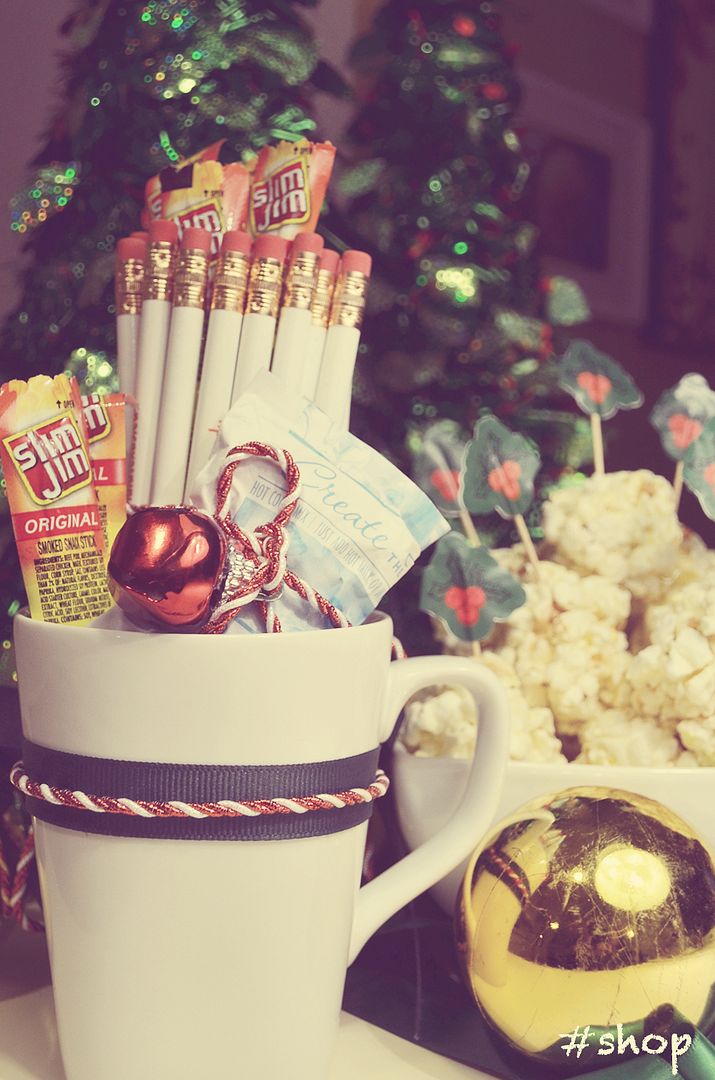 For this "gift basket"
I included a bouquet of pencils [yay Math teachers!], along with a few
Slim Jims
for
scarfing down
nibbling between class periods, and a couple
Swiss Miss
hot chocolate mixtures for sipping while grading papers. 🙂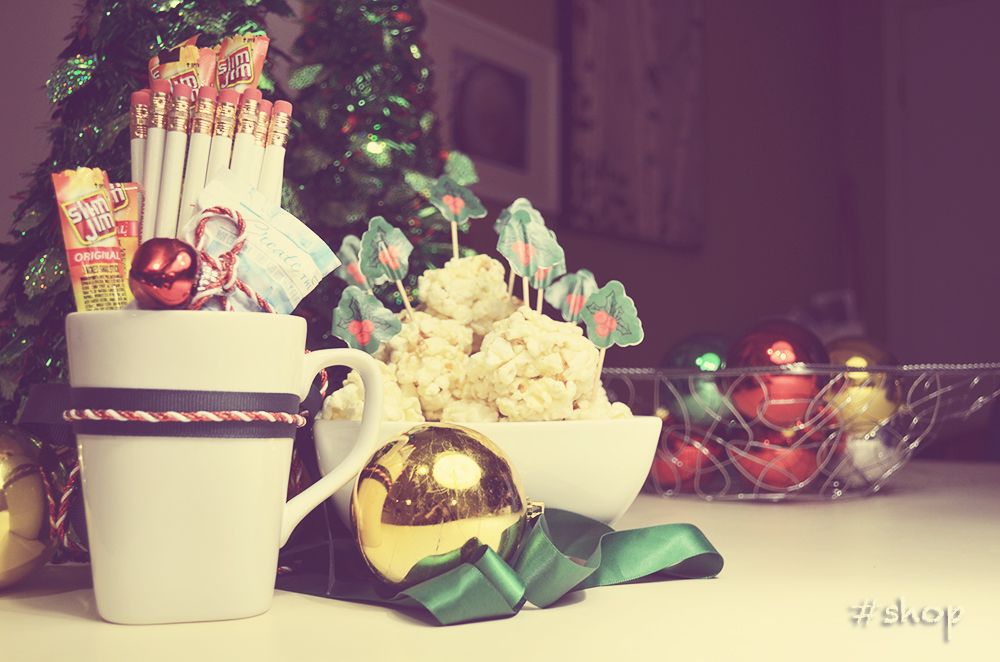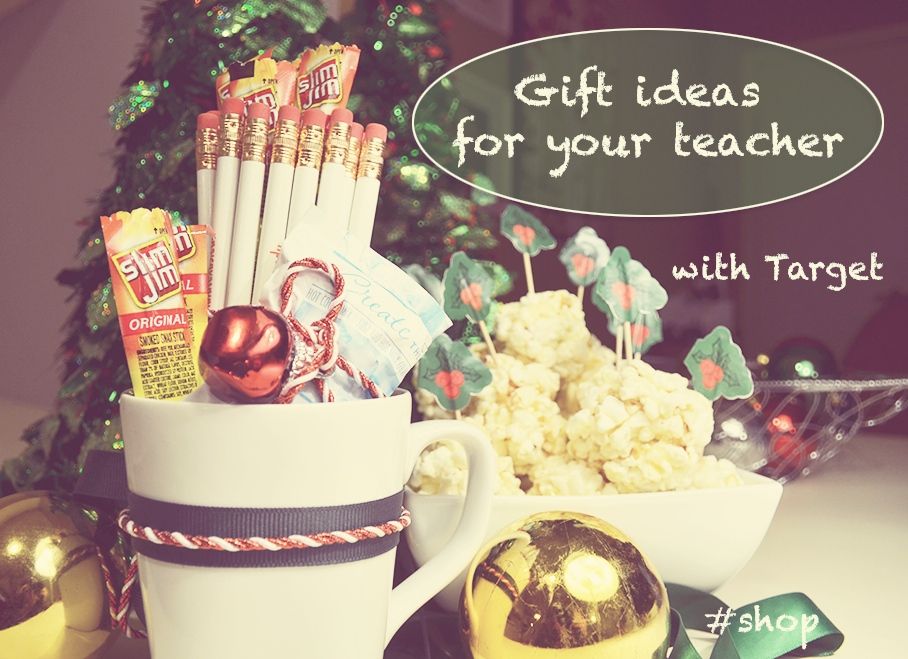 Both of these gifts would bring a huge smile to my face. Especially because they require so much more thought than your typical easy gift-grab.
If you are interested in recreating any of these gifts, here are some Target links you might find helpful. 🙂
Happy Holidays!
xoxo