Seriously, one night only. Daniel and I were driving back into town from Dallas [a 4 hour drive]. We were about a mile or so away from home when we noticed a lot of traffic. BAD traffic. So we took the "back roads"..and encountered even more traffic. It was rainy and the street lights were out, which we assumed was the cause. Ohhhh no. The traffic jams were due to several roads being flooded. There were about 3 occasions when I almost burst into tears. Out of frustration because we were SO close to home, but couldn't get there without a boat. And out of fear because there were quite a few intersections I followed other cars through where the water was far too deep for my Honda Civic. It shouldn't have ended well. "OMG OMG OMG" was my go-to phrase.
This bayou almost adjacent to my neighborhood entrance [which is on the right]. It overflowed into the street. The photo on the right was taken as I stood on the sidewalk in the left photo…and looked right. Confusing much? 🙂
After driving around for about an hour or
so, I said screw it, we are parking somewhere and walking. I found a
road with little water, and parked in an area without trees [hello
fallen branches every which way]. Once we abandoned the car, this all became a grand adventure. Daniel and I gathered our backpacks
and dogs, and started the journey home. At one point we had to turn around and
take a different route because the water was too deep…but eventually we had no choice. The main road that kept us from
our neighborhood was a river that we had to cross. There were cars parked all over the
median, and others debating whether they could make it or not.
I
didn't get much footage when the water was up to my thighs because I
kind of wanted to keep my phone dry. The turn into our
"subdivision" had a strong current going the opposite way. I was pretty
worried for Sam because the water almost covered his back. That old man
is a trooper! Meanwhile, Daniel was carrying Penny like a football
because she was too little and the water was too deep.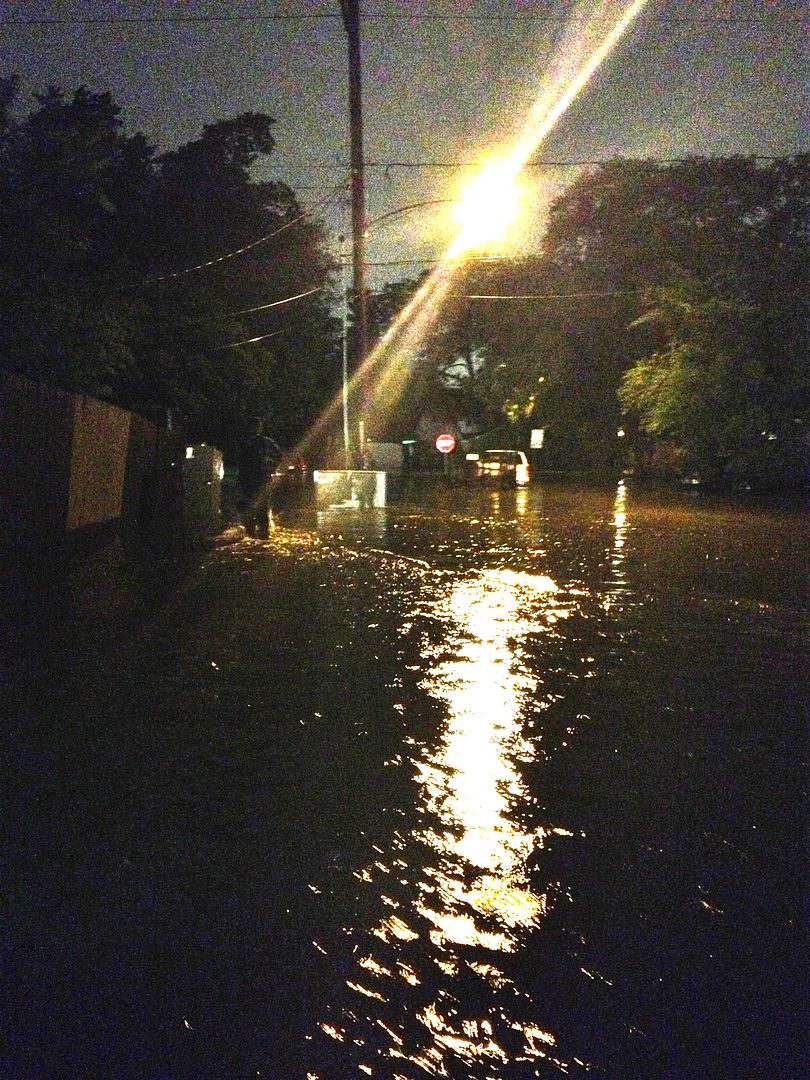 See the stop sign in the distance? That's my street. This "river" is covering the sidewalks and road…and is where the current pushed the opposite way.
I started freaking out when the water was at our neighbors' front doors. As we approached our house the water wasn't getting much shallower…we crossed our fingers – please oh please don't let our home float away….
When we got about two houses down we could see our lawn and not a lake. Wow. Pure luck. Especially with everything we've had to fix within our home. Yikes. We got lucky.
And we had power.
Definitely an unexpected adventure!
You can *kind of* see Sam climbing onto the sidewalk on the opposite side. The water is just under his tail.
I posted SEVERAL videos on
Vine
. You can really get a feel for how deep the water was…and cars smoking out. Yeesh.
Daniel is about to cross a main road. He is stepping from the sidwalk to the street when it cuts off.
[click the video to pause it; click the speaker to unmute]
After we had been home a couple hours, I went out to check on water levels. Already the water had ebbed into the streets mainly. But it was still undriveable – there were a couple trucks parked out front overnight. And you can see some fallen branches.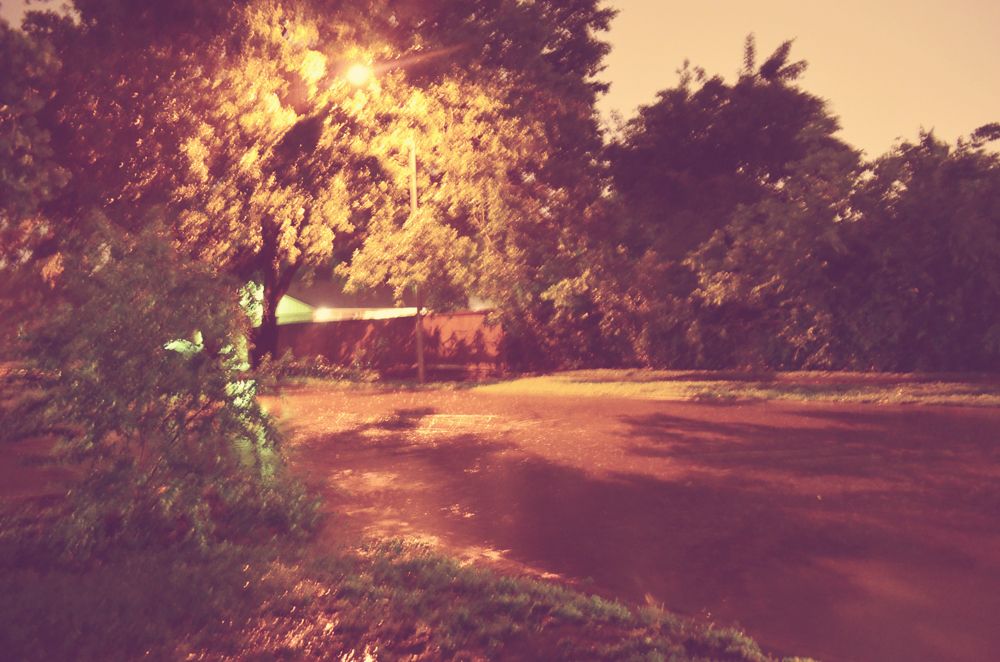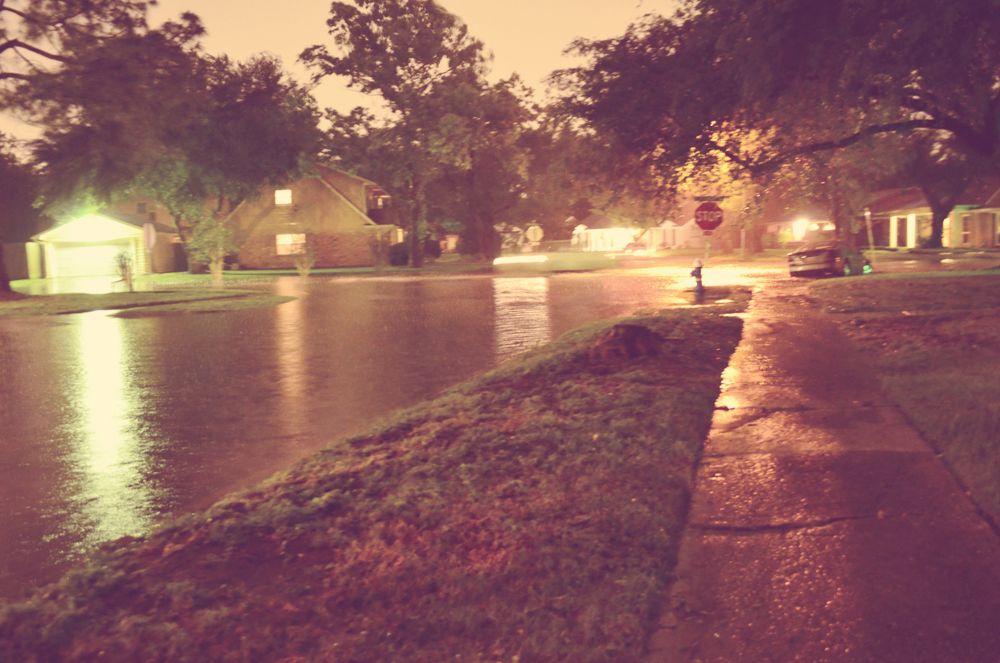 And a car that was stuck.
The next day everything appeared FINE. Except for a few vehicles that still needed claiming.
Houston is crazy.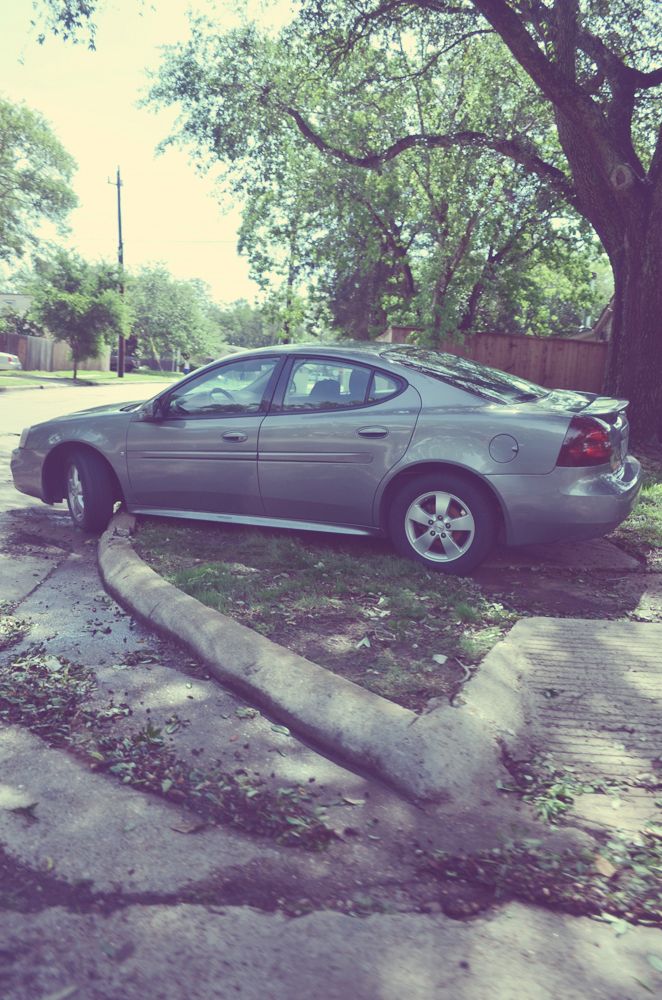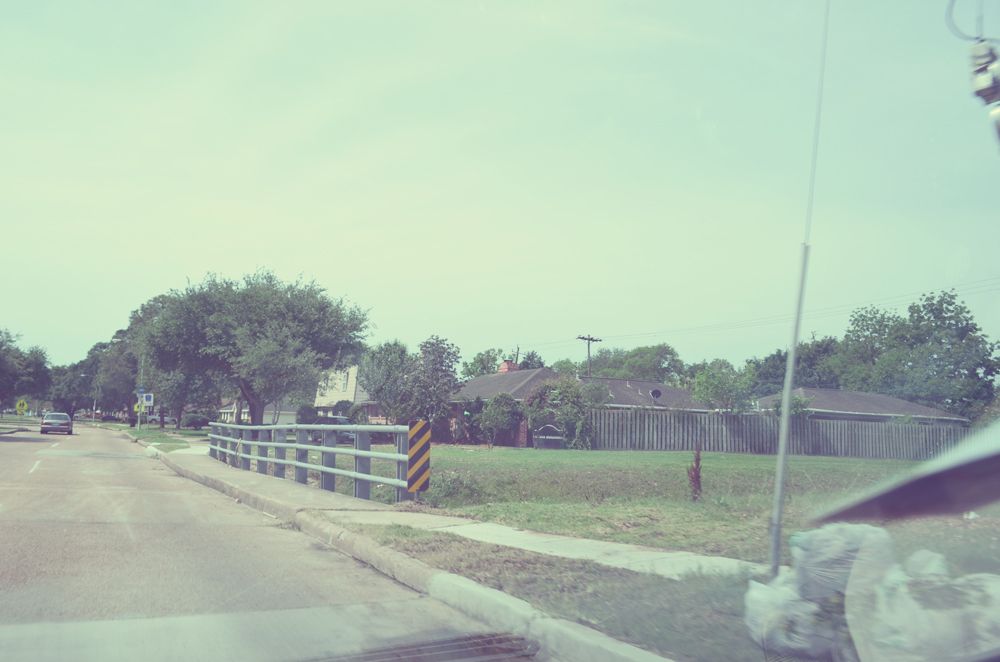 This is the bayou that flood into the road in the photos above. LOOKS FINE NOW.
And you know what is crazier?? Some parts of Houston had NO CLUE that others parts of Houston were drowning. INSANE.
Daniel and I are so lucky. Things for which I am thankful after Saturday night: my car is still in working order, our pets are alive and well and good swimmers, our home that is intact, and for my parents, who offered to pick me up if I got stranded, even though they would have been sitting in hours of traffic before they could reach me. 🙂
xoxo